Caroline Kangogo's family pleads with her to surrender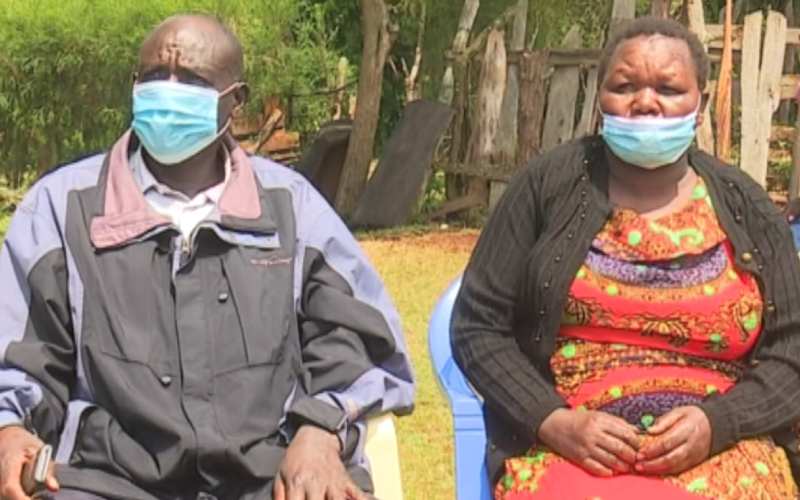 Distraught parents of Caroline Kangogo, runaway Nakuru police officer, have pleaded with their daughter to turn herself in.
Kangogo, a mother of two, is the main suspect in the murder of a fellow police officer in Nakuru on Monday morning, and another in Kiambu on Tuesday.
The two deceased persons are alleged to have been in an intimate relationship with the runaway cop.
Her parents' pain, Barnaba Korir and Leah Kangogo, were palpable in their prayer that their daughter would confess her role in the two murders if any.
Neighbours and relatives thronged their home as news of her crime filtered in, praying with and encouraging her parents as two armed police officers kept vigil at the homestead, just in case she showed up.
"Wherever you are my daughter, please turn yourself in. Even if it is at a nearby chief's office. We all want to know what happened and to avoid more bloodshed," Korir, a retired inspector of the police pleaded with his daughter on camera.
Speaking to The Standard from his Rorok home in Keiyo North sub-county, Korir said it remains a mystery to him how his daughter was caught up in the act.
"She was brought up as a normal child, we are still shocked by the sudden turn of events. We received the news with great grief, and we want to extend our message of comfort to the families of the slain men," Kibor said.
The father of eight wished his daughter could talk to someone if something was bothering her.
On the other hand, her mother, fighting back tears and in a sombre mood said Kangogo had been a disciplined and cheerful child every time she visited.
"I have asked myself endless questions. Why? I am in great pain when I see mothers have lost sons in the two incidents," said the tearful mother.
Kangogo's brother, Mark Kangogo, came to her defence saying his sister may have been undergoing marital and job-related stress.
Records at Nyawa Primary School, where Ms Kangogo schooled indicated she was a 'well-behaved and hard-working pupil'
Kangogo, a 34-year-old, was enlisted in the police service on August 14, 2008, before being promoted to the rank of a corporal on January 20, 2015.
She was married to a Senior Superintendent of Police attached to the Kenya Maritime Authority in Mombasa.
The mother of two got a first-class in the shooting range classification training and has a Basic Skills in Peer Counselling certificate.
She has served in PTC Mombasa in 2009, then moved to Kaloleni Police Station between 2010 and 2013. Kangogo was transferred to the Kenya Police College Kiganjo (Library) where she served for two years before joining Central Police Stations Nakuru, where she served to date.
[Reporting by Fred Kibor, Kennedy Gachuhi and Bradley Sikolia]