Good Friday round up: Gloom as churches remain closed, parks deserted
For the second year running, the country witnessed low-key Easter celebrations due to strict Covid-19 regulations on travel and social events.
The situation was particularly grim in the five counties that are under partial lockdown, with no merry-making activities allowed.
With entertainment spots and places of worship closed in Nairobi, Nakuru, Kiambu, Kajiado and Machakos, residents chose to remain indoors.
At Christ The King Cathedral in Nakuru, believers who turned up to pray in the 1,500-seat church were turned away by security guards who said they were under strict instructions from the church leadership.
Bishop Maurice Muhatia presided over a Mass that was only attended by priests and nuns. The church did not hold the 'Way of the Cross', a regular event for Catholics on Good Friday.
"Following the directives given by the government, we encourage our people to hold private prayers wherever they are. As a church, we shall continue to reach out to them on our church radio station," said Bishop Muhatia.
The situation was the same in other churches that normally hold a service to mark Good Friday. Many did not open their doors or opted to reach their followers through social media.
The Nakuru West Pastors Fellowship, however, took issue with the Interfaith Council–a coalition of the major faith groups in the country–over what they termed as failure to stand up for believers when advising President Uhuru Kenyatta on activities in places of worship.
"It is such a gloomy Easter yet this is the holiday that defines our faith. The Interfaith Council should have vouched for churches to operate with lower numbers and not a blanket closure," said Pastor Sospeter Mburu.
Speaking separately, Bishop Mike Brawan of Metro Church encouraged the clergy to focus on ministering to their members through the permitted avenues to avert conflict with the government.
"There is always a way for a preacher to reach out to their members, including works of charity. Preaching online has, however, seen us fail to reach some of our members but at the same time we are reaching out to new members who join our online sermons," said Bishop Brawan.
There had been expectation that the closure of hotels and entertainment joints would encourage more people to go on game drives in the national parks. But the reality was that the parks were left to the animals.
Enock Nokwe, a photographer at Lake Nakuru National Park, said this was the first time he has seen the park deserted during Easter holiday and with schools closed.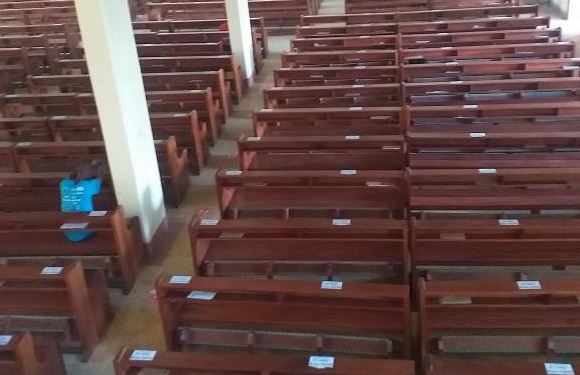 In Migori, Kisii and Nyamira counties, only a handful of believers attended church service.
The fear of crowding meant that turnout was low at St Joseph Catholic Parish in Migori and Kisii Town Parish.
Only about 20 Catholic faithful took part in the 'Way of the Cross' at St Joseph's.
Father Louise Okumu said that previously, participants would often walk for at least five kilometres.
"We have been forced to cover a very short distance due to the pandemic. This year the turnout was low because of fear of some believers, and guidelines from the government and the church to maintain a few numbers of believers attending the Way of the Cross," Father Okumu said.
In the North Rift, low-key Easter rites were witnessed in the mainstream churches.
Clerics urged believers to obey State directives and Health ministry protocols in an effort to contain the pandemic that has caused global havoc.
"Kenyans are known to respond at the last minute to good interventions. This is about life and as a Church, we urge Kenyans to come out and take vaccines provided by the government and guided by the Ministry of Health," said Bishop Paul Korir of the Anglican Church of Kenya Kapsabet Diocese.
Bishop Korir urged Kenyans to have faith in the vaccines, saying they are the result of guidelines and tests done under World Health Organisation protocols.
Speaking after delivering a sermon at St Barnabas, Bishop Korir appealed to Kenyans aged 58 and above and those categorised as frontline workers to take advantage of the free vaccines currently being administered by the Health ministry to fight the disease.
"This is each and everyone's responsibility. People should continue observing Health ministry protocols on observing social distance, hand washing and sanitising," he said.
The Mass at St Barnabas and other celebrations did not exceed 90 minutes.
Bishop Dominick Kimengich of Eldoret Catholic Diocese asked Kenyans to obey the Covid-19 restrictions to lower the infection rates.
"The government is doing everything possible to ensure the deadly virus does not affect the lives of innocent people," said Bishop Kimengich.
[Report by Kennedy Gachuhi, Anne Atieno, Eric Abuga, Titus Too and Peter Ochieng]