How sports scribes are part of the rot in Kenyan football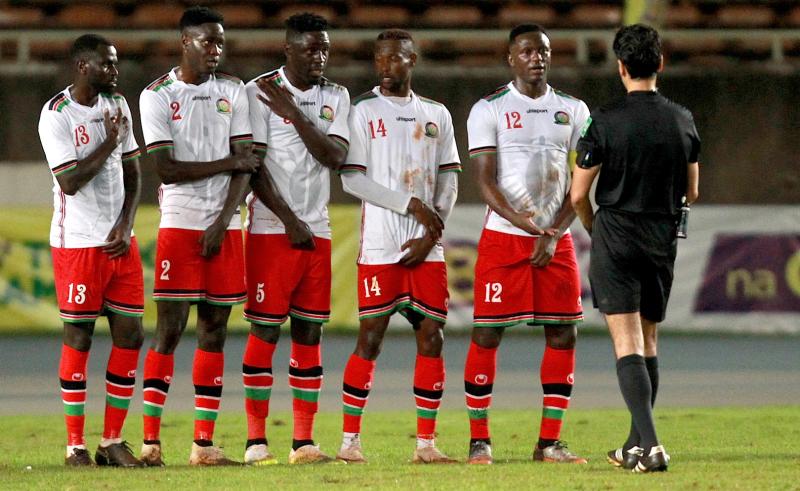 It is always surprising to see Kenyans getting surprised at outcomes of certain processes which they knew will just end up the way they did. On November 11, Kenyan football fans and sports journalists, in particular, were surprised that Harambee Stars failed to beat a 10-man Comoros team at Kasarani Stadium.
Why sports journalists were surprised is baffling because they know Kenya lacks a team and just has a collection of individual players who are always encouraged to embrace sufferance. It was more baffling to see sports journalists who specifically cover football ranting on Twitter that they are annoyed because Harambee Stars lost in Comoros after the one-all draw in Nairobi.
Of course, many Kenyan football fans who watch the game and go their bantering ways without giving much thought to what happens before the 90 or so minutes in the pitch, have the right to get mad at the technical bench, the federation officials and the players for the poor show.
But Kenyan football is being killed by sports journalists who have aligned themselves with different factions of football management and do not take the officials to task or disagree with them. Instead, they keep echoing the lie that Kenyan football is growing, when in fact it is dying. Or is already dead. Alternatively, they fight officeholders because they support former officials or opponents of the incumbent.
Thus, the rot in Kenyan football or Harambee Stars did not start on October 21 when Jacob 'Ghost' Mulee was appointed the coach for the umpteenth time or 24 hours earlier when Francis Kimanzi was fired.
It did not even start on October 17 when Nicholas Kithuku Mwendwa was reelected as the federation's head and neither did it start on February 10, 2016, when he replaced Sam Nyamweya. The rot started many years ago and Mwendwa inherited a sinking ship, only that he is adding more rats to it.
Ideally, there should be a laid down process of hiring a national team's coach, and some of the journalists in the middle of the mess know this — considering that they have covered the biggest sporting events in the world and participated in global sports symposiums — but they cannot point that out to the officials because their duty is to sing paeans so they can get their cut of any underhand deals.
Of course, Kenyans should know how much the national team's coach is paid or is entitled to, or what coaching qualifications they should have. But they don't. Because Kenya's sports journalists do not ask or cannot reveal that. They are part of the darkness that covers Kenyan football and should it be managed in an open and modern 21st century way, they will lose.
Take a quick survey and help us improve our website!
Take a survey
For the avoidance of doubt, sports journalists killing football are not just those in the mainstream media. While they are doing the most damage because of their stature in society and in sports circles in Kenya and abroad, there are minions, the ones who write, talk and breathe football and alcohol on online platforms or radio.
This lot is equally destructive and collectively, they have for several years contributed to the gradual death of Kenyan football.
Sadly, they are all enabled by current and former managers of Kenyan football in whose pockets they live. Those of them who were aligned to former officials are fighting the current office and those who were against the former office are the yes men of the current office.
Then there are those mercenaries who can work for anyone and whose job is drowning out any opinion their benefactor does not like even if it is helpful.
A professional colleague recently wrote that Kenyan sports journalists are fans of football managers not of football. That is true only that it is an understatement because they are zealots. They do not owe an allegiance to Kenyan football but to the officials, current or former, and cannot be objective, so they praise every move their handlers make even before it is made because they were part of the decision-making.
The news of Kimanzi's firing came as a surprise to Kenyans and they wanted to know the reasons for sports journalists. But the reasons could not be given because they (the journalists) were part of the negotiations, the deals that led to Kimanzi being fired and Mulee getting hired.
Mulee being given the job was an open secret because a section of sports journalists knew it would happen even before Mwendwa's reelection.
Not because they have impeccable sources within the federation, but because they were part of the negotiation, the deal, whose endgame will not be so much for the benefit of Kenyan football, but for their own benefit.
It is odd that sports journalists expected a collection of individual footballers to beat Comoros, a cohesive team whose management understands that in the 21st century, football must be managed in line with the changing times and technological advances.
And so, standards of Kenyan football will keep declining as long as it is managed in line with the whims of officials and their friends, or against the feelings of their enemies, in newsrooms.
-The writer is an editor at The Standard @mqhlay