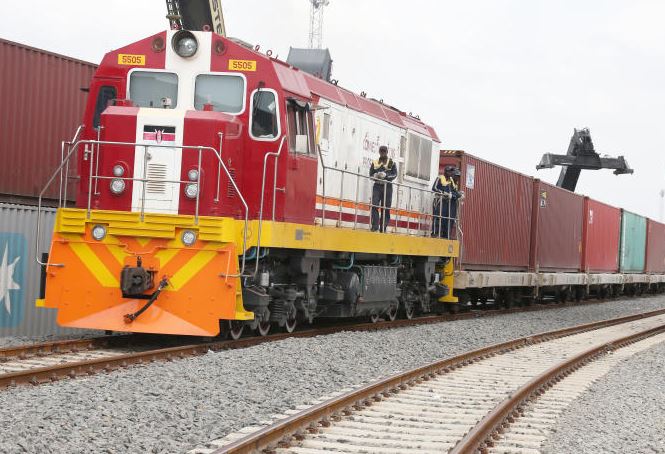 A five judge bench said directive violated the Constitution as it did not go through public participation.
Operations of the Standard Gauge Railway (SGR-pictured) have been dealt a blow after a five-judge bench quashed State agencies' directive to haul all containers to Nairobi.
On March 15, 2019 and August 3, 2019 Kenya Ports Authority (KPA) issued a notice making it mandatory for importers to use railway line to ferry containers to the Nairobi Inland Container Depot.
The order sparked protests in Mombasa, with truck transporters terming it illegal, and aimed at driving them out of business.
Read More
They argued it could lead to massive job losses in Mombasa.
On Friday, Justices Joel Ngugi, Lydia Achode, Pauline Nyamweya, Erick Ogola and Anthony Mrima ruled that the order contravened the Constitution.
The five-judge bench said the KPA directives violated articles 10 and 47 of the Constitution as they did not go through the public participation.
According to the bench, the directives did not comply with the fair administration procedure. The judges however gave KPA 180 days to suspend the directives.
"The court declares the impugned directives constitutionally infirm. The impugned directives are hereby quashed, "read the judgment in part.
The 180-day reprieve was meant to avert disruption of operations of the port. The judges said the opportunity will allow regularisation of the directive.
"Given the potential of order (c) above to disrupt the orderly operations of the port and the operationalisation of the National Transport Policy, the effect of that order is hereby suspended for 180 days to afford the respondents an opportunity to regularise the situation," stated the judges.
KPA and Kenya Railways Corporations had in September 2014 entered into an agreement where KR was to haul freight and other cargo to the Inland Container Depot at Embakasi, Nairobi, once the operations of Standard Gauge Railways begin, upon the completion of the SGR.
KPA on March 15, 2019 directed that shipping lines would not be allowed to take cargo to importers container freight station of choice.
On August 3, 2019 KPA and Kenya Revenue Authority issued another directive stating that all imported cargo for delivery to Nairobi and the hinterland shall be conveyed by the SGR and be cleared at the Inland Container Depot in Nairobi.
The two directives saw the Kenya Transporters Association Ltd challenge their constitutionality and legality in court.
They sued Transport and Infrastructure CS, Kenya Ports Authority, Kenya Railways Corporation, Competition Authority of Kenya and the Attorney General.
The association, through its chair Dennis Okumu argued that importers have a right to choose the mode of transport for their cargo. They also wanted the directives issued declared null and void.
Transport Principal Secretary Esther Koimett, in a replying affidavit said public participation, consultations and research was carried out by the State before construction of the SGR.
She argued that granting the orders would be tantamount to the Judiciary supervising the State.
[Additional reporting by Kamau Muthoni]