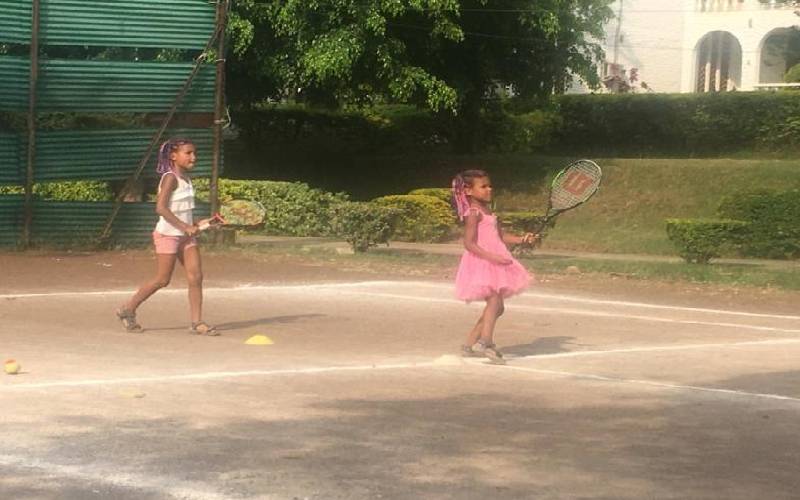 Yvonne Awuor Dolci talks passionately about her family - her two daughters Venesa and Amanda; and their Swedish father, Sereno Dolci.
Sereno is the son of Italian 'Gandhi of Sicily', Danilo Dolci, a two-time Nobel Peace Prize nominee.
Danilo, a cult hero of sorts in the US and northern Europe in the early 90s, was awarded the 1958 Lenin Peace Prize for his non-violent campaign and advocacy against poverty and the mafia movement in Sicily, Italy.
The late Italian popular educator, a poet, social activist and sociologist, died in 1997, but Danilo's vision and dream of improving the lives of people around him at the expense of his own happiness still live on.
Read More
The dream lives on through her daughter-in-law, Yvonne Awuor, a Kenyan nurse who moved to Sweden at the tender age of seven, and her husband Sereno.
The couple's story reads like that of the great American tennis coach Richard Dove Williams, the father to two of the world's iconic tennis superstars, Serena and Venus Williams.
Despite having no tennis background, the senior Williams is credited for singlehandedly coaching his daughters after he learned about tennis from a man known as 'Old Whisky'.
Williams reportedly fell in love with tennis after watching Virginia Ruzici playing on television, before deciding to mentor his daughters to be professional players.
Like Williams, the Dolcis have embarked on a long journey to mould the future Serena and Venus Williams of Kenya, budding tennis stars from Sweden with Kenyan roots.
Though their mother was a talented netball player in her youth, Yvonne never engaged in sports at the top level as a professional, unlike her husband who won the 1998 European International School Leagues and was voted Holland's Football League Most Valuable Player (MVP).
The multi-talented Sereno, who also won 1,500m, 800m and 3,000m titles at the Luxemburg Junior Athletics Championship, is a certified UEFA Grade B football coach and a physical trainer.
Sereno opted to shift his focus to tennis despite guiding Sigtuna IF to the Swedish Junior League title in 2002. He is back in class to pursue a tennis platform coaching course.
He is doing this so that he can ultimately take over the coaching of his two daughters, just like the senior Williams.
Yvonne also has plans of joining her husband in the tennis class despite her tight schedule working as a nurse.
The coaching skills, she says, will supplement her husband's efforts as they work in tandem to nurture the future Serenas. Yvonne's ultimate dream is to see the two girls donning Kenya colours at the Olympics or the Africa Games.
"I was good in sports while growing up," Yvonne, who lost her mother at a tender age, recalls.
"I remember my PE (Physical Education) teacher encouraging me to consider taking up sports, but circumstances weren't favourable at the time. I was forced to live with my aunt after I lost my mother and unfortunately, I had little time for sports as there was too much house chores to be done.
"So, I still have suppressed talent in me and that's why I want to give my kids the chance I never had and see how far they can go."
Just like the Williams sisters, Venesa, now nine, first had contact with a tennis ball and racket when she was four years old. But the journey, Yvonne says, started on a rough path after experiencing racism and a 'hostile' reception at a public tennis court on their first day in Sweden.
"We went to this public court where everyone was white. When they saw us, they looked at us in a weird way, perhaps because we were the only blacks there and maybe they thought that black people cannot afford to play or shouldn't even be there," says Yvonne.
The future stars enrolled for their first serious tennis classes 14 months ago and they follow it religiously, training five days a week.
To work on their reflexes, the girls take up swimming lessons and soon they will enroll for gymnastic classes to help with agility and improve their mobility, which are essential in tennis.
But with a relatively complex background of a Kenyan mum, a father who is half Swedish and half Italian, and a grandfather born in Slovenia before settling in Italy, one might wonder the nationality the children might want to adopt in international sports.
"They will have to decide for themselves, but it would make me happy should they decide to represent Kenya.
"I will be besides myself with joy if one day they represented this country at a major championship like the Olympics," Yvonne says with a big smile.
Currently, Venesa and Amanda are under the tutelage of the youngest of the Ymer brothers, Raphael. The Ymer brothers (Michael, Elias and Raphael) are some of the top-rated Swedish tennis players.
The Ymers, interestingly, are also immigrants from Ethiopia.