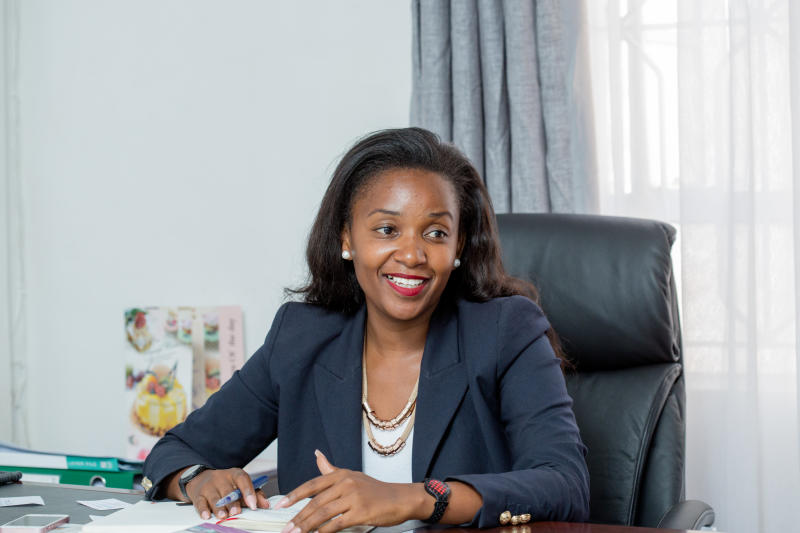 Anne Nyaga (pictured), the Chief Administrative Secretary (CAS) at the Ministry of Agriculture sits on the seventh floor of Kilimo House in Nairobi. At any one time, she has around her a bunch of handlers; including a bodyguard and a personal assistant.
At 35, Ms Nyaga is one of young people who found themselves in the inner sanctum of power as chief administrative secretaries when President Uhuru Kenyatta made the picks in in January this year.
This though was not in her original plan. If the gods had granted Anne her wish, today she would be roaming the corridors of a hospital with a stethoscope on her neck attending to patients.
"Plan-A was to study medicine [after finishing high school] and becoming a doctor afterwards," she says. "During those days an A was a prerequisite for studying medicine and I had only managed a B+."
Read More
Instead of feeling sorry for herself she moved on swiftly to Plan-B. She says: "I had Plans A, B and C. If A failed I would go to B. If B failed I would go to C." Certainly, had all A, B and C failed she would have found an option D: that was her modus vivendi.
Plan B was a career as a biomedical researcher. She applied to study Biomedical Science and Technology at Egerton University.
"I graduated in 2007 with a Bachelor of Science degree. Afterwards I joined KEBS (Kenya Bureau of Standards) as an intern."
Then for she got a job working for a private company before it was time to activate Plan C: farming.
She had expected to find employment – a well-paying job at that – upon clearing university. "But the reality on the ground is different when one comes out here: there weren't many jobs for fresh university graduates," she says.
The decision to go into farming, she says, was initially motivated by 'opportunities' to make money. "I saw instant money. I realised I could make good money growing and selling food," she says.
But what she didn't know at the time, she wouldn't just make the money farming: she would end up serving the country as a CAS, even more sweetly, in the Ministry of Agriculture. Farming was a foreign concept to Anne. She grew up in a farm in Mbeere, Embu. Both of her parents, while holding civil servant positions, were committed farmers.
"At some point my mother resigned to make money from farming. She grew French beans for export," Anne says.
It was not just that. In school she was an avid member of the 4K clubs. She says: "As a member of the 4K club I benefited from practical farming lessons that were aimed at letting every young person know how to grow food."
So, when she switched gears from biomedical technology to farming, the feeling was both nostalgic and familiar. Her parents gave her a piece of land and technical support to go the full hog from soil preparation to harvesting.
The first crop she cultivated was French beans – partly because she had seen her mother make money exporting the produce. She then tried her hand on baby corn – also for export.
"Later I stopped growing French beans and baby corn because the export market was increasingly becoming volatile and unpredictable."
She moved on to watermelons. The fruit, she felt, had a local market and did well with the soil in Mbeere and the accompanying climatic conditions.
As she made more strides, so did her farming profile grow. Around 2008, she caught the eye of the then Ministry of Agriculture PS, Dr Romano Kiome, who then appointed her to sit in a taskforce to articulate challenges youth face in agriculture. By 2014, she says, she was settling in her success working the soil. She got interested in influencing the younger generation to consider farming as a career option.
"During our days the 4K clubs helped us understand the process of food production. When the clubs died off, farming stopped being viewed as a career option by young people," she says.
It has not been all smooth sailing, however. She has faced criticism – from friends and people known to her – for 'throwing away university education for farming'.
"In fact, I was told that I was becoming a liability to my parents. Someone pointed out that I was becoming useless: that I was not going to be of value.
"Back then farming was viewed as a profession for losers. And while it was not nice hearing people talk about farming in less than flattering terms, I was not deterred.
"The funny thing is those critics, while pouring scorn on farming, weren't offering me anything else to do with my life: they weren't offering alternative solutions. So I chose to stick with my ambitions," she says.
Now that she wanted to give back to society, Nyaga thought it prudent to target primary school children by seeking to revive the 4K clubs.
First, she registered the 4H foundation through which she approached primary schools in eight counties – Embu included – to develop organic kitchen gardens.
In 2017, her career progression was about to sling shot to a whole new dimension when the governor of Embu, Martin Wambora, took notice of her efforts inspiring primary school children and asked her to join his cabinet.
"I just received a call from the governor one evening," she says. "I had interacted with him previously as a business person selling farm produce to hotels and food businesses."
She moved on to work for Embu County as the minister (County Executive Committee member) of Agriculture; a position she held until January 14, 2020 when, yet again, fate smiled on her and she was named CAS. "Someone told me to watch the news because my name had been mentioned," she says.
"Did you have to pull any strings get appointed CAS?" I ask.
The question elicits laughter followed by a sigh. "Nothing," she says, a smile still playing on her face.
She continues: "I am not the most learned or the most accomplished Kenyan. It is not like I was more deserving than others. I would say it was God's favour."
There is no question though that the appointment had something to do with her past in the field of agriculture spanning a decade.
She remains gracious though that such an opportunity was given to her. The sky, she says, remains the limit.
Anne's superpower thus far has been malleability. For her, nothing is cast in stone: if A does not work you move to B and so on. "As we grow we learn and rediscover ourselves," she says.
She laughs off a question on her relationship status: "Let me pass on that question. I don't want to expose anyone to scrutiny."
For her free time Anne drives to her farm in Embu. Walking between rows of crops, she says, is therapeutic. The bleating of goats and noises from farm animals puts her mind at ease.
A week before this interview, the CAS hosted a battery of journalists at the model kitchen garden set up by the ministry.
The project – which aims to empower at least one million families to develop kitchen gardens – is her brainchild and is eerily similar to her ambitions with the 4-H club.
Would she consider going back to study medicine since it was her first choice?
"No," she says. "In a way I have become the doctor I wanted to be. I am now 'healing' people through good nutrition and mitigating against food insecurity."