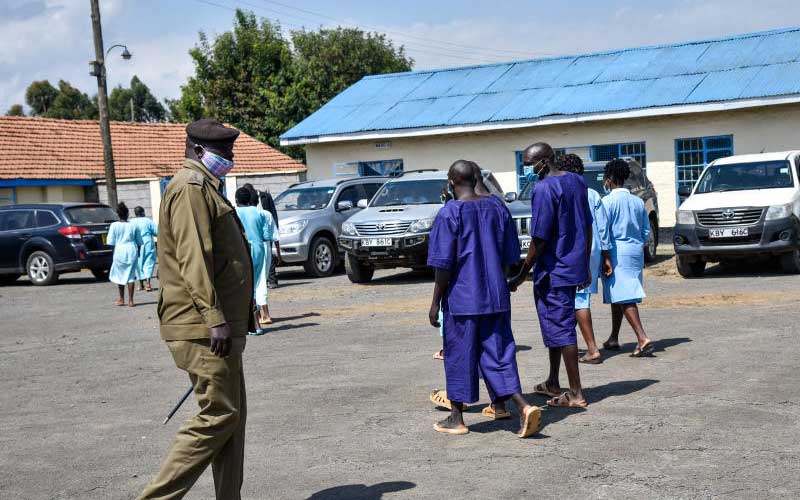 It is a warm sunny morning in Nakuru and an 82-year-old man dressed in a black jacket, and a blue and white striped trouser is basking in the sun at Gilgil Sub-county hospital.
For the past 40 years, John* has known no other home after he was transferred from Mathari mental hospital in Nairobi to Gilgil sub-county hospital in Nakuru County.
The facility's medical superintendent David Kuria says John is the oldest patient at the Gilgil Sub-County Mental Unit. He was diagnosed with bipolar disorder, a condition that causes one to experience erratic moods, energy and activity levels.
He takes anti-psychotic drugs to calm his nerves.
However, John's medical records for the last four decades cannot be traced. He is among 40 abandoned patients with mental illness who were transferred to the facility from the Mathari Hospital in Nairobi.
"John doesn't know where he came from, neither does he know his relatives. He is our 'pensionable' patient," says Dr Kuria.
The Gilgil General and Psychiatric Hospital is the oldest and biggest psychiatric unit in Rift Valley, and second-largest in the country after Mathari Hospital.
Records show that the facility was a British military camp in the colonial era. It was established in 1965, as an extension of Mathari Hospital, to ease congestion.
Psychiatric inpatients
By 1983, the hospital had 430 psychiatric inpatients, admitted from across the country, and hence further transfers from Nairobi were stopped.
In July 1995, the psychiatric unit was merged with Gilgil Rural Health Demonstration Center to constitute the Gilgil Psychiatric and General Hospital, now Gilgil Sub-county Hospital.
At the facility, health workers make their way to the outpatient block as others do ward rounds. But all is not well inside secluded old wards tucked in a corner. Patients wake up at 8am, shower, take breakfast and go for counseling. Those who have recovered take other patients through therapy.
Due to their condition, the patients do not know their names. The hospital's management was forced to give them names for easy identification.
Kuria explains that identification also enables abandoned elderly patients to be enrolled under the National Health Insurance Fund (NHIF), a decision made after consultation with the Registrar of Persons.
"Medication is key in management of mental illness," he tells The Standard.
According to a report by Kenya National Commission on Human Rights on mental health, an estimated 25 per cent of outpatients and up to 40 per cent of in-patients in health facilities suffer from some form of mental condition.
Despite the facility offering critical support for mental health, lack of funds has hampered services, with a bill of Sh12 million accrued 13 years ago yet to be cleared.
"We have a pending bill of Sh12 million, accumulated from 2007, from the purchase of drugs and food supply," says Kuria.
There are days when the facility relies on well-wishers for food.
Whereas there is a high demand for mental services, the hospital does not have Electroconvulsive Therapy (ECT) machines, used for reviewing the mental state of a person.
Those in need of medical examination are referred to the Nakuru Rift Valley Provincial General Hospital, 40km away.
The Gilgil facility has at least six nurses and one psychiatric doctor, attending to 66 inpatients.
Gilgil Ward MCA Jane Ngugi, who is also a board member of the facility, says inadequate funding is a major challenge.
Nakuru County Health executive Kariuki Gichuki says the national government resolved to have the Ministry of Health take over the psychiatric unit.