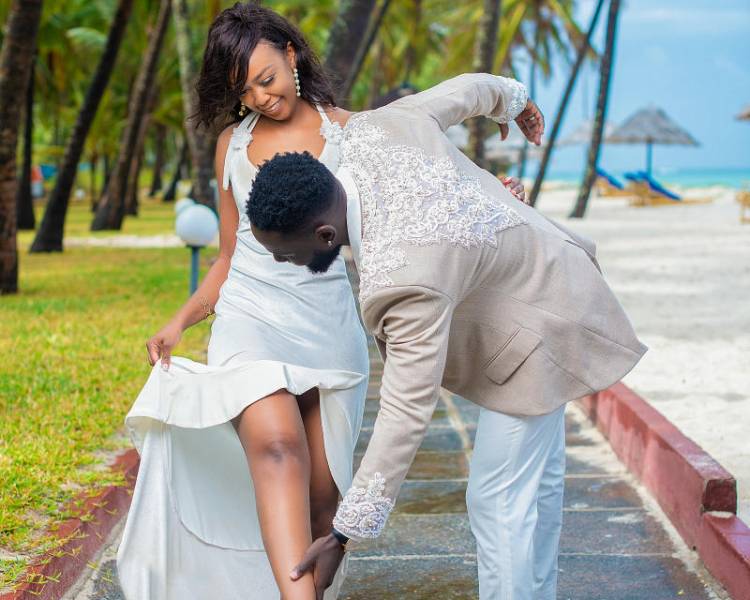 In a fairy-tale wedding ceremony held on the shores of the Indian Ocean, former Mr World Kenya crown holder Cula Budi tied the knot with his longtime girlfriend Wendy Kimingi.
In the breath-taking, soft, white sandy Diani Beach that has become one of the world's luxury tourist havens, the lovebirds took the vows as the sea billows rolled – a witness of 25 on their side.
It was not your every day ordinary wedding, as elegance and class fused the white and blush theme. And soothing jazz melodies to boot.
On an ordinary day and according to their original script, the couple would have invited about 250 to the wedding, but with the current restrictions prompted by the Covid-19 pandemic, the couple kept it small. And it is not just them.
Even as the government relaxed the restrictions on wedding gatherings – with a total of 100 people being allowed to attend the ceremonies, industry players argue that even post Covid-19, weddings will never be the same again.
"People are trying to reinvent their lifestyles and their spending habits and priorities. Young people, especially those between 24 and 35, will no longer be the reckless spending spree lot as they have learned the value of savings and putting money in the right investments out of this Covid-19 experience," says events planner and CEO of Cate and Chris Ltd events stable.
He says unlike before when couples would organise lavish weddings for show-off, complete with choppers and limos as well as honeymoon bookings overseas, current and future lovebirds will likely put that money into different investments such as a house or farm business.
In the past, weddings were big events that pulled the hospitality industry together; from wedding planners, fashion designers, décor specialists, hoteliers, entertainers, luxury car hire companies to destinations marketers. But the changes could see a major reduction on the billions usually spent, dealing a huge blow to this industry.
"I don't think weddings as we knew them will ever bounce back, same as conspicuous lavish indulgences. In fact, right now, we are exploring the small weddings sector that I have always advocated for and that I have always felt had a huge potential to grow," says Catherine Masitsa, the director of weddings franchise, Samantha Bridal.
Dr Masitsa says even as the the society's lower class awaits Covid-19 pandemic to end for its kind of weddings to bounce back, the rest of the world has moved on, with the middle class opting for smaller weddings.
"People who really wanted to marry are not sitting there waiting for all those sanctions to be lifted. People moved on. Weddings are no longer going to be for show. They will become the personal and intimate affair they were always meant to be," she says.
Masitsa says from family members to friends, people will start to appreciate a couple's choice of having an intimate wedding, the garden 30-people private kind and Attorney General wedding endorsement affair that simply requires two or so witnesses.
She says it has been a tough time for the wedding industry, adding that that players may have to change their models to tap into the gains of the new realities.
"We still have the upper class and the ultra-class kind of weddings where people are willing to spend Sh30 million to Sh50 million. Shockingly these are the kind of intimate weddings that attract about 50 guests," says Masitsa.
"The rest are scaling down and the clients coming to us are advocating for small budget wedding plans. Besides, what is the use of trying so hard and ending up in debt when you could have created a good experience out of what you have?"
Mambo Maithya, 31, an Information and Communication Technology (ICT) expert, who looks forward to becoming a family man soon, says he does not see the essence of having the entire world attend your wedding.
"Why leave a financial burden behind after one lavish day that no one else apart from the couple will ever remember? I mean, all they come to do is see how big or small the cake is and how well the rice and stew is being served," says Maithya.