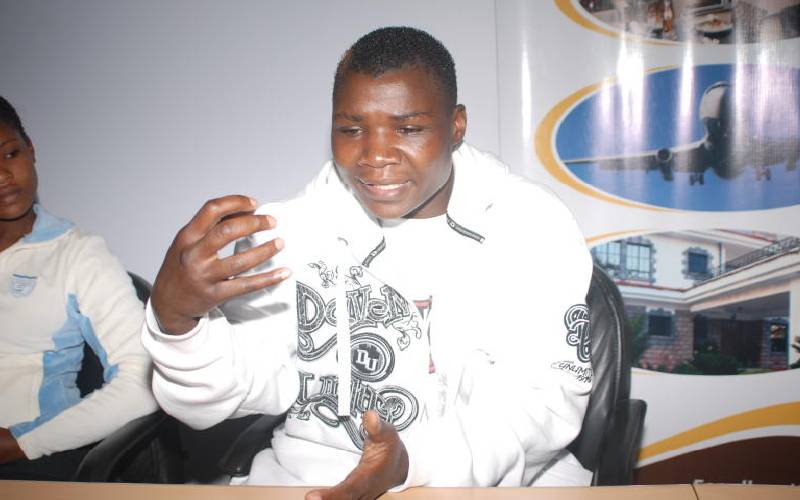 Sports stars have myriad psycho-social health issues which are rarely addressed. For starters, there is a very thin psychological difference between a sports person representing Kenya in international competitions and KDF soldiers on 'Operation Linda Nchi' in Somalia.
In general, both are defending the national flag. Both have to sacrifice their time with family to keep the image of the country brighter.
The boxer, who steps into the ring to fight an opponent from another country, uses his fists to subdue the 'enemy'. A loss might lead to depression for they may be seen to have let the country down. When these sportsmen return home, some with injuries, nobody bothers to counsel them. There is no boxing, athletics, football or rugby chaplain to repair the psychological damages they went through.
When Brazil hosted the 1950 World Cup finals, needed a draw to win, but lost 2-1 to underdogs Uruguay, the country went into mourning. They blamed the goalkeeper Moarcy Barbosa, who was out of his line when winger Alcides Ghiggia drilled in the winning goal.
Read More
The psychological damage was such that Barbosa was shunned for the rest of his life. He and his children found it hard socialising or getting employment. Fans even uprooted the wooden goalposts from Maracana stadium, venue of the finals, and planted them outside his house!
Just before his death, courtesy of a heart attack aged 79 in 2000, Barbosa was full of lamentation.
"The maximum punishment in Brazil is 30 years imprisonment, but I have been paying, for something I am not even responsible for by now for 50 years," Barbosa said.
So depressed were the footballers that the government hired psychologists in subsequent tournaments. Most footballers, having come from slums, had inferiority complex issues besides the shame of the Uruguay defeat. Those with bad teeth had corrective surgeries.
As a show to forget the 'Massacre of Maracana', Brazilian team colours were changed in a national competition from the previous blue and white to the current famous yellow canary and blue.
The psychological makeup of a sports star is a serious issue. So serious, the Italian football federation hired a psychologist for midfield kingpin Andrea Pirlo to help cope with depression following his divorce to his wife of 12 years and mother of their two children. The divorce came just before the 2014 World Cup in Brazil.
There was a team psychologist and another just for Pirlo! This is far and above the Italian team having a squad pastor, Don Massimiliano Gabricci, who was also available for a private session with Pirlo.
Pastor Gabricci was there for goalkeeper and captain Gianluigi Buffon, who had also separated. This was besides soothing the anxieties of forward Alessio Cerci, who had missed a crucial penalty during the finals of Serie A.
Pastor Gabricci, the team's spiritual father, also held a special mass for the team, blessing the squad before they left for Brazil. But the mental blockades of key players were telling as Italy won against England with Pirlo scoring but lost to Costa Rica and Uruguay to exit the tournament.
It is this mental bearing that makes sports stars from the Kenya Defence Forces turn out differently-unlike those in the Police or AP. The KDF have a chaplain offering spiritual nourishment and psychological comfort to soldiers. But the same does not apply to our sports stars. This begs the question of whether they need a halfway house where they can seek comfort and mental therapy before rejoining their families.
The halfway house can also be used for those suffering negative post-retirement issues like alcoholism and depression. They can be accommodated for rehabilitation and released after recovery.
When English soccer star Paul Gascoigne fell on hard times, due to alcoholism, there were alternative rehabilitation avenues with a guaranteed roof, bed, regular shower, food, medical and general comfort.
It is at the halfway house where ma-fans can take their donations including food, clothing and medical supplies beyond help from the immediate family. The case of a sickly Conjestina Achieng is still fresh in our minds. If she was in KDF, the resident chaplain would have rescued her through official channels.
There are many athletes in serious depression after lengthy doping cases. Most are caught in dramatic drunken activities after curfew hours while others have domestic tiffs or are involved in car accidents. Many sports stars are scattered all over the country wallowing in shame and poverty hence the need for 'Nyumba Ya Wanaspoti' for all needy cases.
At the moment, Tom Olaba is recovering after an operation in Tanzania where he was a football coach. Conjestina is disturbed in her village in Siaya county. Steve Muchoki, one of Kenya's best ever boxers besides Phillip Waruinge and Robert Wangila, could also be on the dole (see story on page 47).
Since the government hasn't started building the nine stadiums it promised, building a Halfway House would be a tall order. This means Kenya Football Welfare Association or any other group that can handle cases involving broke and sick former stars, who have fallen on hard times, could step in. I am sure current and successful players would be willing to help.
Pullout quote: Sports stars need a Halfway House for comfort and mental therapy before rejoining their families