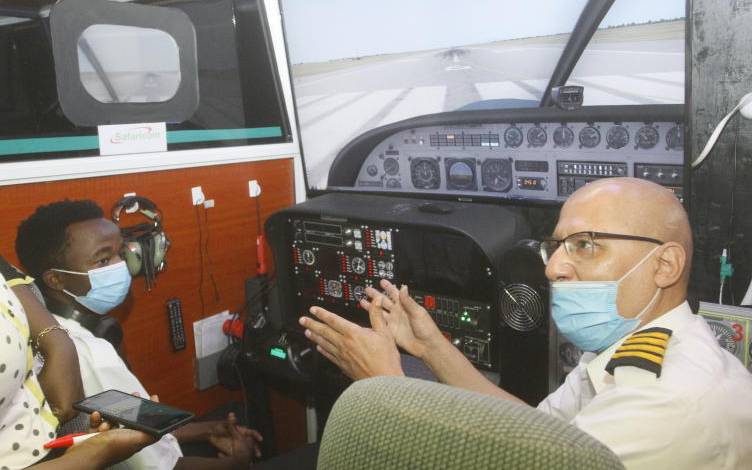 "Jomo Kenyatta Tower, this is 5 Yankee, Sierra Alpha Mike Sierra," says Henry, our pilot. "As per our flight plan, we are ready to start the engine."
When the checklist is complete and he is cleared to start by the ground controller in the tower, the sound of a rumbling plane engine fills the space as Henry starts up the plane and the propeller starts spinning.
We are in the cockpit watching him work his magic with the controls and instruments. In front of us, the propeller spins faster and faster as we prepare for takeoff. The plane begins taxiing the runway and soon we are airborne, cruising above Mombasa Road.
It is surreal, mostly because we have not actually left the room where all this is happening at Muthaiga.
Read More
We are using a flight simulator, very much like the real thing, only that it is not moving and the area we are flying over is on a giant TV screen. This is usually the first step for aspiring pilots before they fly a real plane.
The pilot, Henry, is a student being trained free of charge by Captain Nick Ng'ethe, who for this 'flight' acted as the ground controller before resuming as an instructor.
Maximum inspiration
Ng'ethe is a retired pilot who flew AMREF planes and was also a pilot with Regional Air. Seemingly for maximum inspiration, he teaches in the captain's uniform that he used to wear before he retired.
"We can do one circuit and then come back," he tells Henry. He changes the weather on the screen from nice and sunny to choppy and rainy. As he guides the student through the skies, you can see how anybody's dream to fly would come to life.
Flying lessons are usually reserved for a select few because they are prohibitively expensive, not just in Kenya, but all over the world. To get a Private Pilot Licence (PPL), it costs approximately Sh800,000, while a Commercial Pilot Licence (CPL) costs approximately Sh2.8 million.
Ng'ethe knows what it is like to have ambitions of flying, as he harboured such dreams of his own growing up but it took time for him to get there.
He was in primary and secondary school in Kenya but had to go to the United States to get training and as a pilot. He is in his 50s and flew for about 20 years.
He is now trying to give disadvantaged children with such dreams that elusive experience, teaching most of them for free.
To do that, when he was about to retire, he began building his own flight simulator, similar to those used in flying schools to give flying lessons to the less fortunate who would like to fly.
His flight simulator, Samanthair, has been running for almost five years now.
"Samanthair is the flight simulator that takes everybody and anybody," he says.
"It is not a licence. But if you really think aviation is meant to be your way of life, by the end of this you will be certain or you will realise it is not what you want to do."
The system has 68,000 airports all over the world in it, so the pilot can virtually experience flying in many places.