Covid babies: Expectant Kenya awaits birth boom in December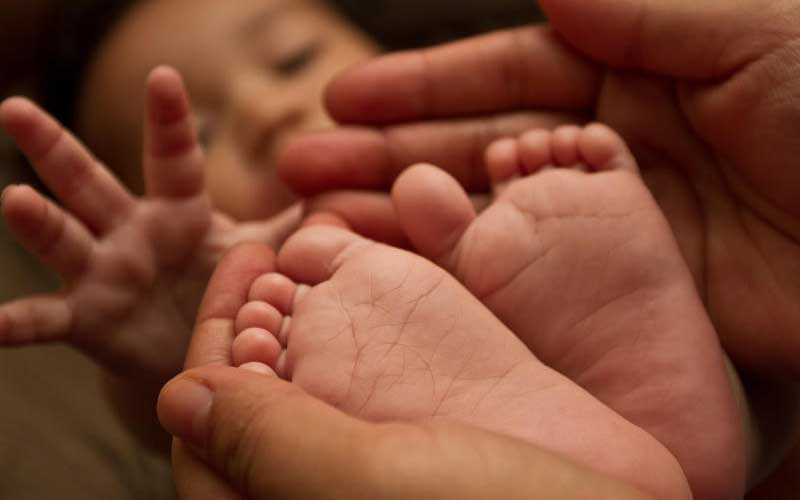 Kenya is going to witness a Covid-19 baby boom from the end of this year.
According to a report by the Ministry of Health on the effects of coronavirus on essential health services, there has been an increase in the number of women and girls getting pregnant since March this year when containment measures were effected after the pandemic was reported.
The pandemic triggered restrictions of movements and the stay at home by the government and a string of directives from experts culminating with the closure of all schools, churches and all forms of entertainment offered in social places.
According to the ministry's countrywide analysis examining the trends of selected indicators over a period of three years from 2018, there was a rise of women going for the first Antenatal Care (ANC1) in June 2020.
The data collected from health facilities across the country show that the number of expectant mothers going for antenatal clinic for the first time has been rising since March compared to what has been recorded in the same period over the last years.
"The rise of (antenatal care) ANC1 attendance in June 2020 is higher than June data of 2018 and 2019 where both years showed a downward trend of ANC1 in June," reads the report titled, Impact of Covid-19 on Essential Health Services in Kenya.
At the onset of Covid-19, a total of 123,442 expectant mothers sought antenatal care in March for the first time, but the number decreased the following month to 116,832.
After the first shock of the pandemic was absorbed, the number of expectant mothers seeking care for the first time rose in May to 124,060 and by the time the data was collected in June, the numbers had climaxed to 132,169.
This contrasts sharply with the trends witnessed in the last two years where the number of expectant mothers seeking care is lower in May and June.
In 2019, a total of 128,497 pregnant mothers visited clinics for the first time in May compared to 118,838 in June. Earlier in 2018, a total of 137,417 pregnant mothers went for care in May while 122,143 sought services in June.
Interestingly, the statistics show that over a period of three years, January is the month with the highest number of pregnancies, which is attributed to the Christmas holiday festivities.
The comparative data show that in January 2018, there were 146,693 expectant mothers, which fell to 121,979 in February, a trend detected in 2019 where 149,157 first antenatal visits were recorded in January, which decreased to 113,033.
The same trend was replicated in January this year.
Victor Rasugu, a reproductive health expert, told The Standard that the first babies conceived during the Covid-19 era will be witnessed towards the end of this year.
"We will definitely have a baby boom because of the stretch in healthcare and lack of contraceptives. We will have many pregnancies and the first babies will be delivered in December," Rasugu said.
According to Rasugu, who is the director of Network For Adolescent and Youth of Africa, this boom and an increase in backstreet abortions will continue to the first half of next year.
He said since the onset of the pandemic in March, all the resources by the government and other non-State actors have been focused on containing the pandemic.
"The effect of all this is that there has been a dip in the purchase of contraceptives. Most healthcare providers too have been deployed to deal with Covid-19, compromising provision of reproductive health care," he noted.
At the same time, 174,203 teenage pregnancies has been captured by the report which covers up to June this year. Since March, 112,456 teenagers have been impregnated with June rerecording the highest number yet as 30,418 pregnancies were recorded in antenatal clinics. The report shows that 42 counties reported an increase in ANC1 attendance with Bomet, Machakos and Uasin Gishu leading. Others are Samburu, Siaya and Kirinyaga.
Garissa, Kiambu, Murang'a, Vihiga and Makueni showd a decline in ANC1 attendance.
In June 2020, the report says, ANC services reported a slight improvement compared to the performance reported in May.
The study explains that estimation of the number of women who are pregnant is typically done when women present themselves at health facilities for care. This is likely to be any time between the first and fifth month of pregnancy for most women and could be much later for adolescent girls due to multiple factors related to health-seeking behaviour.
The combination of stay-at-home advisories, the dusk-to-dawn curfews and subsequent inability to access contraceptives is attributed to likely result in increase of pregnancies, planned or unplanned, wanted or unwanted.
The containment measures in combination with unmet needs in family planning or contraception may also be a reason leading to a baby boom in the coming months to next year.
A June 2020 report by Form Ni Gani (FNG) Kenya on contraception and Covid-19 in Kenya, shows that 60 per cent of respondents experienced difficulty in accessing contraceptives, with 36.6 per cent stating that this difficulty resulted in irregular use of contraceptives.
The FNG report indicated contraception access challenges in times of Covid-19 which include closure of access points, loss of choice, containment measures which were deemed prohibitive, closure of colleges and universities, shortages in condom supply and fear of hospitals.
Head of Preventive Promotive Health Pacifica Onyancha gave practical guidelines for continuity of reproductive, maternal, newborn and family planning care services in the background of Covid-19 pandemic.
The ministry in April restricted community-based distribution of contraceptive to condoms and pills due to high risk of perpetuating community transmission of Covid-19 infection.
"For the same reason, community family planning outreaches are suspended until a later safer time when normal service provision resumes," said Onyancha.