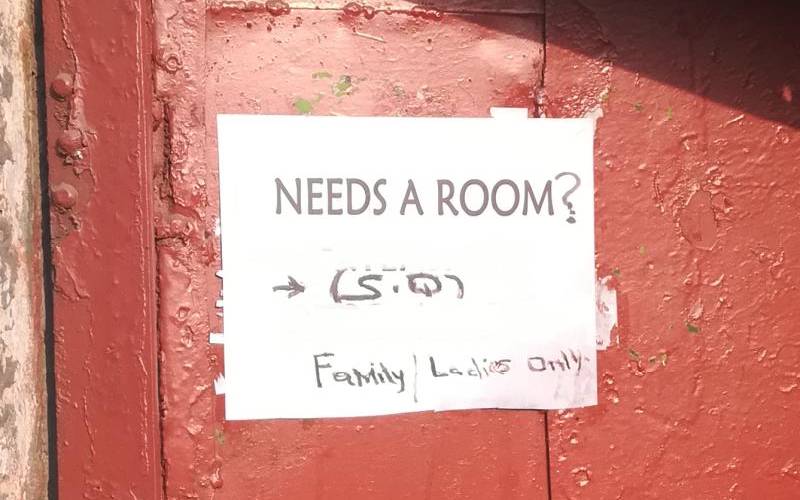 The estate — tucked between Nairobi City Centre and the expansive Industrial Area — has some very strange rules.
For starters, young men and women who are single can't get houses for rent here. The men and women who would want to live in the estate owing to its proximity to the CBD are feeling shortchanged.
Julius Wekulo, a former Kenya Railways employee who manages some houses in the estate, says he was forced to throw out three young men from the houses they had rented "because they used to bring all kind of women into the plot on a daily basis".
A spot check by The Nairobian revealed that some landlords pin notices on doors of vacant houses indicating that only families will be considered.
"Young people are not responsible. That is why we don't want them renting houses and disrupting the peace here," Weluko told The Nairobian.
Wekulo says most tenants (families) share social amenities like washrooms, taps and even a common kitchen.
"I no longer have to worry about young people boozing and entertaining girls. I remember I used to wake up early, mostly during weekends, to collect and burn used condoms and beer bottles so that my son does not see and learn these bad things," said Wekulo.
Another caretaker in the estate is Dalmas Okong'o, who like Weluko, does not have very kind words for young men and women.
At the entrance of his compound is a poster on a rusty wall reading "family people only".
"That's the rule here. I don't accept single people in the compound because they are complicated to deal with. Most of them are students from nearby universities and still learning new things in Nairobi," he said.
He added that: "Not long ago, all these rooms were occupied by young men and women, but I was forced to eject them because of their bad habits; arriving home drunk and sometimes bringing their lovers and it is very hard to have privacy in this kind of homes."
Okong'o said he once handled a case where two young men nearly killed each fighting over a university girl.
"It wasn't easy, given my family shared the same compound with the young men. I had to kick them out," he said.
The Nairobian learned that only a few houses accommodate singles — because they are deemed too tiny to house a family. Still, those who come in must be vetted first.
Landi Mawe has been earmarked for new multi-million-shilling face-lift in the ongoing Nairobi Railway City Project on a 425-acre piece of land stretching from Haile Selassie Avenue to Uhuru Highway past Bunyala Road, Commercial and Landhies Road.
The project envisages facilities like a school, park and affordable housing units to accommodate approximately 28,000 residents.