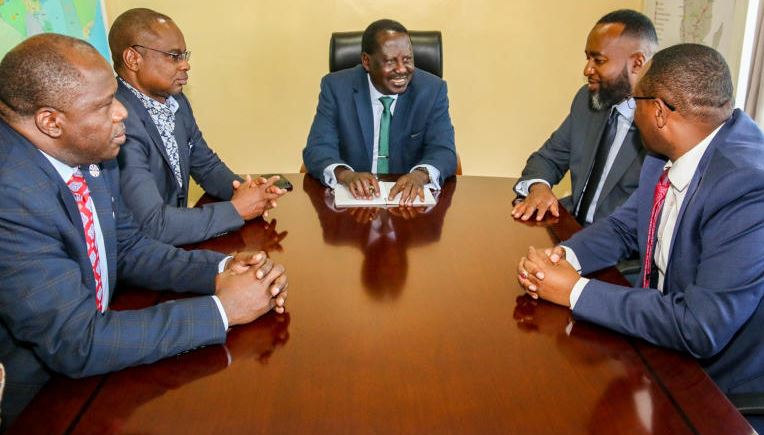 If gazebos of choice homes or locations of Kenya's political hotshots could speak, they would unravel the country's best kept political secrets of near misses, shattered dreams, sacrifices, accomplishments and so much more.
They have defied privacy tags - homes are supposedly private - to become unwitting theaters of political intrigues, schemes and plans.
Central Organisation of Trade Unions (COTU) boss Francis Atwoli's home in Ildamat, Kajiado County, is the latest addition to a long list of power homes where deals are struck, alliances built and successions planned.
Trips to Atwoli's
Perched on a hill overlooking the scenic plains that gives life to the Olkejuado river, Atwoli's palatial home is the kitchen brewing the 2022 succession serving. The country's top power men are making trips in and out, even at the height of Covid-19 cessation of movements out of Nairobi County.
Read More
What started out as Easter lunch at the home between the host, ODM leader Raila Odinga, Devolution CS Eugene Wamalwa, Jubilee Vice-Chairman David Murathe, Siaya Senator James Orengo and Suna East MP Junet Mohamed blossomed into a full blown coup season in the ruling Jubilee and opposition parties.
"Though the meeting ended up with some strategies, it was meant to be a get-together to celebrate Easter. After all, Raila has always been paying me visits because he is my brother-in-law while Murathe usually comes due to the friendship I had with his late father," Atwoli mused over the meeting.
And last Sunday, Raila was back in the Ildamat house with the same Murathe, Orengo, Igembe Noth MP Maoka Maore and former presidential candidate Peter Kenneth for another lunch and strategy meeting.
"I am humbled that he chose my Ildamat Home in Kajiado as his first place to come have lunch with us," Atwoli tweeted of Raila after the lunch meeting.
But Atwoli's home pales in comparison to what has been cut in other homes in the past. Former President Daniel arap Moi's homes - Kabarak home in Nakuru and Kabarnet Gardens in Nairobi - is the stuff legends are made of in terms of the impacting on the country's political trajectory.
While Moi used to transact his official businesses in State House, he reserved these homes for "siasa moto moto." Earlier this year, former Comptroller of State House Franklin Bett told Sunday Standard Moi dished out early morning appointments with strategists and other political officials before he drove to State House for the day.
Such a beehive of political activity was Kabarnet Gardens that when the main house was built in early 1990's, they had to build a small meeting hall in the compound. "We built a small meeting hall on the side of the new building from were the small delegations were hosted. Whenever the numbers were high, we would put up tents behind the main house," Bett told Sunday Standard.
Over the weekends, important political meetings and planning would be held in Kabarak before they found their way into State House bureaucrats for official communication or record. And when Moi retired to Nakuru, important visitors- among them President Uhuru Kenyatta, his mother Mama Ngina, Raila and others held talks with him there.
Kenyatta's Ichaweri
His political heir, Baringo Senator Gideon Moi, has taken up the mantle, literally. He has been hosting meetings in both Kabarak and Kabarnet homes, signalling the heavy groundwork being done ahead of 2022 succession battle.
Mzee Kenyatta had made his Ichaweri home his political stronghold, sometimes holding important meetings under the trees, including the famous one after the assassination of one of his Cabinet ministers Tom Mboya in 1969.
The home had a historical significance for him. Flattened by the colonialists to the ground on his arrest, Ichaweri was rebuilt within a record time ahead of his release in 1961. Although the younger Kenyatta rarely hosts political events at Ichaweri, he retreats there whenever in the thick of it.
In the run up to the two general elections of 2013 and 2017, Kikuyu Council of Elders held special prayers in Ichaweri interceding for his success. In the run up to 2013 elections, Kenyatta held meetings at the house of businessman Jimmy Wanjigi.
At the height of his beef with the State two years ago, Wanjigi claimed his house held a lot of secrets, including the first handshake between Odinga and Kenyatta in the aftermath of the 2013 Supreme Court decision affirming the later's electoral win.
"This is a home that this current regime of Uhuru Kenyatta knows. It is a home they have visited; it is a home they have eaten many many times. In fact, their government was formed in this home," Wanjigi said, accusing the Government permitting the police raid at his home.
Interestingly, former President Mwai Kibaki and Raila are not known to have the tradition of hosting meetings in their homes.
While Kibaki hosted strategy meetings in hotels, club houses or in State House, the latter at the time he was a President, Raila has built his power base around his Capitol Hill office. It is here where he has been meeting leaders and strategising with allies, occasionally hosting some at his Opoda farm.
In his memoirs, Against All Odds, former Vice President and Wiper Democratic Movement leader Kalonzo Musyoka unveils the secret of his gazebo beneath his Karen home. In the book, he talks of the palpable silence in the gazebo when Uhuru, William Ruto and Wanjigi checked by to inform him that he was no longer their pick for 2013.
"Ruto and Jimmy sat silently as Uhuru spoke: 'Stephen,' he said, 'We have decided that you should choose some other position, but not the presidency or deputy presidency.' I was stunned. I did not know at what point the arrangement we had earlier, of me being on the presidential ticket, had been changed."
Nyayo tradition
He writes that Kenyatta then stood up, pushed his seat back and stepped out of the sliding glass door.
"He walked five steps to the waterfall, removed a packet from his jacket pocket and pulled out a cigarette. Holding it in his left hand, he lit it with a lighter in his right hand and furiously puffed on it. Uhuru finished smoking. He threw the smouldering stub on the ground, stumped on it with his left foot and ground it into the green grass."
In that symbolic gesture, he had just ground someone's political career, in their own home.
Ruto has also, over the years, attempted to keep the Nyayo tradition alive and on several occasions while at home in Uasin Gishu, hosting delegations at his Sugoi home.
Musalia Mudavadi too at his Lavington and the Mululu home of his late father Moses Mudavadi.