My business has grown during the pandemic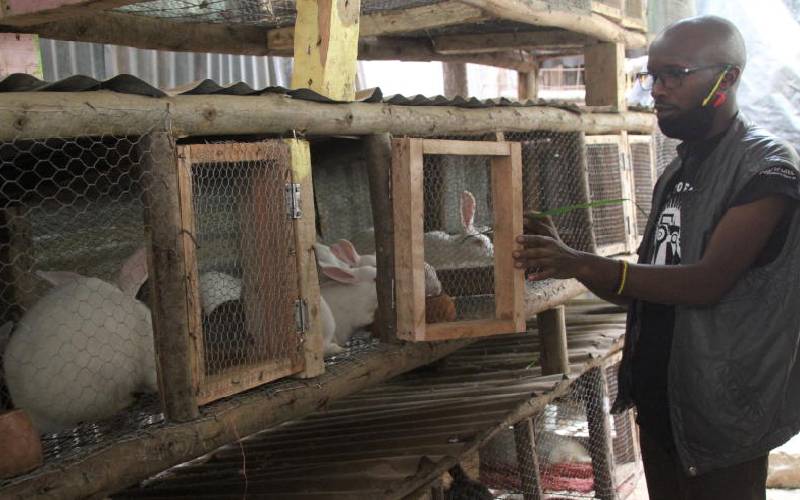 Once upon a time, he reared chickens and rabbits on the rooftop of his apartment building. He also grew veggies in the balcony. Naftal Mocha, a library and information science graduate, had made up his mind to take up farming fulltime. He faced a few knocks but his resolve paid off. Today, the 30-year old father of two owns and runs two thriving farms, one where he carries out crop farming and another animal rearing. He is also the founder of City Yard Farming Solutions. Naftal believes that the future is in agribusiness.
Did you seek out employment after school?
I graduated in 2010 and only got a job in 2013. I stayed on till 2015 when I caught the unrelenting bug to pursue my passion. I had always loved farming and since I was not going to leave the city, I had to find a way of making it work here. And so I sought out my landlord. He had to know I wanted to do some farming in his premises. Fortunately, we reached an agreement. Since it was an unfinished building, I could use the rooftop until he was ready to continue construction. With a capital of Sh3,000, I bought three rabbits; two does and a buck. I set them up on the rooftop. And that is how it all began.
Why rabbits?
They were the easiest to begin with. I did some research and found out that rabbits being such docile and peaceful creatures, they would be the easiest to maintain under the circumstances. It is easy to even clean out their cages. On top of my research, I visited a farmer in Kiambu and learnt more about rabbit farming.
I now keep nine rabbit breeds. Not on my rooftop though. We have grown. We are now on a fully fledged farm. Do you know that you can sell their urine?
Rabbit urine as a product for sale?
Yes. I sell urine to farmers who do organic farming. It goes for Sh100 per litre.
Mixed with water at a ratio of 1:10, it acts as an insecticide. At a ratio of 1:20, it can be used as foliar feed. With the rabbits, the weaners go for Sh1,500, while mature rabbits cost Sh3,300 each.
Do you remember your first sale?
You never forget your first one. The two does each bore eight bunnies and this prompted me to add more cages out of prefabricated material. My first sale was of 10 rabbits, each at Sh1,500. It was the start of a new agribusiness journey.
How did the expansion into chicken come about?
I needed eggs for personal consumption, and that is how I realised that there was a need for them. So I added a couple of chicken to my rooftop. Within no time, the numbers had increased considerably. And I decided to start selling them off. I even tried greenhouse farming.
Greenhouse farming on a city rooftop?
Yes. I practiced greenhouse farming on the rooftop. You see, if you have space and light, you can always practice climate smart agriculture. I carted virgin top soil and installed a drip system and an entire greenhouse ecosystem. I have always believed in the use of alternative organic fertilisers, which I applied here.
However, the greenhouse farming is time consuming, quite costly and we did not have consistent supply of water. Someone stole my tank, and that signaled the end of my greenhouse farming.
How do you net clients?
Mostly online. From the start, I would post online that I had chickens and rabbit for sale, gradually growing my trade's prominence among interested people.
So far, I have sold over 1,600 rabbits and over 300 chicken. A rooster goes for Sh1,500 while a hen will cost Sh1,200. I usually serve three to 10 customers in a day
When did you move onto a farm?
My landlord gave me six months' notice to move my enterprise. He wanted to continue construction. It was time to move on anyway. The rooftop had been good but I once lost all my chickens to theft, and rabbits to disease. I have two farms now. One In Nairobi and another in Kisii. As of today, the Kisii farm has bout 160 rabbits and 200 chicken.
Has Covid-19 affected your markets?
Yes. Positively. People are seeing the potential of this kind of agribusiness the more. I am getting more customers.
Which other agricultural ventures have you been into?
I farm insect repellant plants and herbs and even sell seeds for the same. I also sell rabbit feeders, build cages for the rabbits, and offer consultancy to farmers.
I am also into apiculture and intend to start a bee sanctuary in Kisii. I have four beehives at home. I aim to expand and promote sale of authentic honey in the country.
How much do you charge for consultancy?
I charge Sh500 per head for one to two hour sessions. We offer consultancy on all matters agribusiness. Ours are very practical lessons.
In addition to that, I offer market to rabbit farmers across the country. I buy from them and sell the rabbits, thus offering them assured market.
What is the greatest challenge that you have faced in this journey?
On the rooftop, an outbreak of pneumonia wiped out over 35 rabbits. This was quite a loss. Since, I have always built a shelter over the cages. The temperature should be ideal for the survival of the rabbits.
Funds for expansion are also a challenge, because I have grand ideas that cannot be developed as I would like yet. It is hard to secure loans and this is discouraging.
What is the greatest achievement in your agribusiness?
Self-employment is in itself my biggest achievement. The beauty of doing what I am most passionate about on a daily basis is unparalleled. The freedom is in itself a wonderful achievement.
How many people have you employed?
I have four. A farmhand at home (Kisii) and a casual resident in my Hunters farm. I also have a carpenter for the cages and a potter who makes the feeders.
How do you plough back your earnings?
I am investing on a piece of land for future expansion. I also intend to put up an ultramodern facility with a modern demo farm. I want to start a grand sale of organic vegetables. It's my dream to have a consistent supply of vegetables and encourage more youth into agribusiness for food security and safety.
I want to be in a position to breed up to 5,000 rabbits.
What crucial lessons would you pass on to aspiring farmers?
Agribusiness is the future. You should be passionate with what you do. You should also be consistent and know what is happening in your farm each and every day. Always strive to offer the best quality such that your customers are happy enough to refer their friends to you. There is power in referrals.
I also would love to appeal to landlords to ensure that they have at least ten potted plants on every rooftop. There are a lot of carbon emissions that need to be dealt with and with the fast-rising urban population, it is the way to go.?