No more encore! Empty pockets as mics go silent for entertainers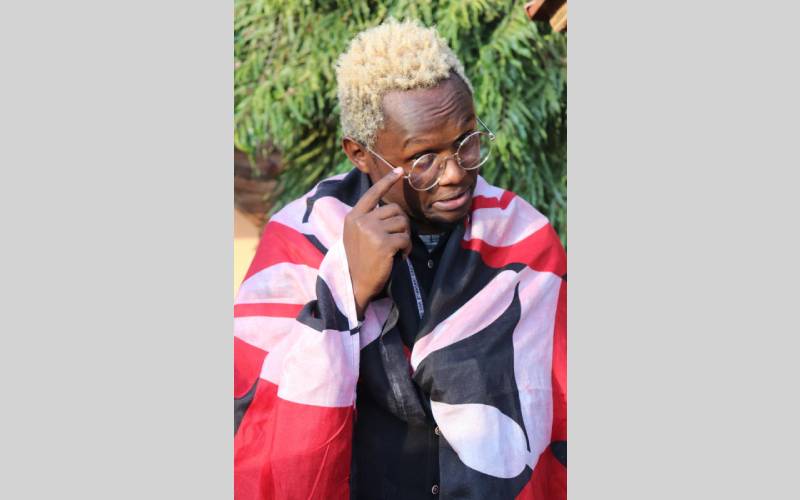 Why do some people revile music by labelling it "barbaric" but are still lured by it? This was one of the musings by Remmy Ongala, the late Tanzanian songwriter, singer, guitarist and bandleader in his song Asili Ya Muziki.
Because music, which is as old as humanity, is perhaps mankind's best way of celebrating life.
If a business is about the exchange of value, then artistes are in the trade of selling the quintessential value: happiness.
So people spend billions of shillings on cassettes, CDs, YouTube, Spotify, Apple Music, Skiza Tunes and Mdundo.
Before Covid-19 came and rudely stopped the party, loud music blasted through the night air of Nairobi on weekends as mirthful howls of inebriated revellers danced to the latest club bangers in uptown entertainment joints.
The entertainment industry was the pillar of the country's nascent 24-hour economy, with matatus, pharmacies, hospitals, fast food joints and supermarkets also catering to the needs of these revellers.
Such carousers paid a premium for the streams of beers they gulped in various pubs and nightclubs.
Kenyan hip-hop artistes – whose music for long had been dismissed for being "uhuni" (barbarism) as Remmy Ongala would put it – in their boisterous fashion, had already decided that "mziki hulipa" (music pays).
But now, as Covid-19 dims the world, these merchants of happiness – the carefree spirits that regaled Kenyans with songs, dances, comedy or skits – are staring at a bleak future.
Over 46,000 people who in August 2019 told the Kenya National Bureau of Statistics (KNBS) that they made a living by amusing people through one form or the other no longer get their daily bread from their talents.
Of these, about 7,129 were permanent employees by the end of last year, according to KNBS.
The stringent social distancing rules aimed at curbing the spread of the disease have enfeebled almost all the enablers of the entertainment industry – pubs, nightclubs, political rallies, wedding ceremonies, birthday parties, sports events, live concerts and theatres.
Sammy Wakaina, the group director of Kahama, which owns K1 Klubhouse, was once quoted as saying that after ditching the bakery business, the family decided to focus on "music, alcohol and nyama choma."
And for decades, the entertainment joint along Ojijo Road, Parklands, Nairobi, has lived up to this, and Wakaina believes they have served nothing but happiness.
Entertainment, which has come in different spices of artistic expression, has been a special ingredient in this portion of happiness. For seven days of the week, K1 was a crucible of entertainment.
Patrons would watch a movie on Monday and a Mugambi would later offer insights into the movie they had just watched.
"You would sit around a bonfire ... and you would have some discussions after the movie with Mugambi," said Wakaina.
But Mugambi is gone now.
The following day they would invite a band to play Jazz music. Not anymore.
On Wednesdays, there was speaker box, where patrons would be entertained by Patricia Kihoro, a singer, radio and reality TV personality. Her entertainment sessions have been put on hold.
Thursdays were reggae nights. They were graced by the entertainment company Dohty Family. This was, in Wakaina's opinion, one of their most popular nights. But it is not happening anymore.
On Fridays, they would invite different deejays to entertain patrons with Old School music. That, too, is gone.
Saturdays had several activities, the most popular being dance exercises. Covid-19 has blown this away.
The only entertainment activity that remains is the Sunday band.
"But we have had to shrink it," said Wakaina, adding that they start playing at lunchtime until 4pm or 5pm.
The fraction of sales that K1 used to spend on entertainment is huge.
"They (entertainers) don't come cheap," Wakaina says.
For Dohty Family alone, for instance, they would pay Sh75,000 per show, translating to Sh300,000 in a month.
Official data
Today, only a fraction of the patrons who used to flock to his entertainment joint before Covid-19 struck still come by.
The story is replicated in all the major entertainment joints in Nairobi like Carnivore and Mamba Village.
Services worth Sh12 billion that were churned out by the entertainment industry, according to official data, have been frozen by the viral disease.
The multi-billion-shilling entertainment industry is now staring at an uncertain future.
It used to be a roller-coaster for some artistes. Depending on the season, hip-hop artiste Khaligraph Jones, says he would get between four and five shows a week.
And there were good seasons when one could get three shows in one night, says Khaligraph Jones.
But this has changed.
"Because of the situation where we have no venues to perform in, we are not making any money," he said.
Recently, popular comedian George Njoroge, better known as Njoro, revealed he had attempted suicide on several occasions due to social and financial pressure following months of no shows as virtually all venues are closed to crowds.
Globally, the music industry, estimated to be worth $50 billion (Sh5.4 trillion), is in a shambles.
According to the World Economic Forum (WEF), a six-month shutdown is estimated to have cost the industry more than $10 billion (Sh108 billion) in sponsorships.
Physical sales, which represent a quarter of recorded music revenues, declined by about a third due to the closure of retail stores. Digital sales have fallen by around 11 per cent, according to a WEF article in May.
Advertising spending has also gone down even as a number of artistes delay releases to next year due to the inability to use tours and live performances to promote their new albums.
President Uhuru Kenyatta, in his New Year's address, termed the entertainment industry a "critical plank of our economy" and promised to focus on it this year to revitalise the economy.
"Kenyans are highly talented, and the music industry is potentially one of the most lucrative. Hundreds of our young men and women have invested an incredible amount of effort in the industry but are getting very low returns from their investment," said the president.
"We must allow their investments to pay off so that many more can follow them into one of the industries that we can do exceptionally well in."
He promised to have some legacy issues that have plagued copyright holders resolved.
Content service providers who work with digital platforms such as Skiza and Viusasa, for example, would be eliminated, said President Kenyatta.
Instead, he proposed to have all rights holders register on a National Rights Registry.
"To receive royalties, content service providers will be required to channel all payments of royalties through a single, centrally managed account at the Kenya Copyright Board," Uhuru said, noting that this would ensure oversight by the regulator and that the collection would be easy to audit.
He also noted that tariffs for this year had already been agreed on by the Kenya Copyright Board, with the assistance of the Ministry of ICT. The tariffs were to be gazetted before the end of February.
He further directed the ICT ministry to remove conditions requiring a digital platform to only work through licensed content service providers.
"This will enable musicians to work directly with platforms such as Skiza."
That was in January. A month later, the tremors of Covid-19 had reached these shores from their epicentre in the Chinese town of Wuhan.
But Uhuru did not forget his promise. In April, he announced that the ICT ministry, in collaboration with Kenya Copyright Board and Collective Management Organisations, had already established a framework to ensure full transparency for artistes' earnings.
He projected that Sh200 million every month would be paid to musicians through a new system and other platforms that had been developed by the ICT ministry and copyright board.
"This translates to over Sh2 billion going into the pockets of Kenyan artists," he said.
The president further directed the Ministry of Sports, Culture and Heritage to provide additional support of Sh100 million from the Sports Fund to local artistes, actors and musicians during the period of the Covid-19 pandemic.
Khaligraph said he has yet to receive a cent from the Sh100 million kitty, and he does not even know the criteria that will be used to distribute the money.
However, Sports Cabinet Secretary Amina Mohamed said the money would only be used to buttress new avenues of work, promote creative community education and ensure sustained mental well-being for all Kenyans during this period.
"The Sh100 million is, therefore, not a reservoir of free funds but a provision to educate, innovate, sustain and improve our output as a sector," she said.
"The objective is to continue developing and nurturing talent to ensure that the sector remains a significant contributor to our economy post-Covid-19."
A few artistes have been fortunate enough to find new ways of making money.
Nyashinski, a musician whose real name is Nyamari Ongegu, recently treated his fans to a concert streamed live on YouTube for only Sh20. The concert offered a peek into his new album, Lucky You.
Several deejays and artistes have followed suit, hosting virtual parties across various social media platforms.
New gigs
Pierra Makena, a deejay and TV personality, recently posted on Instagram that she had landed a gig at Villa Rosa Kempinski.
Others have carved new niches. Stand-up comedian Owago Onyiro is reported to have struck an endorsement deal with Farmer's Choice, producers of fresh and processed meat after his cooking show gained traction online.
Khaligraph has also said he will be focusing more on his car-selling business.
And then there is Anuanga Fernandos of the Amazing Rare Watts trio, famed for its Maasai disco dance. Unable to travel abroad for his performances, Anuanga has resorted to selling art that includes wildlife pictures.
"I am stuck here and unable to travel back to my Europe base in France," Anuanga told The Nairobian.
And then there are those who are trying new business models.
Azziad Nasenya, the Kenyan Tik-Tok queen who rose to fame with the Utawezana challenge, thinks it is time to monetise her popularity and has come up with a rate card for her services.
She's charging between Sh30,000 and Sh500,000 for a range of services that run from mentions on YouTube to a full bouquet of engagement posts across her social media pages.