From Car crash to isolation ward: The story of a heart patient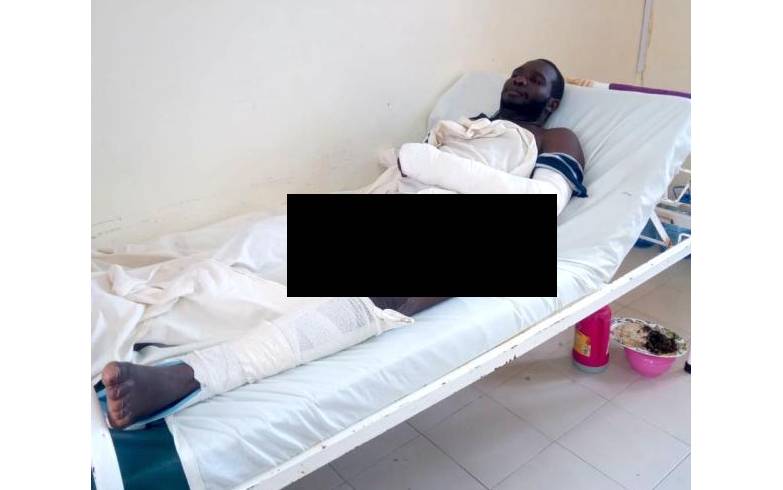 The past week has been one of immeasurable trauma and physical pain for Edgar Mbihia Misoga.
Nursing a broken rib, leg and arm from an accident on Thursday last week, Mbihia told The Standard of his nightmarish experience at the Makindu Sub-county hospital, where medics abandoned him as soon as he started coughing blood, and when his temperature shot up.
They thought he has Covid-19.
Although the medical team at the hospital initially attended to him without fear, Mbihia told The Standard that all the treatment and care ceased immediately he displayed symptoms associated with Covid-19.
He was left alone, groaning in pain from his fractured bones that had been broken in the accident that had sent him to the hospital in the first place.
Mbihia's journey of pain began at around 8.30pm on Thursday, July 17. He was driving from Mombasa to Nairobi with his cousin when they drove into a lorry.
The lorry did not stop and the two cousins were stuck inside the wreck of their car until they were rescued by a Good Samaritan, who called an ambulance.
His cousin was taken to a hospital in Kibwezi while Mbihia ended up at Makindu Sub-county hospital.
At the Makindu hospital, Mbihia received basic treatment and preliminary procedures such as painkiller medication, an X-Ray and a CT scan for the first two days.
Then on Sunday, July 19, things took a turn for the worse. Mbihia started coughing. His fever climbed and the medics, thinking he had Covid-19, abandoned him.
He was immediately placed in isolation. Even his father, who had been with him earlier in the day, could not see him again.
"I was with my son and rushed to Nairobi to freshen up. When I returned they refused to allow me to see him. They said he had Covid-19. What is that?" recounted James Misoga.
For the next four days, Mbihia lay alone and in pain. No one would believe that he was not suffering from Covid-19, not even after he showed the doctors a letter indicating that he had a heart condition that often caused chest congestion, resulting in coughing.
"The coughing and fever were most likely the effects of the accident injuries and trauma on Mbihia's heart, and not due to Covid-19," says his father.
But no one was listening, and for four days, Mbihia lay alone groaning in pain.
By Wednesday morning, no one had attended to him in his isolation room. Not even pain-relieving medication was he brought.
"Please help me. My body is broken but no one is attending to me. I am really suffering in this place," Mbihia pleaded with The Standard, his speech slurred. "I have not slept for the last three days. I am in so much pain," he said.
On Thursday morning, a doctor and nurses went to check on him, but they did not get inside the room. Instead, they stood by the door and left him a list of medication to buy.
Later in the day, Mbihia's Covid-19 test results returned negative. His father could not wait to move his son from a hospital where he underwent four days of hell.
By then, Mbihia's cousin, with whom they had the accident, had been transferred to a hospital in Nairobi.
Makindu Sub-county hospital has, however, denied Mbihia's claims.
Dr Patrick Kibwana, the Makueni's Chief Officer of the Health, said Mbihia received treatment for his accident injuries.
"The patient was taken for a CT scan, he was put on oxygen and even transferred from the general ward into the isolation ward. If he says nothing has been done to him, it would mean he was just dumped somewhere and nothing is done to him, but that is not the case," Kibwana told The Standard.
According to Kibwana, all the processes Mbihia underwent followed the protocol of patients suspected of having Covid-19.
"Patients who display Covid-19 symptoms are put into holding rooms, their samples taken and sent to Kenya Medical Research Institute in Nairobi. The results are sent back online after a few days. If the results are negative, ordinary treatment resumes, but if the patient tests positive, they are treated at the Covid-19 unit," he said.
"The patient is not fixed immediately. We have to know the status of the patient first, but they are stabilised, given painkillers and food. The fact that someone has Covid-19 does not prevent them from being treated because we have personal protective equipment and trained staff," Kibwana said.
Dr David Kasanga, the medical superintendent at Makindu Sub-county hospital, also denied that medics at the facility abandoned Mbihia.
"He (Mbihia) had fractured his femur and developed breathing difficulties. With such fractures, the bone marrow can get into the bloodstream. He was taken for a CT scan. The hospital that did the CT scan indicated he possibly had Covid-19," said Kasanga.
While waiting for his Covid-19 test results from Nairobi, there was little the hospital could do for Mbihia.
"We do not have power over how fast patients receive their Covid-19 test results since that is at the discretion of Kenya Medical Research Institute. Proper treatment can only proceed after receiving the results because we rely on them to know which precautions to take while administering treatment," said Kasanga.