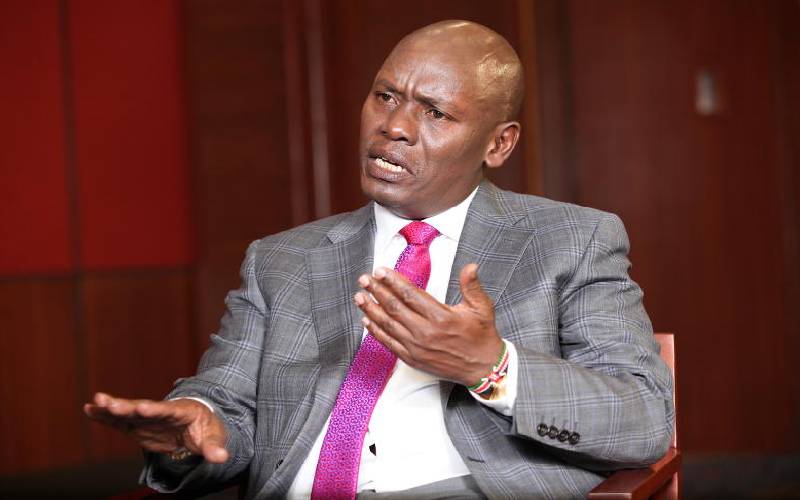 Ferdinand Waititu Babayao replaced you as Kiambu Governor in the last elections. Now he's a has-been. Where did he go wrong?
What went wrong is the beginning. He was the wrong person to become governor. Not only in Kiambu, but also in Nairobi. When he failed in Nairobi, the people of Nairobi did well because they would have suffered like the people of Kiambu. He is not cut out to hold such a position that requires high qualification.
As a politician, are you happy at the misfortunes of Babayao?
I didn't care. The people who propped him should be very ashamed because he didn't come on his own.
Read More
You said people of Kiambu will one day say 'Kaba Kabogo' (Kabogo' is better). Did Babayao's impeachment vindicate you?
I said it and they are saying so now. The impeachment vindicated me. His problems started from day one.
You were among the few governors not to have been accused of financial malpractices. Being wealthy is a good thing?
It's because I didn't go to the office to loot. I am the only governor who managed to clear three years of audit when I was in office. I was always offering myself to go to the Senate. I don't think there is any other county that managed to deal with their audit. It's not in my gene to take public funds. We are supposed to generate revenue for public use, not for our families.
Being wealthy can be lonely. How do you cope?
Not really. Wealth is just one of those things, it is not the only thing. It feels good to be able to buy what you want in terms of utility. If I want a bicycle or car, I can buy one. I am just one of those people who are blessed. It's all God.
Why is getting good leaders a problem?
Elections are two years away. President Kibaki was not sure he would become president. It only became certain a month before the election. There are very many people including me who can run for office.
What goes through a politician's mind the night after losing an election?
I knew what the results would be the night before. The plans of rigging are never secret because they are planned by many people. After the results were announced, some of them told me not to bother to appeal because it will not be in the interest of many people. I told them I wasn't interested in petitioning. I would have spent a lot of money for no reason.
Losing elections means being consigned to the political cold. How is it like?
For me politics is not a job. It is a calling to serve my people. It is disappointing that I never got to do the things I had set out to do. It was disappointing but nevertheless, life continues.
Now you have another chance of being Kiambu Governor with minimal competition?
They say a day in politics is like ten years, so we have a long way to go. And I am a leader, not a politician. Given a chance, I would never go for nominations again. I have done it three times and I have been fixed three times. I am getting too bothered by the fact that nominations are never free and fair in this country. They say parties have owners, so probably I should have my own party! Selection and election are two different things, unfortunately in Kenya, many are selected.
Some people claim your views on politics and the justice system changed since leaving office. Is it true?
I have never changed. They just didn't ask me those questions before. I am very consistent, and if there is anything I changed my mind about, then there must be a very good reason. I believe in real justice for all.
How would you have navigated the Uhuru succession if you were in his shoes?
I really don't think Kenya plays mature politics. If I were Uhuru, I would do my things quietly and differently, not the way they are being done now…the president needs to worry about his legacy because this bickering and the back and forth is not worth it.
Uhuru is your friend. Advise him on how best to salvage his final term with less than two years to go.
Yes, he is my friend. I'd like to think he still is. If I'm friends with you, then we are friends forever. I would want to imagine that he has a plan for what he wants to achieve in the next 24 months. He has one budget only left because in the next budget, he will be on his way out, so he should look at what he can achieve in the next 18 months. I would tell him that he may not achieve the Big 4, but he can get the Big One, which is slaying the dragon called corruption. If he slays this dragon, he would have achieved what many have failed. I think he needs to push it to the next level so that people fear corruption. If we can have a couple of high-profile people convicted and their properties reclaimed, then he would leave Kenya a very rich country. The other things like housing require a lot of input and I don't see how it can be done in such a short time.
Why do Kenyans vote for clowns every five years? Just what happens and what can be done?
Do they vote? Sometimes people vote because it's one of those things that happens every five years. The only way to deal with bad leaders is to vote them out. This is why the late former president Moi introduced the mlolongo system because of the rigging in the secret ballot. It's an election, but you will always hear that parties have their owners, and the party tickets have owners too.
You have defended DP William Ruto on Twitter…
No, I didn't. I only said we cannot continue calling people names…if someone has stolen something, go to the police and report it.
Kenyans accuse you of being arrogant online, what do you say about their accusations?
People are entitled to their opinions. How do I help someone who thinks I am arrogant? They can say what they want. Many people will confuse strictness with arrogance.
You had a meeting with other leaders from Mt Kenya. What was it about?
When the mountain region meets, people get scared for no reason. We met to discuss politics and the future of our region. We were strategising about how we can get what our region deserves in terms of shared revenue and development. The profile of people who were in that meeting should tell you that indeed it was a serious meeting.
Mt Kenya has no clear point person in the next presidential election. How do you foresee the scenario playing out?
People want to believe that. But we have got this covered. I am saying 'we' because I am one of them. We are very many leaders. The only difference is that we are not politicising it because it is now time for President Uhuru to do his work. We are only strategising. The meeting we had can actually produce a very able leader, someone who has been elected by the people and not selected in a boardroom.