Kenya's coveted corner offices where careers end in tears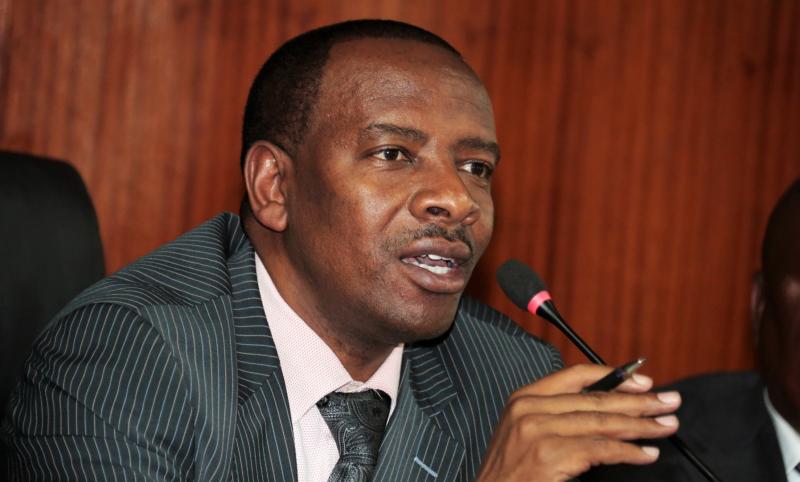 Tears have become the legacy that executives who bag top jobs at some of Kenya's most lucrative parastatals are taking home.
Critical cash-rich agencies such as the Kenya Bureau of Standards (Kebs), Kenya Pipeline Company (KPC) and Kenya Ports Authority (KPA) have turned into transitory points for ambitious executives who dare take their helm.
Men and women who are at the peak of their powers in corporate Kenya, relish the opportunities the jobs offer, but history shows a trail of fractured careers that disgracefully end in the courts on corruption allegations.
Their careers have died untimely, with many high ranking senior executives never making a comeback in the corporate world. For over a decade now, majority of CEOs have been unable to survive their full terms and even if they do, graft charges often come to haunt them.
This trend includes other giant State firms such as the National Hospital Insurance Fund (NHIF) and the National Social Securities Fund (NSSF).
Most of the State corporations are scandal ridden and the appointments for the jobs also come with loaded interests ranging from political to business from individuals eyeing tenders and kickbacks from mega projects.
The script never changes: Media reports of anti-graft officers snooping around, dramatic arrests follow and executives with downcast and sometimes hidden faces are paraded in court slapped with multiple charges relating to abuse of office.
Kenya Bureau of Standards
One such job that is clearly becoming too hot to handle is being the Kebs boss. The role of Kebs is integral with its personnel tasked with setting standards for every product consumed in Kenya.
This simply means that Kebs carries lives of Kenyans as it certifies products meant for human and animal consumption.
After serving only 15 months, Kebs Managing Director Bernard Njiraini was arrested on Thursday by Ethics and Anti-Corruption Commission (EACC) over corruption allegations.
This makes him the fourth Kebs chief executive since 2012 to face corruption accusations in what puts his job in a precarious position.
In the last decade, none of the CEOs at the Kebs corner office have managed to finish their term which is usually three years, but renewable for another three.
Before Njiraini's confirmation, he was serving as the agency's third acting managing director for one year. Njiraini had replaced Bernard Nguyo who had also been in an acting capacity.
The tumultuous trend started with the late Kioko Mang'eli who was sacked in 2009. He exited the standards body on allegations of illegal hiring and corruption as well as faking a payslip to justify his high pay. Mang'eli was replaced by Joel Kioko in an acting capacity before Joseph Koskey was appointed as a substantive managing director only to be sacked a year after his appointment.
Koskey was succeeded by Eva Oduor in 2012, but she was fired in 2013 over the award of a Sh1.3 billion tender for the construction of Kebs offices and laboratories in Mombasa. Charles Gichahi replaced her in interim capacity in 2014 until Charles Ongwae took over in substantive capacity.
Ongwae had joined Kebs from Barclays Bank Uganda where he was managing director. In 2018, Ongwae was charged with abuse of office and conspiracy to deny the Government tax revenue.
Kenya Investment Authority (KenInvest) Managing Director Moses Ikiara took over in acting capacity then Nguyo came in and now Njiraini.
The high turnover of executives was at a time that Kebs was under focus by as well as the fight it has been having with small scale traders whose goods have been stuck at the port. Kebs has also had to deal with numerous instances of substandard goods that are imported or locally manufactured in the country as well as the use of poisonous preservatives in food.
EACC said that Njiraini had been arrested over allegations of procurement irregularities and payment of bribes in respect of awards for tenders for provision pre-export conformity of goods, used motor vehicles, mobile equipment and spare parts by Kebs.
The anti-graft body said that it had on multiple times requested for original documents from Njiraini who failed to comply. "The commission has on numerous occasions requested for original documents from the Kebs managing director Bernard Njiraini who has failed and/or refused to comply thereby continuously frustrating the timely conclusion of investigations," said EACC in a statement.
"This (arrest) is with a view of obtaining the said documents and preferring charges against him for his contravention."
Kenya Pipeline Corporation
Kenya Pipeline Corporation that has an annual average turnover of over Sh25 billion, has also served as a transit point for executives who dare take the job.
The State corporation is responsible for the transportation, storage and delivery of petroleum network through its pipeline network and oil depot.
However, it might go down in history as Kenya's richest cash cow with nearly a dozen executives exiting due to graft in just over a decade.
In 2009, former Managing Director George Okungu was sacked in relation to the Triton oil scandal. The Sh7.6 billion was lost after corrupt KPC officers illegally released 126 million litres of oil products to the controversial Triton Oil Company.
Selest Kilinda was picked to replace Okungu, but was fired by the board in 2013 after an internal audit showed that he had employed family members.
Late last year, Petroleum Cabinet Secretary Peter Munyes appointed Macharia Irungu as the new KPC Managing Director.
He replaced former managing director Joe Sang, who was arrested in 2018 and charged with abuse of office and failing to comply with procedures relating to management of public funds in the construction of a Sh1.9 billion jetty at Kisumu.
Sang had replaced Charles Tanui who along with seven others had been charged with conspiracy to defraud the State firm of more than Sh644 million. Prior to the appointment of Irungu, the recruitment process had been steeped in controversy.
Last July, KPC invited qualified candidates to apply for the position, but later in September announced the recruitment would be done afresh, saying most applicants lacked "basic documentary requirements."
MPs from the Departmental Committee on Energy had accused the board of planning to impose its preferred candidate. Mr Sang, had been appointed CEO in April 2016 after serving in acting capacity initially following the dismissal of Flora Akoth, who had also been serving in an acting capacity, but left in unclear circumstances.
Kenya Ports Authority
Then there is the rich Kenya Ports Authority, which runs the ports. The latest chief executive to exit disgracefully this year was Managing Director Daniel Manduku who was arrested amid charges of unlawfully awarding tenders for the construction of cargo storage facilities at the Nairobi Inland Container Depot (ICD).
The career architect who had previously served as the Director General of the National Construction Authority (NCA), was arrested after over 15 months of investigations.
There's a huge interest in activities at the money-making Mombasa headquartered KPA. The Mombasa Port is one of the busiest along the East African Coastline directly connecting over 80 ports globally and links to a vast hinterland of numerous countries spanning the East and Central African region.
KPA profits have been on an upward trajectory with figures released indicating that they hit Sh17.5 billion in the first nine months of 2018/2019 compared to Sh10.6 billion in 2017/2018. Manduku resigned in March leading to a fresh recruitment to replace him in a process yet to culminate.
Manduku had replaced Catherine Mturi-Wairi who was sent on compulsory leave by the KPA board which cited incompetence. Mturi-Wairi had replaced Gichiri Ndua who had been sacked over corruption in a purge that roped in multiple other senior KPA officials in charge of key dockets including human resources, operations, legal, corporate services and security. Ndua's three predecessors were also sent home before completing their terms.
His immediate predecessor James Mulewa had also been charged with graft and in 2017 was ordered to pay Sh74.6 million for unexplained assets.
National Hospital and Insurance Fund
This year NHIF appointed Dr Peter Kamunyo Gathege as its new chief executive after a two years search.
This followed the former CEO's Geoffrey Mwangi exit over graft charges where he had been charged in court with conspiracy to defeat justice and blocking investigations on how NHIF lost Sh2 billion.
Mwangi had replaced Simeon ole Kirgotty in 2016, who served one term but was in December last year arrested over financial impropriety in purchasing a Sh1.5 billion IT system.
Kirgotty, who finished his three-year term in in 2016, was also arrested in the investigations into the Sh1.5 billion loss at the insurer.
Kirgotty's predecessor Richard Kerich and three others were charged in 2013 with conspiring to defraud the fund of Sh96.5 million. Kerich was, however, acquitted after prosecution failed to prove fraud charges against them.
NSSF
The NSSF top seat, whose holder is tasked with managing the Sh251 billion fund and safekeeping the retirement cash of millions of Kenyan savers, is also another one of the hottest in the country.
Until recently – with the confirmation of Anthony Omerikwa as CEO or managing trustee, the State pensions' body has had over 10 top executives serving in an acting capacity.
NSSF had remained without a substantive managing trustee for close to five years due to boardroom wars and external political influences.
An active graft case involves six people, among them three former senior officials of the Fund who are being pursued over loss of Sh1.2 billion pension funds. In 2013, Tom Odongo had hardly served half his three-year term as managing trustee when he was sacked by the then Labour Cabinet Secretary Kazungu Kambi making him the sixth chief executive in five years to leave the national pension fund.
Others shown the door in NSSF under controversial circumstances included Rachel Lumbasyo, James Akoya, Albert Odero and Fred Rabongo.