Two rugby players, a musician and the night that changed their lives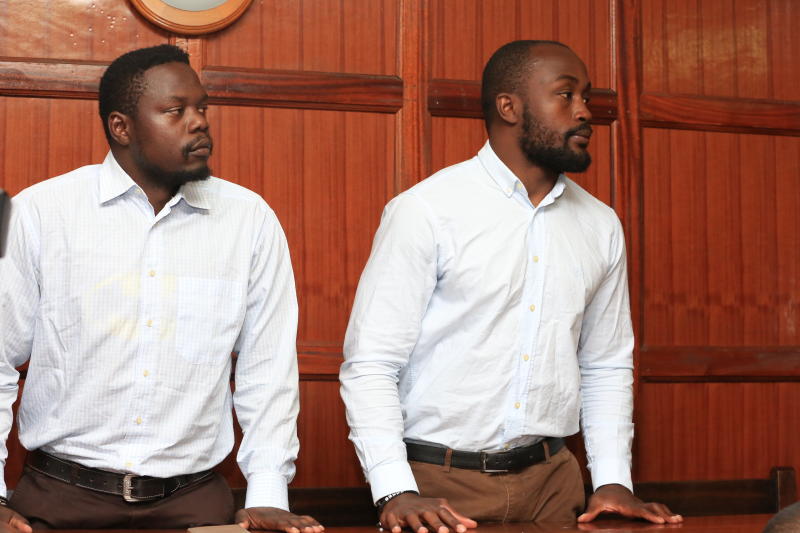 At 24, Frank Wanyama thought he had his life mapped out. His immediate options were to either play rugby on American soil or complete his law degree at the University of Nairobi.
At the time, he was already playing in Finland's rugby league, and had just got a deal to play in the US.
But then the night of February 10, 2018 turned his future on its head after an encounter in Nairobi's Highrise neighbourhood ended with him being sent to jail for the rape of WA, as she was identified in court. She was an upcoming artiste at the time.
Alex Olaba, his former Kenya Harlequin rugby teammate turned jail mate, was a student at Strathmore University and had his eyes set on a scholarship to Canada.
He was to join Trinity University, a privately funded Christian university founded in 1957 by the Evangelical Free Church of America.
In August last year, however, a magistrate's court slapped the two with a 15-year jail sentence for rape.
They contested the ruling before the High Court, and last week, Justice Ngenye Macharia ordered that their case be heard afresh.
Today, after just under a year in jail, the two were released on a cash bail of Sh300,000 each.
While ordering a retrial of the case, Justice Macharia was of the view that although Wanyama and Olaba had bright futures ahead of them, their actions and the trauma the artiste suffered were more than enough to persuade her that they should not go unpunished.
"It is unfortunate that the appellants care much about their reputation and careers, with less regard to the harm and injury occasioned to the complainant. They seem concerned that they need not be subjected to further harm, having ruined their careers. While this is a selfish statement unconcerned about the impact the incident had on the complainant, on noting the seriousness of the offence, it persuades why a fair trial would satisfy all parties involved," the judge ruled.
In WA's account of what transpired that night in 2018, she said she was home when her friend called her at around 8pm and asked to take her out as a birthday treat.
According to court records, WA was picked by her friend, identified as TI, between 9pm and 9.30pm. WA asked for permission to leave home from her mother and got the green light.
They proceeded to a house within Spring Valley estate, MA's house. Here, they found other friends whom they joined on the verandah for drinks.
WA told the court that she recalled drinking a tot of vodka, and that after an hour, Wanyama and Olaba arrived alongside one SO. She said she knew Wanyama as they had been in school together.
WA testified that at one point TI's grandmother ordered them out, but she could not get lift back home. She got into a vehicle with the players and headed to Harlequins club, she told the court. This was at around midnight.
Another woman, named AM, joined them at the club but did not drink alcohol. Wanyama, Olaba, WA, SO and AM then went to Club Blackout, which was close by. Here, they drank vodka mixed with soda. WA recalled staying at this club for about 20 minutes.
SO and AM then left, leaving WA with the two men. She decided to spend the night at Wanyama's house, which she told the court turned into the scene of the crime.
She testified that Wanyama suggested they play a drinking game. To her recollection, she said, Wanyama offered her a soda, which she drank and that was the last thing she remembered. The next thing she recollected was him raping her. She said Wanyama and Olaba took turns assaulting her.
In her testimony, she said she drank alcohol on the night in question and also smoked some bhang, but said she was tipsy, not drunk.
At around 9am the following morning, she told the court, she communicated with her friend, JF, whom she asked for money so she could leave the apartment.
WA told the court JF sent her Sh400, and Wanyama hailed a taxi on her behalf.
She left the house once the taxi arrived and proceeded to Imara Daima where JF lived. When she got there, she and JF went to a chemist where she bought the morning-after pill, Postinor2.
JF, alongside his girlfriend, took her to Avenue Hospital but she was not treated as they informed her they did not have a post-rape kit. They then went to Nairobi South Hospital where JF paid the fees and she was seen by a doctor who suggested that they carry out a blood test before advising her to go to Mater Hospital, as they too did not have a post-rape kit.
WA went home after the medical examination via a taxi that JF hailed. Although the doctor had advised her to go to Kenyatta National Hospital the following day, she testified that was traumatised and depressed when she got home, and decided to ignore the whole incident.
WA informed the court that a few days after the incident, she reached out to Wanyama on WhatsApp asking him why he had taken advantage of her.
She recalled asking him for Sh15,000 to procure an abortion.
It was her evidence that she did not want to report the matter as her friend had had a similar experience and no assistance was offered to her.
A DPP official reached out to her and advised her to report the matter at the Kilimani Police Station after seeing her social media post about what she went through.
In fresh charges read before Milimani Court's senior resident magistrate Zainab Abdul today, the two men denied raping the musician.
In their appeal before the High Court, Wanyama and Olaba had argued that in her ruling last year, Milimani Chief Magistrate Martha Mutuku erred by failing to consider that they had sex with WA in the belief that it was a consensual act.
Their second line of argument was that they were drunk on that night in February.
The two further challenged the trial that was held in the lower court by arguing that from the record provided, the star witness in the case, who was the victim, never took a Bible to swear that what she told the court would be nothing but the truth.
In total, Wanyama and Olaba filed 12 grounds on which they thought they had been unfairly jailed. They additionally claimed that the victim had lied that she was pregnant. The duo told the court that she ought to have been visibly pregnant by the time she was testifying.
During the trial in the magistrate's court, Wanyama and Olaba's lawyer, Jimmy Simiyu, narrated the events of that night in 2018, saying the two rugby players were at a friend's party where alcohol was in generous supply.
They did not know WA before that night, the court was told. However, they eventually crossed paths, exchanged pleasantries and ended up together in an apartment along Mbagathi Way, the lawyer said.
"At no time was it shown that when they went to Seefar Apartments that she was invited; she volunteered. They did not invite her. Throughout the offence, at no point were there actual violence marks found on the complainant .... it was implied that consent had been given," argued Simiyu.
"The fact that the accused persons play rugby may have been misconstrued; that it is a violent sport and that was, by extension, understood that it was more likely they could have engaged in the offence before the court. Rugby only requires muscular strength, and the softest of hearts .... They had not planned to meet the lady. There was no intention on their part; there was no forethought and planning about this."
Simiyu further claimed that since the musician was older than the two rugby players, she ought to have guided them against committing the actions of that night.
As the case progressed, claims of extortion emerged, with Wanyama saying WA had sent him a demand - which was not spelt out in court - and warned that she would spill the beans if he did not comply with it.
According to the lawyer, Wanyama believed he was being extorted, a matter he reported to the police.
However, the Office of the Director of Public Prosecutions, through State prosecutor Everlyne Olunga, urged the court to slap the two with the mandatory minimum sentence for rape, which is 15 years, as they were first-time offenders.
The State lawyer argued that since Wanyama and Olaba had represented Kenya in rugby, they ought to have acted diligently.
"This will be a clear message to the youth that it is not cool to take advantage of a person because of the gender. The complainant was intoxicated ... the accused were intoxicated. She could not appreciate the nature of the act that was being done," argued Olunga.
After hearing both sides, Mutuku found the two men guilty of rape and sentenced them to a jail term of 15 years each.
But in their appeal before the High Court, Wanyama and Olaba accused the magistrate of failing to adhere to criminal trial rules by using an unsworn testimony to pass a guilty verdict against them.
The DPP, however, opposed the claim, and urged the magistrate's court to produce additional evidence to show that WA was sworn in and had her testimony tested by the accused.
In her ruling, however, Ngenye dismissed Wanyama and Olaba's accusations of Mutuku.
"As regards the criminal culpability of the learned trial magistrate for failing to record that a witness was sworn, in my view, does not fall under the purview of this court. Any party inclined to pursue the issue is at liberty to do so through the relevant channels," the judge ruled.
She also dismissed the DPP's request for more evidence that the victim was sworn in.