Drivers have to wait for nearly two weeks for Covid-19 test results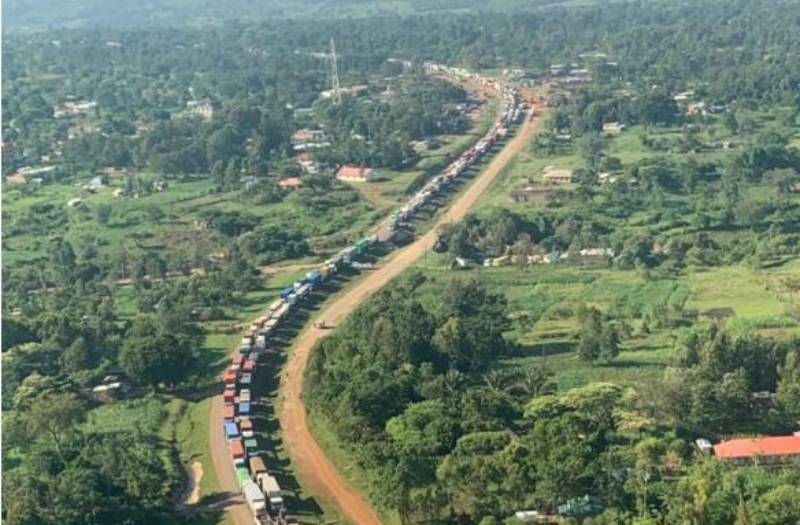 The cost of moving goods from the port of Mombasa to locations in the East African region has risen due to delays at various border points, traders said yesterday.
A report by importers shows that the cost of moving cargo to Kampala has shot up by Sh100,000. It now costs Sh140,000 more to transport goods to Kigali while a trip to South Sudan needs an extra Sh280,000.
Shippers Council of Eastern Africa CEO Gilbert Langat said yesterday that the cost of transporting cargo to Bujumbura has gone up by Sh200,000.
Trade analysts warn the additional costs will reflect in the prices of goods. Importers could also be forced to use alternative routes or fail to place the orders.
Before the Covid-19 disruption, the cost of moving cargo by truck from Mombasa to Kampala was between Sh150,000 and Sh200,000 depending on the transport company.
Africa Logistics Properties (ALP) yesterday convened a virtual meeting to deliberate on this wrinkle in the supply chain that has affected cross-border trading.
Importers said the hurdles created by new health protocols to prevent the spread of Covid-19 had adversely affected the movement of goods and services.
"Delays in processing Covid-19 test results have affected truck turnaround, which has gone up to 26 days for a return trip to South Sudan," said Mr Langat.
Key points
Traders said the drivers have to wait for nearly 10 days at some border points before getting their results.
"The country has not been able to carry out the tests demanded by the truck drivers in Miritini centre in Mombasa," said Rongai Workshop and Transport Ltd CEO Mike Davies.
Mr Davies said that in some instances, the centre only tests 50 drivers daily against a demand of about 500 drivers.
"Goods will reach consumers late and at a high price," he warned.
If they test negative, the truck drivers are issued with a health certificate 48 hours before they load cargo. The certificate is valid for 14 days.
"Due to delays at various points along the transport corridors, road blocks erected to control movement and delays at border crossing points, some truck drivers are subjected to new tests to validate the certificates that have already expired," said Davies.
Truck drivers have been listed as a weak link in the fight to curb the spread of Covid-19.
The ALP panelists also lauded the decision to operationalise the Naivasha Inland Container Depot (ICD), saying it would improve handling of transit cargo.
Kenya Railways recently moved to attract shippers to use the ICD by reducing freight charges from Sh60,000 to Sh48,000 for a 20-foot container, and from Sh85,000 to Sh68,000 for a 40-foot container.
Langat said importers who would normally order raw materials three months in advance were now making bookings six months earlier to allow for Covid 19 disruptions. "This means the importers will have to incur other costs of storage space."
The Naivasha ICD is, however, facing challenges of lack of key infrastructure such as houses to accommodate depot users and customs officials.
Warehouse operators are also hesitant to relocate to the ICD due to lack of a proper road network.
ALP chief executive Richard Hough said that even before the pandemic there was local demand for a robust supply chain.
Warehouse operators, he said, are now accommodating users for shorter periods to cater for the new dynamics.
"We have introduced short-term leases arrangement as opposed to the normal longer period of about five years to cater for immediate needs by tenants seeking to supply essential commodities and looking for flexibility. In the post Covid-19 period, we look forward to a largely professionalised supply chain management system," said Mr Hough.
Logistic costs
The CEO said extension of the Standard Gauge Railway to Naivasha had provided an opportunity for Kenya and its landlocked neighbours to invest in warehousing to cut logistics costs.
"Investment in warehousing is a capital intensive venture and would require an environment with certainty. We need to understand the rules that will make the venture successful. We are looking at the sustainability of the relations between Kenya and other neighbours. It is an area we would look forward to investing in," said Hough.
ALP recently announced plans to construct a one-million-square-foot storage facility in Nairobi. In 2018 the company completed another facility at the Tatu Industrial Park in Ruiru.
East Africa Exchange Commodities CEO Joshua Rugema said Rwanda was keen on the development of warehousing infrastructure in Naivasha.