Fears that Lamu Port is the next white elephant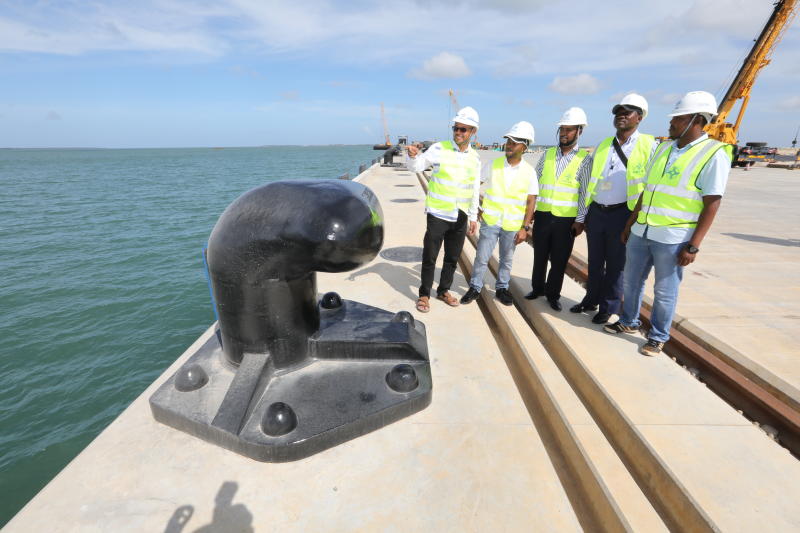 Questions are still being raised about the viability of the proposed Lamu Port despite the completion of three berths.
The concerns are whether the project will be able to attract private investors to complete the remaining 28 berths.
The port is a major component of the Lamu Port-South Sudan-Ethiopia-Transport (Lapsset) corridor that is expected to link landlocked South Sudan and Ethiopia to the Indian Ocean.
Lapsset, which was launched to much fanfare by regional leaders in 2012, has since been adopted as an African Union project designed to link the eastern African coast and West Africa at Douala Port in the Atlantic Ocean.
Speaking in Mombasa in January, the African Union's High Representative for Infrastructure Development Raila Odinga expressed optimism the ambitious project would make Lapsset more attractive to investors.
But there has been uncertainty after the national government reduced the amount of money it has been pumping into the project each year.
This comes amid reports that Ethiopia and South Sudan have shunned the transport initiative.
While Kenya has poured Sh21 billion into Lapsset, the two neighbouring countries are yet to pay a single cent.
The National Treasury will disburse Sh6 billion towards the project in the current financial year, which is down from the Sh10 billion allocated in the 2019/2020 fiscal year.
The government's plan from the outset was to construct the first three berths as a sign of commitment and to provide an incentive for private firms to come on board.
Officials in Lamu said the second and third berths are yet to be fitted with structures like a fender and crane rail while the container yard is 45 per cent complete.
The State has postponed the official launch of the first berth on three occasions despite promises that a ship from Danish container shipping firm Maersk was to call at the facility.
Maritime trade analysts and shipping experts now say the State should reconsider the port's business model because it has failed to attract private investors and business.
Shippers Council of Eastern Africa CEO Gilbert Langat says shifting geopolitics in the Horn of Africa pose a threat to the project.
"Despite Ethiopia's pledges on Lamu it is clear that it is tepid now after it achieved peace with Eritrea. It also has a railway line to Djibouti, which is the biggest threat to Lamu," said Mr Langat.
Avocado exporters
He said Lamu can be an ideal location for the transshipment business especially for goods destined to Europe, adding that tea and avocado exporters should be facilitated to utilise it.
Currently, avocado exporters in Kenya face stiff competitive disadvantage compared to exporters in Peru and South Africa due to transshipping at the Salalah Port in Oman.
Ships ferrying tea exports from the Mombasa Port also drop off the commodity at the port of Salalah before it is ferried to Europe. Langat said the commodities should be exported through Lamu.
"The Kenya Ports Authority should not be the one to market Lamu. A new entity of professionals should be established to sell Lamu to investors to make it an industrial hub to generate cargo for export."
He said a huge problem facing the creation of industrial parks in Lamu was land speculators who have purchased property next to the port and are waiting to sell it at exorbitant prices to investors.
Other maritime experts are pushing for the involvement of professionals to aggressively market the port and attract huge cargo volumes to stop it from turning into a white elephant.
There are plans to develop road, rail and pipeline infrastructure to connect the port to the hinterland, but analysts say there still isn't enough cargo volume from Kenya, South Sudan and Ethiopia to attract huge container ships.
Currently, between 2,500 and 3,000 containers destined for South Sudan are handled at the port of Mombasa.
An expert who sought anonymity because of business links with government said Lapsset is hurting because it is located off the busy Northern Corridor.
He said Lamu port risks turning into a white elephant just like the Ceres Paragon container terminal in Amsterdam, Netherlands, that was built by the municipality without input from professionals.
The terminal that was constructed by US-based Ceres Group is the only facility in the world to feature an indented berth that allowed cranes to service container ships from both sides.
The Amsterdam terminal was designed to be served by nine modern cranes, but because of its location it did not have any cargo for years. It takes hours for ships to transit through sea locks and the North Sea Canal to arrive at the port.
The expert observed that with a good draught of 18 metres, Lamu Port could attract big ships and become a hub for the region. "But this is only if it can tap cargo from sea as opposed to focusing on the Lapsset hinterland of Ethiopia and South Sudan, which has nothing to offer," he said.
He explained that cargo from Europe and Asia is usually consolidated in Singapore and then shipped to the west Indian Ocean ports through Dubai, King Abdulla, Colombo and Salalah ports, among others.
Lamu, he said, should be positioned to tap into the business and distribute cargo to other ports in Africa through the Kenya National Shipping Line.
"The solution for Lamu port is to target business at sea, that is, the cargo in Singapore that should be shipped directly and distributed to ports in South Africa and other countries."
Ismael Mboya, a maritime lecturer at the Technical University of Mombasa and Jomo Kenyatta University of Agriculture and Technology, said although the Lamu Port was designed to handle oil exports as well as containers and bulk cargo, there was a risk it would become a feeder port if it was not positioned to tap more cargo.
"Lamu port is a viable idea in terms of the capacity to handle more cargo, but we should do more than just building the port. We should critically look at the market and involve more professionals rather than politicians. Remember, Bagamoyo Port is coming up and will compete for business with Kenya," said Mr Mboya, who has worked at KPA for 34 years.
The Bagamoyo Port project located 75 kilometres north of Dar es Salaam is being funded by China Merchants Holdings International and Oman's State Government Reserve Fund.
The first phase is estimated to cost $10 billion (Sh1 trillion).
Mboya said Lamu could start small but strategise on becoming a popular port. The country, he added, should also open its ship register to promote seafaring.
Express Shipping and Logistics East Africa CEO Sylvester Kututa said Lamu port was a good idea, but it requires supporting infrastructure to be urgently developed.
Mr Kututa noted that Lamu has expansive space and it could easily open up the country to development.
"Lamu port is a viable project except that it requires connectivity to the hinterland through road, rail and pipeline," he said, adding that it is always prudent for a maritime State to develop a new port or terminal when the existing one attains 40 to 50 per cent of its capacity.