Robbers in killing spree rain terror on estates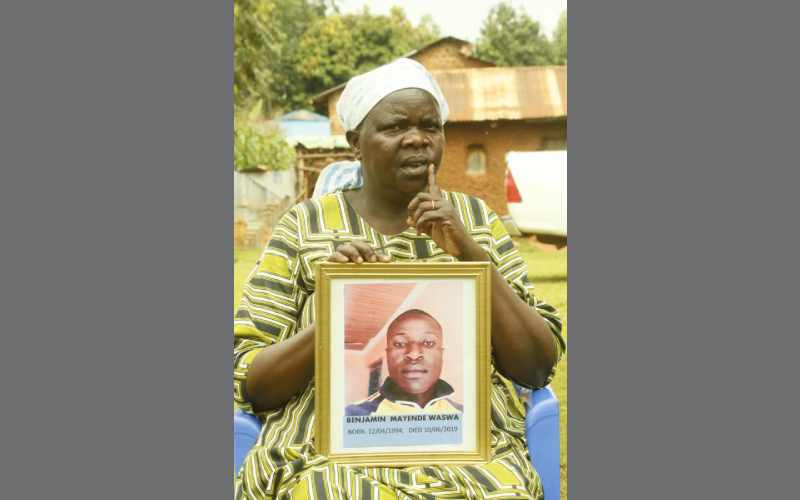 A gang that has taken advantage of the State ordered curfew hours to terrorise residents of Bungoma County has left a trail of death, pain and destruction.
With no movement at night, sporadic attacks have been witnessed as the gang takes advantage of the curfew to kill, maim and carry away valuables worth millions of shillings.
The thugs are so daring that they are known to kill in broad daylight if you dare cross their path. At least 20 people who survived the savage attacks have been left nursing life-threatening injuries.
The attacks started two months ago and seven people have reportedly been killed in cold blood.
The current terror reign is reminiscent of the Kikwechi killings that rocked the county in April 2013, in which five people died and 123 were injured while at least 54 families were left homeless.
To date, most of the homesteads are still deserted, taken over by nesting birds, rodents and snakes.
The new crime wave is said to be orchestrated by young men aged between 15 and 27.
Their targets have included Zuri Resort and Mamalandi Hotel in Kibabii area, Comfort Hotel and Wanakhatandi Restaurant in Bungoma town; Minata Hotels in Webuye town, and Premier Resort and Iconic Hotel in Chwele town.
Before carrying out robberies, the security guards outside the hotels are tied up with barbed wire. Victims of such brutality are still nursing injuries.
The most affected estates in Bungoma town are Mashambani, Mandizini, Marrel, Pamus, Makutano, Kanduyi shopping centre, Musikoma, Sio and Muteremuko.
Others are Wamono and Watio villages in Cheptais Sub-county, as well as Chwele and Kamukuywa in Kabuchai and Kimilili constituencies.
Zuri Resorts owner Wafula Buke said: "In the last three months I have been robbed thrice. They used to take money and electronics. They are so daring that during the most recent attack last month they dismantled the CCTV cameras and went away with them. In total, I have lost more than Sh950,000."
He added: "The attackers have firearms and are always in police uniform. They are in groups of between 12 and 15 people and attack businesses simultaneously. We suspect that officers stationed at the nearby police post are behind the sporadic attacks."
Tom Terry, the owner of Oasis Supermarket at Makutano area in Kanduyi, escaped death by a whisker when his cashier was shot in the shoulder recently.
"I heard gunshots at the supermarket at around 7.30pm and rushed in to see what was happening. I saw my cashier writhing in pain on the floor. I was ordered to lie on the floor, but I ran away. They stole Sh40,000 that day. My cashier has since recovered from the bullet wound," he said.
On May 16, a gang raided Wanakhatandi Hotel at night and stole eight television sets worth Sh184,000.
Double tragedy
"The hotel industry has suffered double tragedy. We closed down due to Covid-19 and now we are losing millions of shillings to criminals wearing police uniforms and armed with guns, yet no action has been taken," said Bungoma Hoteliers Association secretary Namanda Nasila.
The authorities appear helpless to address this growing menace. Residents now accuse some officers of working in cahoots with the criminals.
The latest incident was the shooting of Michael Gacheche on June 9 at around 8.30pm.
Gacheche, who until his death was the proprietor of Shell Petrol Station in Bungoma, among other businesses, was shot three times in the chest outside Keringet Hotel on the Bungoma-Mumias road.
"As a family, we are treating the killing of Gacheche as an assassination. Police should do what it takes to ensure justice is served to the family. If a rogue officer was involved in his killing, then he should be arrested," said Ben Karuga, the victim's brother.
Karuga said the assailants robbed Gacheche of Sh2 million after shooting him and fled on a motorcycle. Gacheche has left behind four children, three boys and a girl.
Five suspects have been arrested in connection with the murder.
Bungoma South Sub-county Police Commander Wilson Nanga said four men and a woman, one a Ugandan, were arrested on June 18.
Nanga said they recovered household items worth more than Sh500,000, police boots and jungle uniforms, a pair of handcuffs, five televisions, a fridge, mobile phones, a microwave and three sofa sets.
On the same night of June 9, Francis Wabala, 67, was attacked at around 2am and robbed of a television. He was hit with a blunt weapon and died from head injuries while receiving treatment at the Bungoma Referral Hospital.
He was buried on Sunday at Lung'anyiro area in Matungu. The police boss termed the incident a normal robbery.
No answer
John Nalianya, who was Wabala's neighbour and a Bungoma-based correspondent for the Star newspaper, was also attacked that same night.
"At around 1.15am, I heard movement in the sitting room and thought it was my asthmatic son going to get his inhaler. I called him but he did not answer. I went to see what was happening and met a heavily built man holding a metal rod. We started wrestling before two more men came to help him," said Nalianya.
The journalist sustained deep cuts to the head. He lost his mobile phone and Sh15,000. The men had cut the window grills to access the house.
Kanduyi Assistant County Commissioner Abdishakur Swaleh took Nalianya to Dawameds Hospital, where he was treated.
Well known
"The four people who attacked me are well known to me. I gave police their details, but to date no one has been arrested," said Nalianya.
Benjamin Waswa, a 26-year-old plumber from Lubukha village in Kimilili, was found dead on the Webuye-Kitale highway at Kamukuywa junction on June 11.
"The death of my son was a choreographed scene. He was killed and dumped in a culvert and his motorbike placed next to him. If it was an accident, he would have bruises on the face and fractures too," said his father Pius Lubisia.
Waswa's brother, Kevin, said on viewing the body at the mortuary he noticed a deep cut in the skull and blood oozing from the mouth and nose.
He wants police to investigate the killing.
George Mwasame Biketi, 74, a farmer from Wasio village in Cheptais, was killed on June 2 by thugs who robbed him of Sh300,000. Biketi had sold a plot at Cheptais market.
Two more people were killed on June 17 and 21 in Tongaren Constituency.
Bungoma Police Commander Mutungi Mutiso said not every criminal in police uniform and armed with a gun was a police officer. He also accused the hoteliers of failing to report the robberies.
"Are these allegations substantiated? Don't you think it is subjective to talk of police uniforms and conclude that officers are the only ones alleged to be putting on uniforms to rob locals? There is need to conduct further investigation before we make such a conclusion," said Mutungi.
The officer added that security had been beefed up in the county to deal with the attacks.