Vanished: Echoes of the lost voices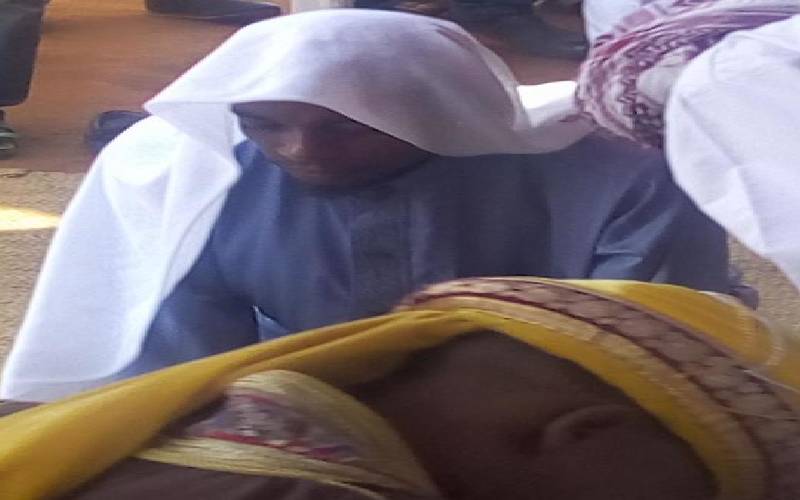 OB/26/17/1/2020. 1158HRS
On January 16, Athman Mohammed Haji was walking home along a Mombasa street after Maghrib prayers - the last in the daily prayer lives of Muslim faithful.
Athman was dressed in a loose-fitting maroon trousers and a yellow shirt.
Minutes after he left the mosque, his phone rang. He took the call. He spoke as he walked, his path leading him past a popular bakery in town.
It had just rained and the streets were wet. On the opposite side of the road, a tuk tuk driver tried to beckon him to his vehicle. Athman, engrossed in the phone conversation, did not notice him. Neither did he notice the two burly men following him.
On a normal day, Mombasa's streets are filled with people, especially after Maghrib prayers. Street food vendors, tuk tuks, bicycles and a general rush of human bodies on their way home would make it almost impossible to walk more than a few steps before bumping into someone.
But that day was different. The streets were not full on that Tuesday evening. Had he looked at his watch, he would have seen the time to be 7:44pm. A minute later, his life and those of the people he loved would change forever.
The two men behind him were dressed in loose-fitting button-up shirts. One wore beige cargo pants, the other dark green. As Athman was about to conclude his phone conversation, the man in beige cargo pants glanced behind. It was a signal. The three men had now passed the bakery.
A white Toyota Land Cruiser with dark tinted windows slowly pulled up behind the men before braking abruptly once it was beside Athman. A third man, in a white baseball cap and a checked shirt quickly jumped from the vehicle, and together with the two men, grabbed Athman and bundled him into the vehicle. The vehicle sped off.
Back home, Athman's wife was preparing his iftar dinner. Athman fasted every Thursday. When he had not returned by midnight, she started to get worried. To date, she still worries. Every time someone knocks on the door, she opens it, hoping it is Athman.
The family says all they want is closure. And some form of justice.
"They have never told us anything. They keep telling us investigations are ongoing. We have recorded statements. We have the number plate and details of the car that took him. But we have not got anything," Athman's brother Najim says.
Athman's missing person case was reported at Makupa Police Station under OB/26/17/1/2020. It is still under investigation.
OB/64/22/4/2020. 1754HRS
Kiamaiko is a bustling settlement some 12 kilometres from Nairobi's central business district.
Beneath the hustle and bustle of the settlement lurks something else, something sinister. A soaring crime wave that has ensnared both the locals and those meant to protect them has visited nothing but pain to many households.
Residents of Kiamaiko believe that pain and loss come in the stealthiest of ways. It sneaks up on you. It does not make noise. It does not shout.
Sometimes the pain comes through a phone call from a long lost friend with the promise of adventure and a lucrative deal that will yield instant results. If you listen to the voice, you never come back.
On Sunday, April 5, Anthony's phone rang some minutes to 10am. The female friend on the other side of the line had been calling him for three days straight.
At first, their conversations were casual, almost nostalgic of days past when the two were more than friends. At midday, it rang again. He answered it. He would answer it one more time later that day and would never be seen alive again.
Anthony's father's house is at the beginning of a row of incomplete stone structures sitting on spaces that measure 10 feet by 10 feet.
The unfinished house has one room on the ground floor that doubles up as a living room and a kitchen. A narrow staircase leads to the rooms above. The windows upstairs are boarded. Here, shelter like many other things has been minimised to the most basic need.
When he talks about his son, Joseph Muiruri has a reference point that he likes to begin with. He likes to begin with the eve of Anthony's disappearance.
"My son had invested in boda boda (motorcycle taxi) business. The day before he disappeared, he had taken a new motorcycle to a nearby car wash," Joseph says.
The boda boda was new. It did not have number plates yet.
"A police unit on patrol saw the motorcycle, took it and told the carwash operators to tell the owner to collect it from the police station," Joseph says.
The following day Anthony went to get the motorcycle armed with its registration documents. But the logbook is in his father's name so the policemen on duty asked him to tell his father to go collect it.
At around 11am, Joseph went to the police station, collected the motorcycle and handed it back to his son.
"I told him to keep it safe until he got the plates," Joseph says. That was the last conversation he had with his son.
When the two parted ways, Anthony's phone rang again. It was the woman from his past. He answered and the two agreed that they would meet in an hour's time. She was to call with the exact location of the meeting, not far from Kiamaiko.
Anthony told one of his buddies about the blast from the past and the meeting scheduled for later that afternoon. He requested the friend to tug along, sniff around, listen if what the lady friend would propose would be viable…and also, just to check her out.
"This is what we used to do," the friend who was with Anthony that day told The Standard. "That way, if she was not up to our standards, we'd bail each other out; come up with an emergency and leave."
And at 2pm, she called again. He put the phone on loudspeaker.
"Rada," she asked.
"Base tu," he said.
"Nishafika. Tupatane flyover ya Bangi? Pale Equity," (I am here, Let's meet at Bangi flyover at Equity) she offered.
"Ndo huyo mimi," (I am on my way) he said.
"Ukifika nichapie," (Call when you are there) she said.
The two friends left for the rendezvous.
"We were both excited. At around 2.15pm we got to the flyover and went down to the other side. They were to meet at the steps of the footbridge. But instead of us calling her, she called us, and a soon as Anthony answered the phone, she hung up," the friend says.
Then Anthony's friend started noticing a few things out of place. First, there were fewer people than normal at the flyover. Then people who looked like police officers started moving towards the footbridge from both directions.
"We started running. But in opposite directions. He ran towards Huruma and I ran towards Kariobangi," his friend says. "By this time, all the men running towards us had drawn their weapons."
Anthony jumped over the first barrier on the road, then the next one that separates the dual highway, then the third one that would give him a clear pass into Huruma and perhaps to freedom.
By this time, his friend had melted into Kariobangi.
"It is not me they wanted," he says. "If they wanted me they would have caught me too."
Matatu operators present on that day join the dots from what Anthony's friends never saw. They say after jumping the final aluminium barrier, three armed men lay in wait.
"They told him to stop running or die right there and then. They told him to choose," one of the operators said.
He stopped, was handcuffed and bundled into a waiting car.
After running what perhaps was a race for his life, Anthony's friend went full circle and found himself at Joseph's doorstep.
"He told me things had gone wrong," says Joseph, "and that Anthony had been taken."
The first week after his son's disappearance were spent with the hope that he would find him in the next station. When the second week began, hope turned to desperation.
Anthony's friends had joined in the search. On April 22, one of them called Joseph. They needed him to confirm something. The confirmation was at City Mortuary. There was an unidentified male body that resembled his missing son.
"It was him," he says.
It is difficult for Joseph to talk about his visit to City Mortuary. He has been around for a long time. He has sired children who have gone on to bring their own into the world. But no amount of time can prepare a father for what he saw that Monday afternoon on the cold mortuary slab.
"You know death is a bad thing. It is particularly bad if the dead are tortured before they depart. He had been brutalised," he says looking away, not wanting any of us to see the emotion on his face.
"What's the point of torturing someone and then killing them. Just kill them," he says.
Anthony's body had a rope around the neck. The rope had eaten into his flesh. His testicles had been tied with a rope too. Both his hands were broken.
The hardest thing was to tell his wife and daughter-in-law about Anthony's death. He did. Anthony's mother cried. His wife still cries.
A day earlier, bodies of two unidentified females were collected from the mortuary as well. They were brought in the same night his son's remains were driven in from, according to official City Mortuary records, Kijabe.
OB/07/16/01/20. 1115HRS
The year had not begun badly for Mahmud Ganzalla. Life was settling down to a manageable routine. The previous two years had been a bit tough for him. A divorce from his high school sweetheart had taken a toll on him.
But he felt that 2020 was going to be a good year.
He had a new wife. He had two children. And his status in the community was just getting back to where he wanted it to be.
At 27, Ganzalla had his own congregation and a mosque to look after. Mskiti Athman bin Hassan was his second home. It is here that he often found peace and quiet.
"Hakua na ubaya na mtu wowote. Alifanya kazi yake kwa upole na ukarimu (He did not have differences with anybody. He did his work with gentleness and courtesy)," his father Mohamed says.
The people loved Ganzalla and looked forward to his teachings. Then the following day he was not at the mosque. Neither was he there the Friday that followed.
By this time, his father was already getting worried about the whereabouts of his son. It was time to believe what some friends had told him.
On the night of January 15, Ganzalla left the mosque some minutes to 9pm, jumped onto his bicycle and rode to Kombani Junction to share a cup of coffee with his friends.
Kombani junction is a basic rural town centre with shops arranged neatly along the T shaped road. If you drive north from Kombani Junction, you head towards Likoni and further north to Mombasa.
If you go south, you get to Ukunda, and if you turn left you get to the sandy beaches of Diani. If you go west, you get embraced by the steep hills of Kwale and onward towards Shimba Hills National Park.
That night after several cups of coffee, Ganzalla went west. Not towards the hills, but towards his home. Unknown to him, it was not just friends who were with him at the coffee shop. There were individuals sitting nearby with ulterior motives.
When he left, they relayed a message to others who lay in wait. When he got to a familiar culvert just as he was about to turn off the main road, four men emerged from the thicket on the road ahead of him, two on each side. Ganzalla peddled harder, perhaps thinking that the emerging men, illuminated by the full moon that was out that night, were village thugs.
He approached the men at near full speed. Just as he was about to pass between them, they pulled on something. It was a rope. He hit it at full speed and fell. Witnesses say the four men then picked Gonzalla and put him at the back of a waiting pick-up. They put his bicycle next to him.
"That was the last time anyone saw him," his father says. "Police say they have no information about him. They tell me the disappearance is connected to the Anti-Terror Police Unit."
"I have nothing else to hold on to," Gonzalla's father says. "I have left all to God."
Ganzalla's mother says she does not like to speak about her son. "Every time I think about him I just cry. I cry until I get a headache that refuses to go away and then I cry some more," she says.
Ganzalla's disappearance is reported at Diani Police Station under OB number OB/07/16/01/20. It is still under investigation.