Youth curse: Why the good jobs are going to old people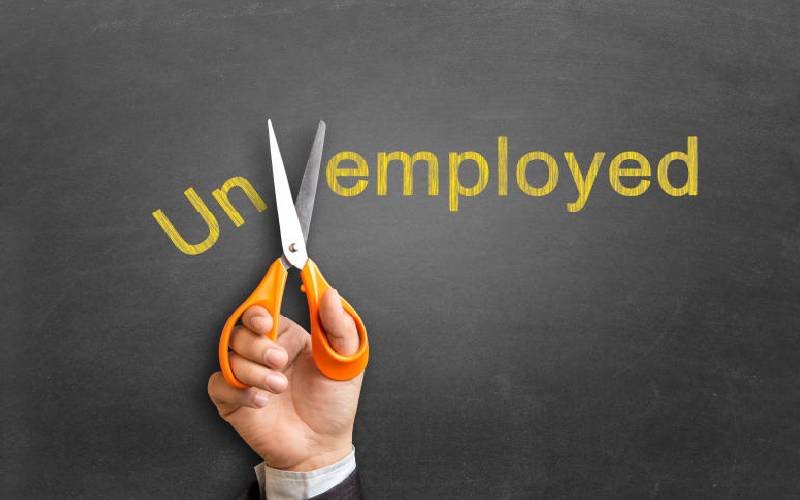 Nothing dominates election campaigns quite like promises to provide employment for the youth and to eliminate poverty.
In 2013, en route to clinching the hot seat, President Uhuru Kenyatta promised to create one million jobs through, among others, launching Biashara Kenya, an entrepreneurial venture that would enable women and youth to access funds for business.
With his deputy William Ruto, they promised Kenyans a digital transformation, showing a youthful exuberance that was part of the impetus that pushed them into office.
They were youthful and the youth in the country would benefit from this leadership.
Seven years later, Treasury Cabinet Secretary Ukur Yatani, like others in the same docket before him, spoke firmly when reading the Budget about the government's intentions to continue creating employment opportunities for the youth.
The employment opportunities promised are yet to be realised. At independence, Kenya's government pledged to tackle poverty, ignorance and disease. But over the years, the task has gotten enormous as the population rises amid gross mismanagement of resources, leading to an explosion of youth unemployment and the trio of problems that were highlighted for elimination almost 60 years ago.
A quarterly labour force report by the Kenya National Bureau of Statistics (KNBS) shows that at the start of 2020, more youths were unemployed as compared to the last quarter of 2019.
But in the same period, the employment percentage of the older populations - those on the verge of retirement - increased.
At the end of last year, there were 5.28 million Kenyans aged between 15 and 19 years, with 1.71 million of them employed. That represented an employment ratio of 32.4.
By March this year, the number of Kenyans in that age group increased to 5.34 million, but those employed reduced to 1.23 million, a ratio of 23.1. This was a reduction of 9.3 per cent.
It may be deduced that in that age group, a lot of children (under the age of 18) have been put into employment. That category also ropes in Kenyans who do not pursue higher education but are aged above 18 and are already fending for themselves.
For those between 20 and 24, their numbers reduced from 4.44 million to 3.76 million, but so did their employment ratios.
From 2.14 million Kenyans of that age bracket that were employed in the last quarter of 2019, there were 1.69 million working as at the end of the first quarter of 2020.
The employment ratio for those aged between 30 and 34 dipped by 3.1 per cent, with ages 40 to 44 and 45 to 49 reducing by 0.2 per cent and 1.3 per cent respectively.
These ratios show a bleak trend for the younger populations, especially when one considers the data for the older populations.
For those aged 50 to 54, their populations grew by 133,245 in the quarter, with the number of the employed rising by 167,438. That was a 3.6 per cent increase in employment for that age bracket.
Incredibly, that means that a whopping 90.8 per cent of people in that age bracket are employed.
Between 55 and 59 years, the population increased by 95,215, with the employment ratio increasing from 84.9 per cent to 88.7 per cent.
In the last bracket (60 to 65 years), the population increased by 245,411 while the number of those in employment rose by 0.1 per cent.
The second quarter data could reveal the full effects that Covid-19 will have had on these statistics, as the pandemic has led to massive job losses, mostly among the youth.
KNBS reported that 914,704 were out of jobs earlier in the year - representing 4.9 per cent of the national population - ?with an additional 300,000 Kenyans reported to have lost their jobs between January and March this year.
Most of these are casual labourers.
On Labour Day, President Kenyatta warned that over half a million Kenyans could lose their jobs in the next six months.
According to Bidco Africa chairman Vimal Shah, who has also chaired Kenya Private Sector Alliance (Kepsa) in the past, says as tough economic times persist, younger populations are easier to lay off with the older generations retained owing to their superior experience.
The older generation are also more stable and, even with their salaries not growing, will more easily stick to a job.
"The less experienced and new staff have been reduced as the economy goes through a liquidity crisis," Mr Shah told Financial Standard.
"A lot of youngsters are also opting to be self-employed and you won't see that happening in the elderly population who will not want to venture out and do their own thing."
XN Iraki, an associate professor and Fulbright scholar who teaches at the University of Nairobi, says the Kenyan education cycle might be in part responsible for the high number of unemployed youth in the last quarter of the year.
"Most universities and colleges graduate their students in the last quarter of the year. This increases the number of job seekers and therefore lowers the employment ratio," he says.
Employers also go for the older generation owing to their perceived job experience and superior skills acquired over time. "It could be argued that elderly employees are more experienced and are more marketable," says Prof Iraki.
"It is generally assumed that they understand market dynamics better and could make less mistakes than inexperienced youth."
Uhuru has come under fire in the past for giving plum State jobs to the older generation at the expense of the youth. But the president once said that the integrity of the youth was often questionable.
"If you see how young people we have trusted with positions steal public money, it's rather I appoint somebody like Awori whom I am sure will protect your money to ensure intended developments and services get back to the people," he said in 2018, defending the appointment of former Vice President Moody Awori, then aged 90, as a member of the Sports, Art and Social Development Fund Board.