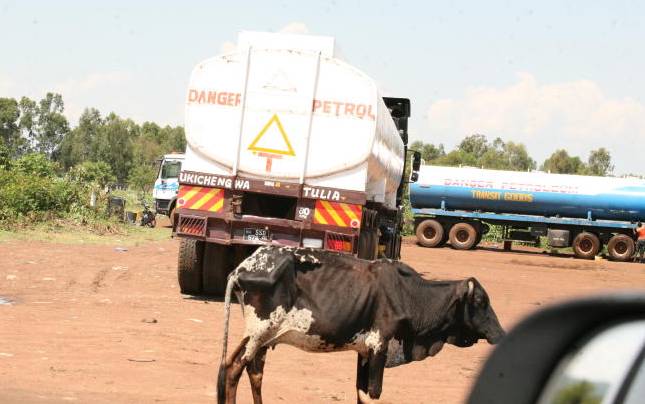 A village on the shores of Lake Victoria could be Kisumu's coronavirus hot spot if mingling of locals with long-distance truck drivers remains unchecked. Kogony village surrounds Kenya Pipeline Company's depot in Kisumu, where hundreds of trucks supplying fuel to other East and Central African countries frequent for refilling. Despite some of the county's Covid-19 positive cases being traced to this area, people continue operations in disregard to health guidelines. Before the trucks get into the KPC refilling point, they spend hours or even days on queue outside the facility. It is during this period that the uncontrolled movement and interaction with the villagers begins. According to residents, many depend on the drivers for their income. Women cook for the drivers, wash their clothes or sell to them some essentials.
SEE ALSO: Man held for killing daughter, 15, for spending night out
"Some of the drivers befriend the local women, leading to some amorous activities," said Edwin Ouma, a resident. When The Standard visited the area on a Sunday, oil trucks were packed deep inside the village, with drivers freely mingling with residents, oblivious of the dangers they were exposing themselves to. "The parking area is small. We are sometimes forced to park in free spaces in the village, as we wait for our turns to be refilled," said a driver from Congo, only identified as Musa. Musa had been there for three days and explained that drivers took between two and seven days on the queue before they could be served. James Omollo, another resident, said they had petitioned the area chief to intervene and ensure the drivers' movement was controlled. Nancy Opinya, the Kogony Chief, said she had received complaints from residents and had been trying to reach out to other stakeholders to ensure action was taken.
SEE ALSO: County earns Sh8 billion from State, donors for key projects
"I have communicated to the County Health department and believe there is need to have this matter handled," she said. Kisumu has since recorded at least 10 Covid-19 cases, and half of them are long distance truck drivers who find their way to Usoma. Fredrick Oluoch, the County Director of Health, said the issue had been discussed and recommendations made. According to KPC, its holding area can accommodate up to 200 trucks, but only those with valid orders are allowed into the area. Jason Nyantino, the institution's Head of Communications, said some traders had been reported to be hanging around the area, some to buy fuel from those who had already picked their orders.
SEE ALSO: Dry but empty: How victims of floods are rising from the debris
"The parking space is sufficient for trucks with valid loading orders to pick fuel," said Nyantino, adding that trucks were fumigated and all drivers and staff within the facilities made to sanitise.