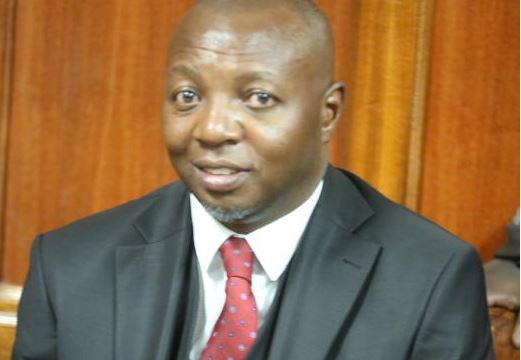 The Kenya Ports Authority may be one of the biggest employers in Mombasa, but it has also been the Waterloo for a long list of erstwhile sterling careers.
Many have learnt the hard way that taking up senior managerial positions at the region's largest port is akin to taking up a poisoned chalice.
For the last 41 years, 13 men and a one woman have occupied the plum post. Out of these, seven were sacked while three were forced to resign.
A number of them are fighting to clear their names and only four completed their terms.
Read More
Although John Mturi, Philip Okundi, John Gituma and Brown Ondego completed their terms in office, they came face to face with the dirty shenanigans at the port.
Ondego, who took over in 1999, was briefly arrested and suspended from office in January 2005 over claims of graft. He was cleared of the claims.
Abdalla Mwaruwa, who took over from Ondego, was sacked in 2008 after a chaotic implementation of the Kilindini Water Front System.
James Mulewa, who served between October 2008 and July 2010, was sacked by the then Transport minister Chirau Mwakwere over claims of abuse of office. The court cleared him.
Mulewa was later acquitted of a fraud charge, but the Ethics and Anti-Corruption Commission (EACC) later sued and secured judgement against him on claims of illegal enrichment.
Joseph Munene's reign was the shortest. In December 1999, he was forced to resign after three months after he launched investigations into a suspected Sh200 million fraud in the port's engineering department involving a powerful Coast politician and some KPA section managers. His critics launched a vicious media campaign to paint him as a tribalist.
The most recent exit was Daniel Manduku (pictured), whose troubled tenure ended in less than two years.
Manduku threw in the towel on March 27.
When on May 11, lawyer Jared Magolo told a Mombasa Court that there a conspiracy to lock out his client, Patrick Nyoike, from interviews for KPA's top post, he touched on a raw nerve.
Magolo claimed that Nyoike, who has been charged over a suspected Sh215 million scandal at the Mombasa port, was poised to participate in interviews to fill the MD's post left vacant after Manduku's exit.
Last week, KPA Board Chairman Joseph Kibwana confirmed that 150 candidates have applied for the job and that the interviews had begun.
Nyoike, who until his arrest was KPA general manager in charge of finance, and a host of general managers and heads of departments applied for the job.
On June 3, most of the employees who have applied for the position were given show cause letters, sparking outrage about the timing and motivation of the authors.
Rashid Salim, KPA's acting managing director confirmed that the show-cause letters were issued to a number of heads of departments asking them to justify their various expenditures.
He claims the letters were a normal administrative process to correct queries that arise from internal audit.
"There is nothing sinister. Heads of departments are accounting officers of their respective expenditure budgets, and are very conversant with the corporations and public expenditure rules and regulations," he said.
Nyoike's prosecution in Kilifi further fuelled speculation that some invisible hand was culling some candidates to skew recruitment.
Back to Mulewa, EACC claimed that he made suspicious Sh17 million in bank deposits between August 31, 2008 and May 2010.
The agency also wanted Mulewa to explain Sh41 million cash deposits and Sh24 million in cheques in various banks.
In 2017, a Mombasa High Court ordered Mulewa to pay Sh78 million to the State after finding he had property that he could not account for. He has since appealed the ruling.
In February 2016, long serving MD Gichiri Ndua, who took over from Mulewa, was among top managers forced to retire. Ndua was succeeded by Catherine Mturi-Wairi.
Wairi, who took over in July 2016, was forced to resign in June 2018 after the port and the Inland Container Depot experienced massive congestion.
Like Ondego, Munene, Okundi and Robert Brenneisen entered KPA as 'outsiders,' which analysts say was fiercely opposed by top managers at the port.
Claims of internal sabotage at the port has in the last three years seen the KPA board carry out sweeping changes.
In 2016, the port's general manager-operations, Twalib Khamisi and head of legal services and company secretary Muthoni Gatere, Justus Nyarandi (general manager-cooperative services) and Mohamed Morowa (head of security services) were retired.
Observers say that since 1979, when the KPA was created after the collapse of the East Africa Community, the managing director's post was used for tokenism by the State to sway voters from the coast region who felt they earned bragging rights whenever one of their own was at the helm.
Coast political leaders saw KPA as an employment bureau and vehemently lobbied for a local, preferably from the Mijikenda, to be appointed MD to guarantee jobs for their people.
The MPs would push the MD to employ the local youth as casuals to reward their supporters or woo support.
Analysts and unionists now say that vested interests have become more complex and toxic as politicians now own companies, some through proxies, that they use to win lucrative tenders at the port and other KPA installations across Kenya.
Beyond the border
The vested interests go beyond Kenya's borders
Uganda, the leading importer through the port, has also been exerting pressure as have the British and Americans who use the port for their maritime trade and operations in the region. The Western powers have in the past expressed concern that the port has become a major conduit for narcotics and contraband on the East Coast of Africa.
This is the minefield that every MD walks into the moment they get the post. Internally, they have to contend with middle and high level staff serving vested interests.
Invariably, all MDs must massage the egos of these employees or risk being kicked out through endless plots and subterfuge. They must learn how to balance between being professional and massaging bloated egos of their benefactors.
"Even if an angel is appointed MD, if there is no law to protect his or her tenure and to make it clear that he or she is only answerable to the board, he or she will be swallowed by vicious competing interests at the port," says Dock Workers Union General Secretary Simon Sang.
Reports indicate that local construction and supply firms angling for jobs at the port have the backing of various multinational shipping lines and senior State officials.
Cases of international firms, through their local agents, fighting for mega tenders at the port abound.
One example is the vicious battle over a Sh3 billion tender for supply of cranes and Sh1.7 billion tender for the supply of a boat.
Reports indicate that the war over the tender to build a boat pits a senior politician against a senior State officer, both of whom are fronting different companies to secure the job.
The tender is now the subject of endless investigations by State bodies tasked to fight graft in the country. No one has been prosecuted over the same.
A Sh40 billion tender to relocate Kipevu Oil Terminal (KOT) awarded to China Communications Construction Company is also said to have attracted several interests in and outside the port.
Unionists say Manduku and Wairi's sudden resignations after being subjected to months of public humiliation was yet another culmination of the vicious war for the MD's seat.
Manduku's tenure was cut short by endless investigations into KOT and Makongeni good shed yard, manufacture of concrete barriers and Kisumu port revitalisation
Manduku and seven senior managers were hounded out after countless summons to the EACC and the Directorate of Criminal Investigations.
But his departure followed a familiar pattern for most KPA MDs who have left the port at the crest of graft allegations that were never tried or proved in court.
Ongoing recruitment
In the ongoing recruitment, the KPA board has taken over the hiring of MD compared to the previous practice of hiring through a HR firm.
Among those who are said to have applied are KPA's Sudi Mwasinago (General Manager-Small Ports), Vincent Sidai (Infrastructure Development), Daniel Ogutu (Human Resource and Administration), Addraya Dena (Board and Legal Services) and Abdulahi Samata.
Last Thursday, the recruitment process hit a snag after the High Court suspended it after a lobby group questioned the transparency of some board members.
Julius Ogogoh of the Commission for Human Rights and Justice (CHRJ) claims in his petition that some KPA board of directors had questionable credentials and were unfit to conduct the interview.
The CHRJ also wants the board to publish the names of all applicants and those shortlisted.
Dock workers have been enjoined in the suit.
"The MD's appointment must be streamlined to ensure port cartels have no room and to also return professionalism in their operations," says Sang.