Kabuga: A journalist's murder and the loneliness that smoked him out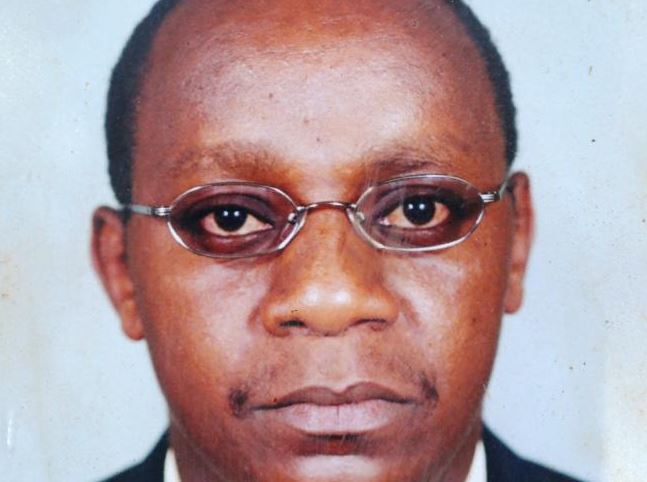 As soon as President Mwai Kibaki was sworn in, taking over from Moi, the hunt for Rwandan fugitive Felicien Kabuga went a notch higher. And the following year, the then Rwandan Ambassador to Kenya, made a public accusation.
"For a very long time, we had information that Kabuga was in Kenya, involved in business with prominent Kenyans," Ambassador Seth Ezri Kamanzi said. "For unknown reasons, the government of the day did not take any measures to arrest him. We know he is still in the country and is being protected. If there had been political will then Kabuga would have been arrested. But for some reason Kabuga was untouchable."
At the time Ambassador Kamanzi was speaking in early January, a 27-year-old journalist-turned businessman was making another play. The centre-piece of his move was Felicien Kabuga, and the young man who had abandoned his journalistic pen for the wheeler dealer world of government contracts was dotting the i's and crossing the t's of his latest plan that would see him bag the Sh500 million ($5 million) bounty on Kabuga's head. Two weeks later, though, he lay dead, crushed by the Kabuga rollercoaster.
William Mwaura Munuhe (pictured) had spent the last quarter of 2002 meeting with and writing letters to a friend in government over some crucial information he had. The information would not only solve one of the biggest crime puzzles on the continent, but would change his life forever.
The last of this letters was written just before Christmas of 2002, and after posting it, Munuhe drove to Nyeri to be with family for the festive season.
Although naturally a jovial man, he was extra during his latest visit, lavishing relatives and friends with an assortment of gifts. That night, after the traditional slaughtering and roasting of a goat, he took friends on a drinking frenzy in a Nyeri hotel.
The next day, Boxing Day, he left for Nairobi. None of his family members knew exactly what he did in Nairobi. All they knew was that he was doing very well and living in a big house. Unknown to them, there were things of great concern that weighed down heavily on him.
When he got to Nairobi, he called his friend in government. They had to hasten things along. The friend was Kenya's Internal Security Permanent Secretary, Zakayo Cheruiyot.
"He called me on my mobile and told me he had met Kabuga. I told him to pass the message to the CID," Cheruiyot told Kenyan news TV Channel NTV during a January 21, 2003 interview. Munuhe however did not.
But somehow, the CID accessed the letters he had been writing to Cheruiyot. And on December 30, after several attempts to get hold of the former journalist, CID boss Francis Sang got through to Munuhe on one of his many phone numbers.
"I requested him to come see me at the CID headquarters to discuss the details of his letter to the PS, but he was reluctant and only promised to call back. He never did," Sang is quoted by the East African Standard of January 23, 2003.
Two weeks after the conversation between Sang and Munuhe, the CID boss got another strange request. The American Embassy asked him to provide them with backup to a highly sensitive operation.
Before the operation though, Munuhe had been a busy man. He had on several occasions visited the American Embassy where he deposited his passport for visa processing. He was preparing for a quick exit to the US.
In his dealings with the American Embassy, Munuhe had offered more than credible information about his interactions with the fugitive and appeared willing to play ball with the investigators and deliver the fugitive to justice.
There was one problem though, no one knew of Kabuga's current address. Not even Munuhe. So, together with officers from the FBI and Kenyan investigators, he set a trap. The proposal was simple enough. Concoct an irresistible business deal that would force Kabuga to go to Munuhe's home to seal it off.
It is while in Munuhe's home that law enforcement officers would pounce and arrest the Rwandan. Munuhe had made one great mistake. He had greatly undermined Kabuga's reach and influence within the intelligence community.
Two days before the planned January 16 business meeting, assassins showed up at his door in his upmarket Karen home and shot him once through the ear. They then lit a charcoal stove, placed the body back in bed and staged a suicide - death through carbon monoxide poisoning.
Not even the FBI, who had been shadowing and closely monitoring Munuhe, knew of the hit.
Three days later, not less than 20 of them backed up by local policemen lay in wait along Karen's picket fences waiting for the prized fugitive. Kabuga preferred daytime meetings. He didn't care much about darkness. The Munuhe encounter was to happen at 1pm that Thursday.
By 7pm, there had been no communication from Munuhe. The stakeout was called off. But before leaving, the officers peeped over Munuhe's compound and saw his car inside. They broke through the gate, forced themselves past the door and discovered Munuhe's body.
The following day, a Friday, two police officers drove into the Munuhe family home in Muruguru, Nyeri County, and told his mother of his son's passing. When Munuhe's mother Lydia Wanjiku asked about how he died, he was given the official line at the time.
"Sudden death," read the post-mortem report by the city mortuary.
There was no mention of him being dead for three days before the police got wind of his death.
The days that followed his death were laden with fresh revelations. Key was the continuous mention of former PS Zakayo Cheruiyot as a key Kabuga accomplice. Cheruiyot has on more than one occasion denied any association with Kabuga.
"I have never, ever met this person called Kabuga. It is outrageous to claim that I have facilitated his stay in Kenya. I really do not know why people are linking me to Kabuga. In fact, the people who should answer questions about Kabuga are the police, the tribunal and Rwanda," Cheruiyot told NTV in the January 2003 interview.
He however accepted that he had known Munuhe for three years. "But we have never been business partners," Cheruiyot said.
Although lost at first, Munuhe's ties to the US government became apparent on February 13, 2003 when the Nairobi US Embassy published a press release claiming Munuhe's death was directly linked to the search for Kabuga and Munuhe's willingness to provide information on the fugitive's location.
The statement also revealed the close ties that Munuhe had with the ICTR and the US Embassy.
"He however chose to remain in Kenya because he believed he could be helpful in apprehending a dangerous criminal," read part of the statement, which also, inadvertently revealed the possibility that Kabuga's network transcended Kenya, and that he had possible moles within the FBI itself and the ICTR.
In the years that followed, law enforcement agencies never got a closer link to Kabuga than Munuhe. Because of this, he continued to roam free, using 28 aliases in the 26 years he was on the run.
The Diplomats
There was something about Kabuga and the Kenyan election cycle. After the noise around his movements in 2002 and heightened search because of a new government, he re-emerged from the woodwork again in 2007 after a relatively quiet five years that investigators now say took him to Belgium, France, the UK -- countries that all hosted a variety of his 11 children, and Germany where he sought medical attention in 2007. On October 30, 2002 Kabuga flew back into Kenya.
On March 1, 2007 the US government, still smarting from the botched Karen operation half a decade earlier, sent Clint Williamson, the country's then ambassador-at-large for war crimes, to Nairobi.
His brief was to push the Kibaki administration in to handing over Kabuga. The West, led by the US, firmly believed Kabuga was in Kenya, particularly after several intelligence agencies confirmed that he had flown in towards the end of the previous year.
"It is widely believed that Kabuga, an ICTR fugitive and alleged financier of the Rwandan genocide, continues to remain at large within Kenya, likely enjoying protection from high-ranking former and current government official," Williamson told his bosses in Washington. "Despite some progress on improved information-sharing and investigative cooperation between Kenya and the ICTR, there is little expectation that the Kenyan government will take the necessary measures to bring Kabuga to justice any time soon," he said in a top secret cable issued on March 29, 2007 at 9.47am from Nairobi to Washington.
Among the government officials Williamson met was the Deputy Foreign Affairs Minister Moses Wetang'ula who, like many of his peers, denied the fugitive's presence in the country.
"I wish I knew where he is," Wetang'ula said, "I would love to get him."
Wetang'ula then went ahead to tell Williamson that he had "shared a house" with Rwandan President Paul Kagame in Kenya in his student days, that he was friends with many of the current ministers in Rwanda, and had been a friend of some well-known genocide victims.
He noted that Kabuga's wealth, his ability to "change his appearance" and the likelihood he owned multiple homes are all obstacles to his apprehension.
"Kabuga could skip across Kenya's porous borders if a search grew hot," Wetang'ula said.
After the Wetang'ula dismissal, the visiting envoy decided to take his crusade to one of the most powerful men in Kenya at the time, Internal Security minister John Michuki. If there was anyone who could smoke out Kabuga, then it would be the no-nonsense minister.
But it was not to be.
"During the conversation, Michuki mentioned that he 'knew' Kabuga and had hosted him in Nairobi in 1987 after meeting him in Rwanda the year before when Michuki's sister-in-law was serving as the Kenyan Ambassador," wrote the ambassador.
He also told Washington that during their hours-long meeting, Michuki expressed grave "disappointment" that the ICTR continued to make such allegations but failed to offer Kenya any proof of Kabuga's whereabouts.
Despite these allegations, the diplomatic community was convinced beyond reasonable doubt of Kabuga's presence in the country.
While he was still in Kenya, Williamson held various get-togethers with other envoys and in each seating, there was a common refrain -- that Kabuga enjoyed the protection of influential individuals in Kenya and that this remained a significant obstacle to his arrest.
In one of these red-plate mingles, the then Dutch Ambassador Laetitia van den Assum said Michuki was believed to know where Kabuga was. Frustrated by the Kenyan government lacklustre response to diplomatic pressure, she suggested the time may come for a "not so gentle approach", meaning one that is more public and robust.
She also said Foreign Affairs minister Raphael Tuju told a European Union delegation that "there is no official decision to shelter Kabuga", and that he did not know Kabuga's whereabouts. She added that in another meeting between envoys and Tuju, the minister became extremely angry when the Greek Ambassador accused him of knowing the business people sheltering Kabuga.
For his part, Tuju allegedly admitted that some officials in the government may have had ties to Kabuga. He also accepted that corruption within the government and law enforcement agencies could be impeding the investigation.
But the diplomatic pressure somehow worked. On May 9, the government of Kenya froze one known Kabuga asset and bank accounts to avoid being cited for non-cooperation by ICTR in its final report that was due on May 12.
The ICTR however was still of the opinion that Kenya was not doing enough.
In a May 21 letter, ICTR Acting Chief Prosecutor Richard Karegyesa asserted that the recent action by the Kenyan government to freeze a residential property in Nairobi reportedly belonging to Kabuga and a bank account receiving rent from the property was "too little, too late and falls far short of implementing the full range of recommendations of the Joint Task Force", referring to the Joint Kenya-ICTR Task Force that had worked over several years to track Kabuga and his assets in Kenya.
The letter further claimed Kenya had done nothing regarding "the several assets, companies and bank accounts identified by the task force as being associated with Kabuga," and had failed to have him arrested and transferred to the tribunal to face trial for crimes against humanity.
Of particular interest to the ICTR was a list of seven businesses and three bank accounts connected with Kabuga, that the government had taken no action against. One of these was Nshikabem Agency.
In spite of the international pressure, the Kenyan government never budged much. And sometime between 2009 and 2010, Kabuga left Nairobi, but not before rather curious court cases.
The court cases
After Kabuga's son-in-law left Nairobi in 1998 following what he told friends was a botched attempt at his life, Constantine Ndikumana, a Burundian national tasked with looking after the fugitive's business interests had kept a low profile.
But a story in one of Kenya's leading newspapers, The East African Standard, smoked him out momentarily. After the newspaper carried an expose of Kabuga's business interests in Kenya, and naming Ndikumana as one of his key people, the Burundian national stormed the newspaper's offices the following day claiming to be in a position to take those who claimed he was Kabuga's operative to a treasure trove of vehicles that belonged to the fugitive.
The only connection he had to the fugitive, Ndikumana said, was that he was a business partner to Ngarabatware, Kabuga's son-in-law. He proceeded to take the journalist on a tour of a warehouse which he claimed housed several vehicles belonging to the fugitive. The cars were two Mercedes Benz limousines, a Peugeot 505 GR, and a white Nissan Sahara.
After the brief media appearance, Ndikumana fell off the news cycle again, only to reappear in 2009 in what became a protracted case between him and Ngarabatware over the ownership of 10 long haul trucks, part of the businesses transferred to him in 1998 by a fleeing Ngarabatware. The return of Ngarabatware some 11 years later to lay claim to the transport empire didn't sit well with the man who had been running the business. The trucks in question operated between Kenya's port city of Mombasa and Burundi's capital Bujumbura.
The matter went to court but mid-way, the two men reached an out-of-court agreement.
The fall of the big man
That same year, Kabuga and his wife Josephine Mukazitoni lost an appeal that sought to unfreeze a residential property and a bank account owned by them before Nairobi's Appellate Court. By then though, most of the money in the frozen account had already been transferred to an account in Belgium where Josephine resided at the time.
Some of Kenya's harshest critics of the Kabuga matter had moved on. Believing the fugitive, though still with businesses to run in Kenya, had long left the country.
"It is unlikely that he is in Kenya. We have no idea where he is. It has been said he has been living in Kenya, but the administration has assured us he is not around," the then Rwandan Foreign Affairs minister Louise Mushikiwabo said on the side-lines of a pan-African event in Nairobi in March 2010.
The focus shifted from Nairobi, to thousands of kilometres away in Europe, where the spotlight rested under the guidance of Interpol, the International Residual Mechanism for Criminal Tribunals as well as the Central Office for Combating Crimes Against Humanity, Genocides and War Crimes based in Paris, headed by Eric Emeraux.
Emeraux couldn't sleep that night. There was so much going on in his mind and he wouldn't want to risk sleep and wake up when everything had happened. The culmination of two years of hard work that involved high level covert operations, phone taps and days-long stakeouts was about to play out in a few hours. He wouldn't risk missing it for the world.
After all, he would have enough time to sleep when all was done. Even after going through the evidence in his mind, he still remained doubtful whether, apprehending one of the world's most wanted men after 26 years of being on the run, would be as simple as walking into his house and walking out with him.
There could be no risks. He reconfirmed with his colleagues at the Central Office for Combating Crimes Against Humanity, Genocides and War Crimes that everything had been set up. A sting operation team comprising French Special Forces, Interpol, Belgian Police and officers from the International Residual Mechanism for Criminal Tribunals would, at the crack of dawn raid the location.
After orchestrating and funding one of the crudest genocides in modern history, it was technology that eventually brought down Kabuga. That, and the vulnerability of an 84-year-old eager to see his children on an almost daily basis, the loneliness in a strange land too much to take.
So he let his guard down, allowing his children who were scattered in various parts of Europe to keep close contact with him since he turned 80, something he never encouraged during his younger days as a fugitive.
Unknown to him, law enforcement agencies had grown patient like a leopard waiting for its prey, over the years. It all began with establishing the locations of known Kabuga children. Then their phones started being monitored for chatter that would give the authorities clues of the whereabouts of the fugitive. For one and a half years, nothing substantial came out of it.
Then as the second year started drawing to a close, a pattern started to emerge. Phone triangulations put the cell phone signals of most of the children at one particular location in an upmarket Parisian address. Granted, one of Kabuga's children lived around the area. It seemed coincidental at first, but then the convergence of the signals became more frequent.
Even during the lockdown, when it would make sense for the siblings to meet online, they still converged. This couldn't just be about a random catch-up meeting. "We realised there was a trail of something much bigger," Emeraux told JusticeInfo.net.
The attention of the French services was focused on an apartment that Kabuga's family members often visited. The electronic surveillance allowed them to see that, over 365 days, one of Kabuga's 11 children was always present in the apartment.
"We had good reason and a lot of evidence to think he was inside, but until we pushed open the door to his room, we weren't sure. We would have been sure if we'd seen him come out," Emeraux said. "He was very discreet. And he was confined. He was living under a false identity with a passport from an African country I'd rather not name. He had 28 aliases anyway in 26 years."
Even with a Sh500 million ($5 million) bounty on his head, nobody sold Kabuga out. No one would get the bounty. In the end, it was blood ties that led police officers to his hideout.
As his country marked the Kwibuka Festival, the annual commemoration of the 1994 genocide against the Tutsi in Rwanda, Kabuga, who put up no resistance in his arrest was being wheeled into court to answer various charges related to the genocide.
At 6am on May 16, the team of elite policemen raided his apartment and found him wide awake, sitting on an easy chair like a man waiting on fate to catch up with him and slay the ghosts that had been dogging him for more than 25 years.
"Kabuga didn't put up any resistance," Emeraux said.
Age had taken a toll on him. He appeared sickly but the elite team quickly swabbed the inside of his mouth for a DNA sample and ran it against one taken from him during a 2007 hospital visit to Germany. In minutes, it had been confirmed to be a match.
Just like that, one of the world's longest chases for a genocide fugitive came to an end.
Three days later, Kabuga was wheeled into court. Two policeman stood behind him. His voice was weak but audible as he confirmed through an interpreter his identity and parents' names. He gave his date of birth as March 1, 1933.
His lawyers would later say that he preferred to be tried in Paris. Not even the years on the run would make him bold enough to face his accusers in the land where he will forever be remembered as a key player in one of Rwanda's darkest moments.