Oil pilot project ends with little to show after 2 years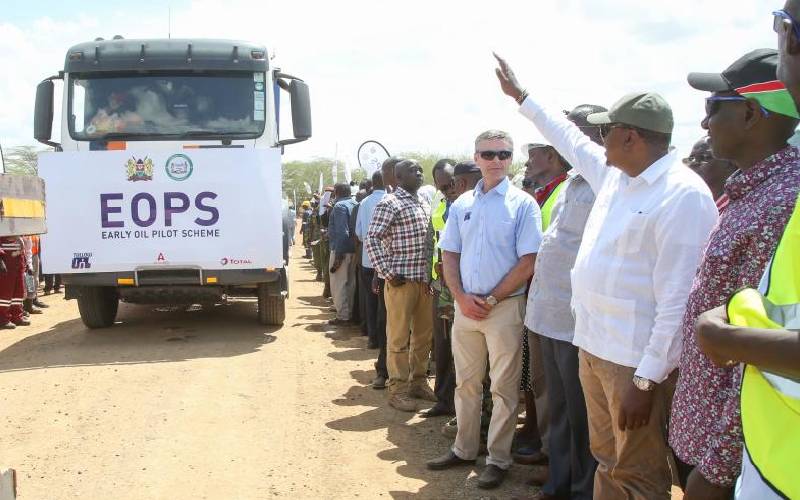 The experimental project to export crude oil produced in Turkana has come to an end after the expiry of a two-year contract that Tullow Oil had with the Government.
Tullow said in a statement yesterday that the Early Oil Pilot Scheme (EOPS) will now come to an end following the lapse of the contract.
"Tullow Kenya, together with its joint venture partners, Total and Africa Oil, confirms that the EOPS contract expires on June 2, 2020, after running for a two-year period," the statement read.
"EOPS has served its purpose as a pilot project by providing critical technical data, logistical and operational experience and training that will materially assist the national and county governments and the joint venture partners on the journey towards Full Field Development (FFD)."
The pilot project has ended with only one shipload of crude oil exported within the two years, a dismal record given the fanfare the project attracted.
The scheme entailed trucking crude oil from Lokichar in Turkana County to Mombasa for stockpiling, and thereafter, exporting it when it reached a certain amount.
The project had faced major hurdles including disruptions by community members.
In 2018, shortly after the project had been launched, locals in Lokichar demanded increased security in the area. The demands led to the project being temporarily stopped.
There was also criticism by some industry players who claimed its operations were shrouded in secrecy. The project has been put on hold since December 2019 due to a poor road network between Lokichar and Kitale.
Over the two-year period, Tullow only managed to export one cargo of 240,000 barrels of oil, which was sold to ChemChina for Sh1.2 billion ($12 million).
The firm had trucked another 185,000 barrels of crude oil to Mombasa, which is now sitting at the Kenya Petroleum Refineries Ltd storage facilities. Tullow said it will be in discussions with the Government as well as its joint venture partners to decide what to do with the oil.
It had planned to export a larger cargo than the 240 000 barrels earlier sold.
Critics have complained that the pilot phase has swallowed heavy investment in equipment, all which could go to waste when the commercial phase begins.
Tullow and its joint venture partners have also expressed concerns about the impact that coronavirus pandemic has had on operations in Turkana, noting that it could delay operations.
This could further push ahead the date when the country exports its first barrels of crude oil produced commercially.
The firms in May this year submitted notices of "force majeure" to the Ministry of Petroleum, indicating that they may not be able to fully meet their contractual obligations owing to Covid-19.
By submitting the notices, it means the Government cannot sue them for failing to meet their contractual obligations.