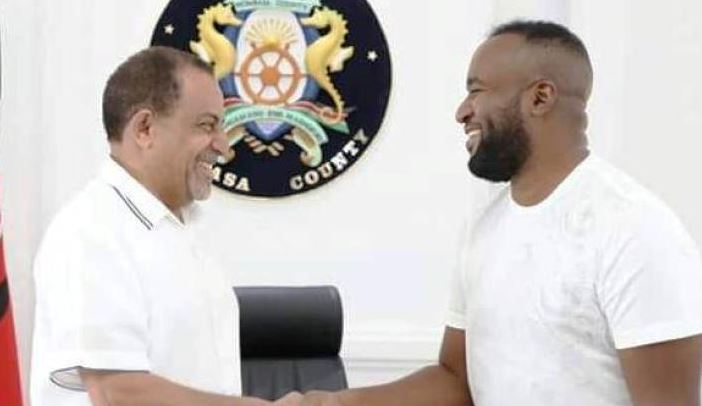 Former rivals Governor Hassan Joho and Suleiman Shahbal have developed a special political relationship that has sparked debate on the county leadership's succession battle in 2022.
In the last few months, the two have shown their bromance in public, with Shahbal rallying Jubilee leaders and Mombasa business community to support Joho's plan to combat Covid-19.
A former fierce critic of the governor, Shahbal is now a great supporter of Joho's plans in the war against Covid-19, frequently praising him for "innovative ideas to combat the crisis".
Joho is keen to cement his legacy as the first governor of Mombasa especially on the issue of health, and the outbreak of Covid-19 will unquestionably shape his era.
In the war against the pandemic, Joho has found a friend in Shahbal who, through his foundation, erected multiple sanitising machines and mobilised food aid for vulnerable families.
Read More
Political analysts say the two leaders' bromance has mutual benefit as Joho seeks to enter national politics while Shahbal is keen to take over the governorship seat in 2022.
Joho and Shahbal are rich men who in the last two elections spent colossal sums of money to battle for the Mombasa governorship seat and support their preferred presidential candidates.
During a case at the High Court, Shahbal said he spent Sh200 million in the campaigns, an illustration of the high-cost campaigns in Mombasa. Reports say that Joho spent Sh500 million.
Reports also indicate that the political machinery that propelled Joho into county leadership has since decamped to Shahbal's side.
Behind union
Major (Rtd) Abdulrahman Idris, who once worked for former Prime Minister Raila Odinga and as Joho's political adviser, is said to be behind the union between the two leaders.
Yesterday, he, however, refused to be drawn into the debate, saying "currently the war on Covid-19 requires all Mombasa residents regardless of their political affiliations".
Joho and Shahbal faced off in the 2013 and 2017 Mombasa governorship elections. Joho emerged the winner and Shahbal the runners-up in both polls.
The two, undoubtedly, have the largest following in Mombasa, going by the results of the two past elections. In 2013, Joho garnered 132,583 votes and Shahbal 94,905, while Abdallah Mwaruwa of TNA was a distant third with 17,335.
In 2017, Joho won with 221,177 votes, Shahbal came second with 69,515 and former Senator Hassan Omar, who vied on a Wiper ticket, garnered 43,787.
Joho and Shahbal buried the hatchet on January 15, last year, and set up a technical team to merge their campaign manifestos and work together to develop the country's smallest county by size.
One of the key agendas that they agreed to push for is the development of the Dongo Kundu Special Economic Zone to create business for the locals affected by the SGR project.
Joho is now serving his second and last term and debate over his succession plan is rife. Reports say Shahbal is in Joho's succession plan.
The intimacy of the two leaders has provoked debate over Joho's succession plan, which is key to his entry into national politics.
Orange Democratic Movement (ODM) MPs Abdulswamand Nassir (Mvita), Ali Mbogo (Kisauni), and County Speaker Harub Khatri were touted as Joho's possible successors.
The three have also had an on-and-off relationship with the governor. Others touted as possible candidates for the seat are former Senator Omar and Nyali MP Mohamed Ali.
Omar and Ali, who are Joho's critics, are allied to the Jubilee Party axis that supports Deputy President William Ruto. Omar came third in the 2017 Mombasa governorship race.
Shahbal has fought many political battles since 2011 when he came into the political limelight after being a successful businessman both in Kenya and the United Arab Emirates.
Other reports indicate that Shahbal was actually convinced to venture into politics by the Joho family and Odinga, who saw him as an ideal candidate due to his foreign connections.
In 2013, Shahbal shocked his supporters when in just a matter of weeks he defected from ODM to the United Democratic Forum party (UDF) before joining Wiper Democratic Party.
He defected to Wiper on January 19, 2013, after three of his handlers were roughed up by ODM supporters at the height of the contest for the orange party's nomination.
At one point, thugs broke into his office and carted away vital documents. He also blamed his political enemies for videos of his private life that leaked on social media.
After the 2013 polls, Shahbal through proxies challenged Joho's win and academic papers in a protracted legal battle that went all the way to the Supreme Court. Joho, however, won the war.
Analysts say Shahbal, who was born in Chura Majengo, has now learned the terrain of Mombasa politics and was ready to take over from Joho if he is nominated as the BBI candidate.
According to lawyer Abubakar Yusuf, the rapprochement between Joho and Shahbal complicated things for ODM leaders who were keen to take over the governorship post.
"Joho and Shahbal have come together because they may need each other in jostling for the table in post BBI-political arrangements," said Yusuf, who in 2013 was Shahbal's political strategist.
He said Shahbal enjoys a cordial relationship with President Uhuru Kenyatta and Odinga, and that if the two form a coalition, he will be a front runner for Mombasa governorship battle.
New coalition
Halimu Shauri of Pwani University said Shahbal appears to be convinced that a new coalition bringing together the Jubilee axis was in the offing.
"It is scratch my back I scratch yours kind of arrangement," said Shauri, adding that Joho wants Shahbal to support him in national politics in exchange of his support in Mombasa politics.
But Hassan Mwakimako differed with other analysts, saying Shahbal was playing precinct politics, which cost him the 2013 and 2017 elections.
"His biggest undoing is that he thinks he must be endorsed. National politics will not help him. Omar and Ali can cause an upset because Mombasa voters are rebellious to anyone who supports or is supported by people from central Kenya," said Mwakimako.
He also said that Joho's endorsement will not be a big factor in 2022 as the electorates were likely to pick leaders based on their performance or plan.