Many Europeans evacuated from Coast but others unwilling to leave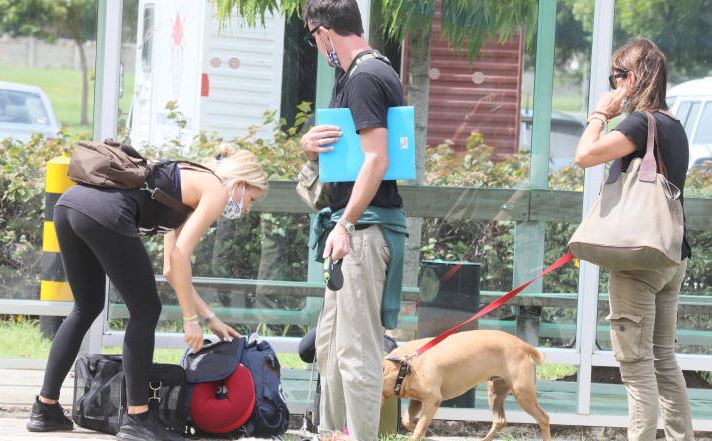 Governments around the world have spent fortunes chartering flights and sweet talking friendly states into opening closed skies to evacuate their citizens as the coronavirus pandemic rages.
But there are a few foreigners who are so enthralled by Kenya's beauty that they are reluctant to go back home. Among them, however, are those who are leaving, not because they want to, but because of the intense pressure from family and their governments.
There are also financial considerations that are forcing exits. A few investors in the hospitality sector, among the hardest-hit by the virus, have thrown in the towel after their businesses collapsed.
Much safer
David Gremmo and his wife Cristina Catini are Italian investors with a tourism company in Taita Taveta. They were evacuated by their government but hope to be back soon.
"We have a home and investments here, and our hearts are in Kenya. We shall be in Italy for a while as we follow the happenings," Mr Gremmo told The Standard as he prepared to board a chartered aircraft.
When Germany began to evacuate its citizens after the first Covid-19 case was announced in Kenya on March 13, Christina Mischel, a frequent visitor to the Coast who had been in the country since February, said she wouldn't be leaving.
"I feel much safer here than in my home country. If things do not improve back in Europe, I will extend my stay here," said the 60-year-old retired steel worker.
Tina, as she is fondly referred to by staff at the Plaza Hotel, revealed that she was partly motivated to come to Kenya as the virus swept through Germany on the mistaken belief that herbal remedies in Africa could alleviate symptoms of the coronavirus disease.
"I watch lots of news and when I got to hear about the magical ginger concoction, I decided to come and holiday in Kenya."
But her vacation was short-lived after the German government insisted that she had to leave. She was put on a plane and flown back home.
Several Italians we spoke to in Malindi who come from northern Italy also said they had renewed their visas, fearing instant sickness or death if they returned to their country.
Last week, Italy evacuated more than 200 of its citizens, included cash-strapped tourists and residents stranded in coastal towns after Kenya banned international flights.
Among those who left was a Kenyan with Italian citizenship.
Ronnie Kenga, who is married to an Italian woman, came to the Moi International Airport early Friday. He said he was eager to return to his job as a barman in Milan.
Better tidings
"Although Italy was hard hit, I am optimistic of better tidings there as jobs are opening up," said Mr Kenga, who flew into Kenya last November.
He was scheduled to fly out in March, but his flight was cancelled twice.
The head of the Italian Consulate in Malindi, Freddy del Curatolo, said 250 Italians left for their homes on Sunday.
Mr Curatolo said those being evacuated had been stranded for two months following the suspension of flights.
Dozens of pensioners we spoke to in Mtwapa said many Westerners are reluctant to fly out for fear of being sent to homes of the elderly. They prefer life at the Coast where the climate is favourable and the people more sociable.
One, however, confessed that his visa had expired two years ago and he feared getting arrested at the airport.
"I was still pondering what I would do about my expired passport and visa when the virus suddenly erupted and swept my country. I was also afraid as the death toll rose in my country. But before I could make up my mind, Kenya banned all flights," said the retired businessman from western Europe who lives with a Kenyan companion in Kilifi.
Another visitor who said he was from one of the Scandinavian countries said some of them were fugitives from justice and would not agree to return home even if the flight was free.
"I would be arrested and prosecuted for neglecting my family for the last five years."
He wasn't the only foreigner we came across who is running away from his past.
"Many of us became bankrupt after our visas expired or we spent lavishly until we lost face," said another foreigner. "My family has disowned me and I no longer communicate with them."
Magne Roar Stamens, a Norwegian national, also sees no reason to leave Kenya, even if his experiences in the country haven't been exactly rosy.
The 69-year-old retired engineer first came to Kenya in 2008. He returned in 2016 and invested his life savings only to be swindled by the Kenyan woman he lived with. The twice-divorced foreigner said he has no family to return to.
"I am not willing to go back home. I invested everything here in Kenya. Back home my children are living their own lives and I am sure they won't provide for me."
Mr Stamens said he feared contracting the coronavirus disease would be a death sentence because he is elderly and diabetic. He currently lives with another Kenyan woman in an apartment in Diani, but acknowledged that life is not as comfortable as he had envisaged.
Vanished with everything
The retiree told The Standard that when he first invested in Kenya, he shipped in goods worth Sh6 million. His partner at the time convinced him to clear the container in her name so he could ostensibly evade paying Sh1 million in duty charges.
Stamens said he was also made to believe he would be given priority in an auction if the goods went uncollected. He borrowed money and handed it to the woman who bought the goods and registered them in her name following an auction in May last year.
His companion then vanished with everything, leaving behind an empty house. Stamens said she is yet to be traced.
Kwale Police Commander Joseph Nthenge said the woman's phone signal was last traced to Lodwar.
"DCI officers from Diani are working with their counterparts in Lodwar to track the woman," said Mr Nthenge.