Uhuru's new power line-up takes shape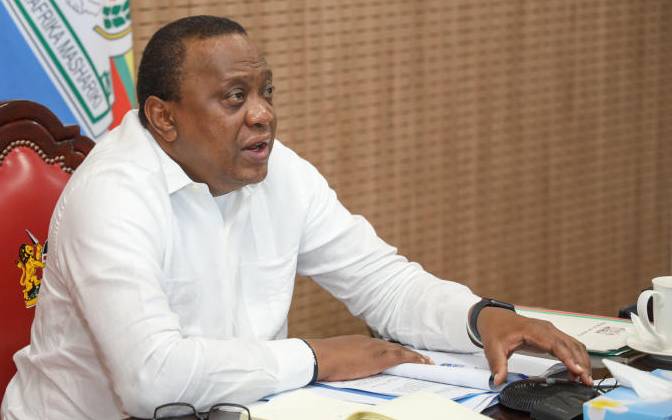 As he cuts his deputy down to size, President Uhuru Kenyatta (pictured) is assembling an alternate power line-up that will prop the last half of his presidency, cushion him from Jubilee split aftershocks but also shape his succession.
The line-up, comprising old staggers in the game and new faces, will take the political space of the departing half of Jubilee and will shape to a large extent, who becomes the president in 2022.
In what is shaping up as "Government of National Unity", Uhuru and ODM leader Raila Odinga sit at the apex, while Wiper leader Kalonzo Musyoka, Kanu Chairman Gideon Moi, Ford Kenya leader Moses Wetang'ula and Chama Cha Mashinani's Isaac Ruto are below them.
Changing times
Kanu has tested the waters for the rest in signing a post-election agreement with Jubilee while the others are in various stages of taking the same step. Last week, Gideon met with Musyoka, who in turn met with Wetang'ula.
On Wednesday, Ruto was in Nairobi while Uhuru and Raila have been in constant talks in the last few weeks. In Parliament, Murang'a Senator Kang'ata Irungu is emerging as his hatchet-man, especially in reining a rebellious Central leadership.
In the National Assembly, ODM chairman John Mbadi is holding forte, combined with Majority Leader Aden Duale who has read the signs and is retreating from the DP support.
This alliance, once completed, will have a good enough majority in Parliament to run the show and play a key role in shaping the Building Bridges Initiative (BBI) outcomes, which will in turn shape the succession.
"Why is Tangatanga opposing a Kanu-Jubilee coalition? New coalitions and alliances are just about to start. This is the problem of living in denial. You get stuck in a past that no longer exists. Things have changed. Kenya has changed," ODM's Director for Elections and Minority Whip in National Assembly, Junet Mohamed, said on Tuesday.
On Wednesday, Ruto told The Standard that he was ready to work with President Kenyatta and was talking with like-minded leaders to see how Kenya will recover fast from the effects of the coronavirus pandemic.
He said he is a patriot, ready to give his services to the nation anytime and was ready to work with President Kenyatta towards helping Kenya get back to its feet.
"We are in agreement with President Kenyatta that we need political, economic and social stability. As a political elite, I would not mind being part of the team steering Kenya from the pandemic crisis," Ruto said.
The former governor said he was not also averse to talks of a possible coalition with Kanu. "Chama Cha Mashinani is not a merry-go-round. It is a party that was formed to work for the people singularly with other parties. We are a parliamentary party and are ready to work with Jubilee, Kanu and any other that joins along," Ruto said.
We, however, independently established that CCM top leadership met yesterday and resolved to form a coalition with Jubilee "as soon as possible" as well as to negotiate for a cabinet position in government.
Ruto's statements come days after Musyoka confirmed that talks were underway amongst leaders for a possible co-operation agreement between Wiper, Jubilee and Kanu.
Private meeting
Kalonzo said he was mandated by the highest organ of his party, the National Executive Council (NEC), on May 7 to explore co-operation with like-minded political outfits.
"Wiper will be ready to enter into a co-operation agreement with both Kanu and Jubilee when that time comes. We are open to that, because we are guided by the provisions of the coalition within NASA," he said.
He said a coalition will not signal the death of Opposition in Kenya but instead build a more cohesive country.
Two weeks ago, the Wiper boss hosted Jubilee Vice Chair David Murathe for another high profile yet private meeting where discussions on the possible working formula were held.
On Monday, Kalonzo hosted Wetang'ula, signalling a pivotal role the Wiper leader is playing in the building of the upcoming political movement.
"We are also consulting with coalition partners in ODM, ANC and Ford Kenya to see what we can do because I think what the country needs is to come together regardless of political persuasion in order to jump-start the economy," he said.
In the elaborate plans, Raila is set to head a multi-agency economic recovery team that is set to steer some critical ministries as part of post-Covid-19 emergency measures being put up by President Kenyatta.
Raila will be part of a team that brings together a number of Kenya's top politicians who will drive the economic recovery agenda, among them a well-connected ex-cabinet minister from Rift Valley.
Murathe has confirmed that there are plans to have the team that will work around the clock to ensure that Kenya recovers fast from the effects of Covid-19 and secures Kenyatta's legacy.
"None other than Raila will be better-placed to head it. The multi-agency team will work to ensure that the country recovers in the shortest time possible from coronavirus," Murathe said.
"President Kenyatta is looking at a team that will help bring back Kenya economically and also unite it and help him secure his legacy. It will be a broad-based group with people who mean well for Kenya."
Yesterday, Raila held discussions with top party and parliamentary leaders, where they pledged to continue supporting the Government in its efforts to tame the pandemic.
After the famous handshake on March 9, Raila has increasingly been getting powerful in the government. Now, President Kenyatta is set to broaden the power base and rope in other significant names.