Inside varsity hospital ward hosting Covid-19 patients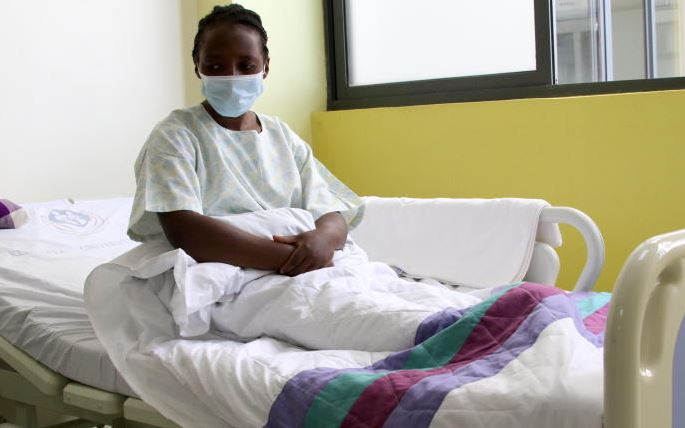 The sight of an ambulance being sprayed with disinfectant greets us at the building hosting isolation wards at the Kenyatta University Teaching, Referral and Research Hospital.
Naomi Nyarangi, the hospital's director of Nursing Services, is leading us into the isolation ward to speak to a patient who has just recovered from Covid-19.
On our way, we had passed some repair works ongoing at the fence barricading the building where patients are kept. Some workers were raising the barbed wire fence.
Just three days ago, a video surfaced online showing some patients held at the facility threatening to jump from the second floor of the building, evidently a security threat.
"Tunanyanyaswa…tunapewa tu piriton (We are being victimised, all we are given is piriton)," a patient is heard shouting in the video.
At the lift that leads to the wards, a poster typed in red reads 'Isolation Ward', but someone has added 'Covid-19' with a blue pen.
It is when we arrive at the floor where the patients are housed that the reality of the disease dawns on us. As we wait to change into our protective gear, a new patient, a middle-aged woman, is brought in.
She is being supported to walk to her ward by a hospital staff in full protective gear, including white gumboots and face shield.
Due to the dead silence in the isolation ward, the wheezing from the new patient's breathing is loud; almost louder than the voice of another patient, probably from West Africa due to her heavy accent, which could be heard from outside as she asked for instructions on how to convert her new phone number in order to use WhatsApp.
Despite guidelines from the Ministry of Health that cloth masks can be used in this Covid-19 pandemic, once you get to the isolation wards, such are not applicable. We ditch our vitenge face masks for the N-95.
We also put on gloves, which make it so difficult to take notes during the interview. Catherine Ndunge, the patient scheduled for the interview, is in a separate section of the ward where those who have recovered are.
"We have another wing for those critically-ill on the other side," Ms Nyarangi informs us.
We find Ndunge asleep, with her mask on. The room is spotlessly clean. Her agreeing to speak to us, however, comes with conditions: She will not disclose where she stays; or her age; or even who she stays with.
But as she prepares to get discharged, Ndunge is well aware of the stigma associated with Covid-19, an issue that the Health Chief Administrative Secretary Mercy Mwangangi has discussed.
"While we celebrate these recoveries, we are disturbed that reintegration has not been easy for others because of being stigmatised. This is quite unfortunate considering our constant appeal and massive education that Covid-19 is like any other disease," said Dr Mwangangi during one of the updates on the pandemic.
It is a phenomenon Nyarangi is well aware of and the hospital has now had to include social workers as part of the discharge procedure.
"We do have challenges with getting recovered patients back to their families. Sometimes the relative would ask, 'are you sure they are cured?' So before we release any patient, we have a social worker talk to them," she says.
It will be the same for Ndunge, who arrived at the hospital on the night of April 10, 2020 as a referral from Metropolitan Hospital in Buru Buru.
Ndunge still has no idea where she might have gotten infected, as she says she has never travelled outside or interacted with someone who has.
"I woke up with a headache one day, so I went to the chemist to buy Panadol Extra. I took it and the headache subsided. But that evening I got the same headache, this time accompanied with a congested chest," she tells The Standard during the interview at her assigned ward.
The following day she went back to the same chemist to purchase something stronger for the headache and also find a remedy for her congested chest.
"But the attendant at the chemist told me I needed to be put on oxygen," she says. Ndunge then went to Metropolitan Hospital in Buru Buru, where her condition was stabilised.
But since all hospitals are alert to Covid-19 cases, the facility insisted that she be admitted and tested. Ndunge was adamant.
"I did not have money to be admitted in a private hospital. They insisted though and promised to refer me to a public hospital," she says.
That is how she ended up at Kenyatta University Hospital, one of the facilities in the country that has isolation wards for Covid-19 patients.
While Ndunge is glad to have tested negative, some patients are still held up in the facility. Nyarangi says the duration within which a patient will be cured varies considering the disease as yet has no registered treatment.
Treatment is only done as per the symptoms that show up.
"We used to test patients after 10 days, then we realised most of them still tested positive, so we test them after 14 days. Some will test negative after those 14 days while others will test negative on the 16th or 18th day," she says.
However, Nyarangi says lack of a registered treatment therapy does not change the kind of care Covid-19 patients are given. There are few adjustments though, just for precautionary purposes.
Kenyatta University Hospital has 119 Covid-19 cases with about 100 who are positive. Others are suspected cases on quarantine.