Kenyan nurses in US on front line battling pandemic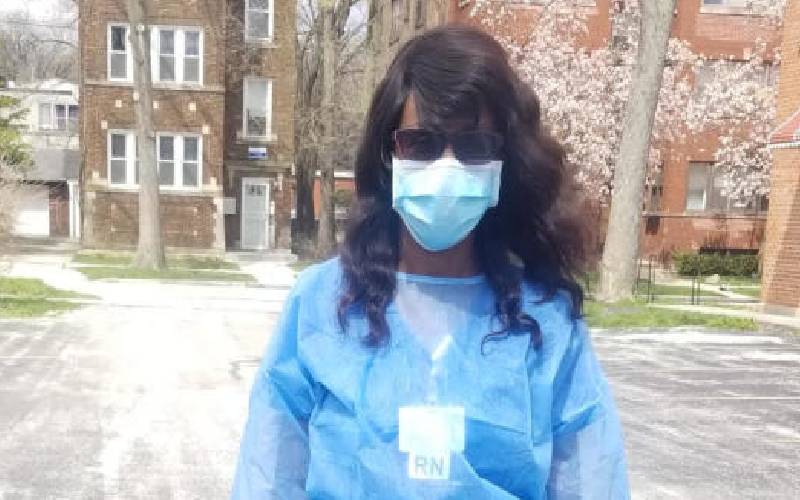 Corazon Akoo had not prepared for a global Covid-19 pandemic in the first year of her nursing career.
The young mother of two graduated from a nursing school in Georgia, US, last year and was posted to the renal unit of a 633-bed hospital.
Like many residents of the eighth most populous State in America, Akoo watched the beginning of the pandemic like an event far removed from reality.
Gradually, however, as the number of global infections steadily crept up and one after another, countries shut their borders, it became apparent that something more serious was afoot.
"I never thought it was serious until I admitted someone on a Wednesday and went for my off days only to come back Saturday to be told they tested positive and were in the ICU," says Akoo.
In the first three weeks of April, the number of people who have tested positive for Covid-19 in the United States has increased from 213,000 to 662,045.
Akoo is one of millions employed in the US healthcare system and currently on the front line in fighting the pandemic while many people stay at home in accordance with social distancing guidelines.
The Standard spoke to four Kenyan women currently working in the US healthcare system on their experience on the front line of a global pandemic.
All four had been living in Kenya until 2013 when they moved to the US.
"In the beginning we were not worried of taking care of the Covid-19 patients because they were isolated in rooms that have negative pressure," explained Akoo. "Now because all these rooms are full, we end up with some of these patients on the floor and it is our duty to take care of them."
Reducing personal contact
Akoo has two daughters, the eldest is seven and the youngest is three. Explaining to them why she has to reduce personal contact with the family after coming home from work has been one of her most difficult moments.
"When I get home, they know they have to lock themselves in the bedroom until I'm all cleaned up. I do not do hugs or kisses anymore and the children are trying their best to understand with the help of my husband. It's not so easy, but we are coping," she says.
Helen Moraa lost a patient to Covid-19. Being three months pregnant meant she could not remain in contact with patients and had to be granted special approval to withdraw from her duties.
"When all this started, because of limited supplies, we sometimes cared for patients without proper personal protection equipment," she explains. "The scare was real."
Moraa says a shortage of equipment saw some medical workers recycle masks and gowns meant for single use, highlighting the extent to which the virus had brought the country's advanced medical system to its knees.
And if it ravaged the US, Moraa warns it could do worse for Kenya.
"If it hits Kenya it will be bad," she says.
The US has since learnt from its initial missteps.
"Now medical supplies have come and we wear protective equipment when treating a patient suspected to have Covid-19 whether they have tested positive or not," says Moraa. "This gives caregivers some peace of mind while inside these rooms."
However, since patients are not allowed to have visitors, the nurses' work is made harder by them having to frequently call friends and relatives to update and reassure them of the progress of their loved ones.
For Emma Malin, reducing physical exposure has been paramount as she works with high risk patients 12 hours a day, three days a week.
Emma works at a nursing home in Chicago with a 300-bed capacity. She says coronavirus has increased her work of providing care to residents who average 68-80 years, many with pre-existing conditions.
Older demographics, particularly people with underlying illnesses, have been more susceptible to Covid-19 because of relatively weaker immunity.
For the nurses, Covid-19 has come with a bigger workload.
Double work
"The level of patient care has doubled," explains Emma. "We take vitals of our patients every four hours instead of once a day like in the past."
Emma has worked as a journalist and professional photographer in Kenya and as such is not new to stressful situations. But the disruption to daily life caused by the spread of the virus has been surreal.
"At first it did not look serious and people were making jokes about life in self-quarantine and staying at home, but the tone has slowly changed," she says.
"Now there is a more sombre mood in the air and even going to the supermarket, which was an errand you took without a second thought, carries an additional weight about it," she says.
Emma's sister, Chebet Malin, graduated from nursing school last year. The pandemic has been baptism by fire for the young nurse. "What a time to be starting my field practice! The biggest lesson I have learnt is to be prepared and protect myself when at work," she explains.
Chebet, who works in an 800-hospital facility in Chicago, says many health centres across the country initially did not have isolation wings and had to improvise.
"Now we have a dedicated Covid-19 wing and while the cases coming in are many, the hospital is still able to handle them. We now we have protective equipment and testing kits unlike when this all started," says Chebet.
US President Donald Trump on Thursday announced that the country could reopen its economy in the coming weeks. However, this has been met with criticism in some quarters with some anxious that it could endanger more lives and make recovery harder.
The Kenyan nurses have one piece of advise for Kenyans: Stay at home.
"People started by saying it was a hoax, now look at what New York is dealing with. I wish people would listen and stay at home," says Moraa.
For Chebet, the experience has made her appreciate the importance of being with family and friends. "After all this, I've learnt not to take freedom for granted," she says. "Spend quality time with the people you love."