Tribute: Kasongo sings his last note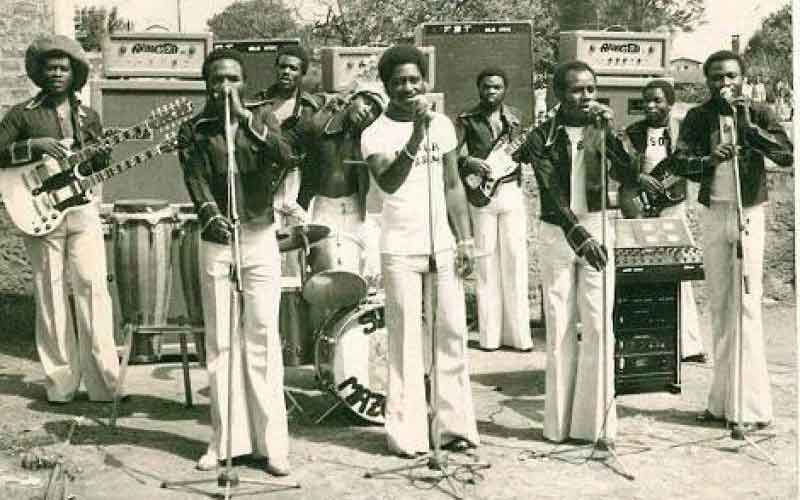 From a young age, Kasongo wa Kanema was destined for greatness beyond the confines of Congolese music. Unlike his musical peers who quarreled at the slightest disagreement over girlfriends and indulgences, Kasongo always bid his time, calm and sober.
And for 40 years, the mellow-voiced singer, composer and guitarist kept his fans entertained. Kasongo joined Super Mazembe from Baba Gaston's Baba Nationale band. His fame saw footballers, corporate leaders and boxers ride on his name. Kasongo's musical prowess surpassed his peers' until he breathed his last on Tuesday evening.
Succumbed to stroke
Incidentally, the 73-year-old musician, who had been ailing, succumbed to stroke at his home in Langata, a stone's throw from where most of his band mates — including Baba Gaston — are buried.
The news of his passing was revealed by Longwa Ngoie, the son of late Super Mazembe band leader Longwa Didos (who died in 2000). It was Longwa Didos who recruited Kasongo from Baba Nationale. Kasongo had arrived in Nairobi from Dar es Salaam in 1973, and recorded the chart-busting Kakolele Viva Christmas — with lead vocals by Kasongo — earning him a golden award, selling over 60,000 for Polygram.
Kasongo teamed up with high-pitched Lovy Longomba on vocals to bring Super Mazembe unmatched fame. By mid 1970s, Super Mazembe was arguably Kenya's most entertaining band. The band comprised of Atia Jo (bass), Dodo Doris (drums), Rapok Kayembe (rhythm), Lovy and Kasongo (vocals). They released evergreen hits Kasongo (produced by MP Oluoch Kanindo), Shauri yako, Ouma, Samba (1978), Nabikate, Ji Ji, Atia Jo, Mokano, Makala Musi, Nanga and Loboko among others.
Super Mazembe was not only a super band but was seen on the prisms of cultural revolution. But by the turn of the century, most band members had passed on.
Guitarist Atia Jo, who took over from Longwa Didos, died in 2004 and Kasongo took over as the bandleader. Beyond the stage, Kasongo produced Congolese music at his Watoto Studio, Yaya Centre Nairobi. Recently, he had a successful operation due to appendicitis. The musician who loved and cherished his music career hoped the situation would improve and go back to studios.
Kasongo was in the process of recording his new 10-track album, Kasongo. The original composition influenced a whole generation, including Kenyan heavy weight boxer Ahmed Omar 'Kasongo'. However, there is controversy about who the real Kasongo in the song Kasongo was. Some credit it to Kasongo Songoley, a rhythm guitarist with Mazembe. The vinyl face shows the composition was done by Katele Alley and vocals by Katele Alley, Longwa Didos and Charles Makila. The songs credited to Kasongo wa Kanema was Ouma and Muselebende. Kasongo was among the last three surviving band members of Super Mazembe band that had ten members.
Only Loboko and Dodo Doris are left. Both are in the country. Married to a Kenyan with whom he had six children, Kasongo had a big heart. He adopted around five children of departed band mates. He literary brought them up. Ngoie Longwa, son of bandleader Longwa Didos Mutonkole, was among them. Kasongo was also very close to the Lovy family with the twin Longombas looking up to him after their father Lovy Longomba died in a car accident in Tanzania.
With his silky baritone, Kasongo started as a lead singer with Baba Gaston in the band Baba Nationale. With Super Mazembe, they belted out many hits.
Dance style
Their dance style started from Cavacha but they localised it to 'Mushosho' and they actually referred to themselves as Super Mazembe Wana Mushosho. Competition between Super Mazembe and Mangelepa was sometimes intense but not in the open.
Using Super Mazembe, BAT manufacturers of the popular Sweet Menthol (SM) cigarette found it easy promoting their brand at the ASK shows. Event MC Fred Obachi Machokaa would belt out "Kula sigara ya SM, Super Mazembe"
Kasongo wa Kanema was not your typical Congolese musician who don bling blings, waist high or sagging trousers and dark glasses and kinky hairstyle. He was a bit polished and composed in his demeanour. No wonder, in his last days he did backup jingles for radio or TV commercials.
Kasongo and Super Mazembe mostly played Rhumba with a climax that fades away at the end. Their fame waned after the resurgence of Congolese music by the Kwasa Kwasa musicians. Kasongo's band mates also died one by one leaving a shell of a band. When asked a few years ago by a TV host to tell viewers where Super Mazembe musicians were, Kasongo replied in his Congolese Swahili, Walienda huko (They went there). The host was oblivious to the fact that he meant they were resting in Langata Cemetery.