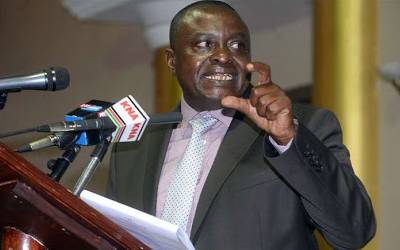 Savings and credit co-operatives (Saccos) have been dealt a huge blow by the Covid-19 disease following a sharp rise in the withdrawal of savings by members in sectors hardest hit by the pandemic.
The Saccos are now likely to experience liquidity problems that could hinder their lending and investment operations.
Co-operative Alliance of Kenya Chief Executive Daniel Marube (pictured) said Sacco members in sectors including horticulture, hospitality, and aviation had started withdrawing their cash to cater for basic needs.
"There is concern by the management of credit unions of the affected sub-sectors as their members are opting to withdraw their savings to finance daily needs, mainly food," he said.
Read More
"This trend, if not curtailed, is likely to affect the liquidity levels of the societies and equally discourage the saving culture in the country."
Mr Marube further urged Sacco members to be prudent on spending and focus only on essential needs, borrowing only when necessary.
"We have to preserve and manage our resources to rejuvenate our activities after the Covid-19," he added.
Marube noted that workers in the affected sub-sectors were being paid half salaries while scores had been laid off.
This, he said, had heavily affected their purchasing power hence the move to remove their investments which they had saved for many years.
The most affected Saccos have members drawn from flower farms in Naivasha, Nyandarua, airlines and hotels and hospitality facilities mostly in the Coast region.
One of them, Concorde Sacco Society, includes employees of various international airlines operating in Kenya, travel agencies and other related organisations.
Concorde Sacco Chairperson Rosemary Ateka confirmed that members were withdrawing their savings to survive the consequences of the pandemic that has so far seen more than 1.4 million people infected and over 80,000 deaths worldwide.
"Our members who happen to be employees of the international airlines that were stopped from operating are at home while some are on half salary," she said.
"Every week we are registering not less than 20 applicants seeking their savings immediately. They are even ready to forego 2.5 per cent of the savings, which is mandatory for anyone in need of the proceeds immediately."
Ms Ateka warned that the withdrawals would affect liquidity levels and membership.