Conduct and business links of the Mike Friday who enjoyed high public rating are questioned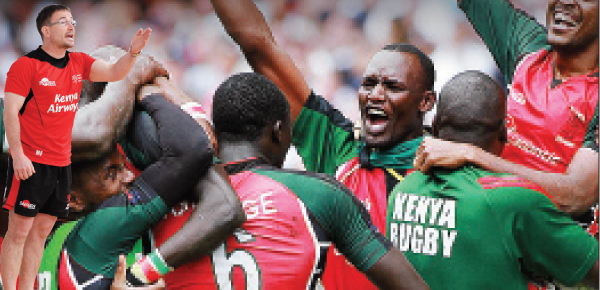 Former Kenya rugby seven's coach Mike Friday and the team
By NAIROBIAN REPORTER
No foreign coach in any game, since flamboyant German Reinhard Fabisch first took over Harambee Stars in 1987, has enjoyed public ratings as high as Englishman Mike Friday. Since his appointment as Kenya's national Sevens Rugby team coach last May, everyday has been Good Friday for fans of the game, who have enjoyed a stellar season.
It was no wonder then that an unsuccessful attempt to fire him in April led instead to rugby official Philip Jalang'o losing his position in the KRU board.
Nonetheless, Friday's recent exit — this time for real — remains a subject of heated debate. The latest to delve into the issue is Jack Okoth, the Kenya Rugby Union secretary and acting chief executive. Speaking to The Nairobian, Jack put to question a number of issues regarding Friday's conduct and business links.
The top official feels that for a man who earned a salary of over Sh800,000 a month, and had a fully furnished apartment and a car at his disposal, Friday should have done more for the local game.
"He spent less than five days in the country every month and subjected the union to extra costs, including a monthly return ticket to London. At times we had to book for him connecting flights to each and every destination of the IRB (International Rugby Board) sevens circuit since he was never here (in Nairobi) to leave together with the team," claims Jack.
He also says there were question marks on Friday's association with Samurai, the company that kits the team.
"How do you explain when a coach decides to single-handedly procure the team's playing kit prior to the World Cup? Is that his job or the union's?" he wonders.
Take a quick survey and help us improve our website!
Take a survey
The official also points to the luring of key national team players to play in a tournament without the express permission of KRU or the local clubs they are contracted to.
"This year, Friday said that the sevens players couldn't participate in the Kenya Cup because they needed to rest. However, we were shocked when he organised to have some of the same players flown out to Sri Lanka for the Carlton Sevens. Isn't that not double standards?" Jack posed.
Collins Injera, Humphrey Kayange, William Ambaka, Oscar Ouma, Felix Ayange and Andrew Amonde were invited to the tournament. The Kenyan stars formed the bulk of a team named the Jaffna challengers, which won the trophy.
However, a number of players in the Sevens National team, who spoke to us on condition of anonymity, say the union should freely allow them to participate in money-making ventures like overseas invitations such as the lucrative Sri Lanka deal.
"As a player there isn't much time to be on top of your game, especially with age catching up. In a single tournament like the one in Sri Lanka one can make more money than the allowances paid in the entire IRB circuit," said one player.
In his resignation, Friday cited interference from some KRU directors and insufficient funding.
"Kenya Sevens team is a fantastic group of players and it has been a privilege for both Chris Brown (strength and body conditioning coach, who also resigned) and I to have worked with them all. They are precious assets that need to be given the support and direction by Kenya Rugby in order to maximise their potential," he said. In the meantime, Friday has reportedly expressed interest in coaching the England Sevens team after the country's rugby union announced the departure of Ben Ryan.
Friday coached England between 2003 and 2006. New Zealand, South Africa and Fiji are also reportedly eyeing the Englishman.
Flights resume after Nairobi fire
Some international flights have landed at Nairobi's international airport a day after fire gutted the arrivals hall, causing serious disruption.