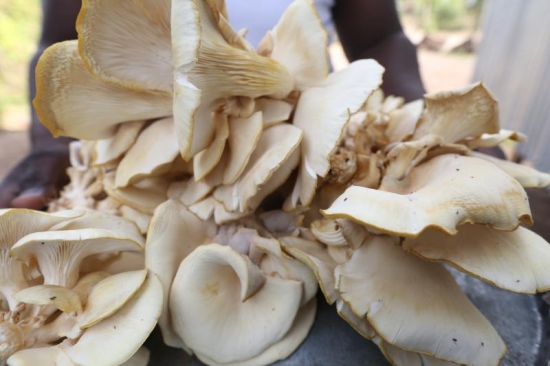 "Mushroom is so lucrative and unexploited, everybody should venture into this project."
These are the words of Jeffrey Anthony, a mushroom consultant at Mount Pleasant Mushroom Consultants in Namba Okana village in Kisumu county.
"I began mushroom farming after realising I could fetch a lot of profits from it. Before I ventured out, I went to workshops and seminars, read a lot and consulted on the same. Convinced that this would be a success, I dived in full swing. My key market is the local community," says Anthony.
To start a mushroom farm, there are five basics — good spawn, organic substance (substrate), a reliable market, a mushroom structure and good hygiene.
To start off, Anthony invested in nylon bags worth Sh5,000 to work as garden bags. He purchased 6kg of sugarcane bargasse, a substrate required in the process usually mixed with12kg of spawn which translates into 40 bags. 1kg of spawn is bought at Sh500.
Read More
"I used a small structure made out of wood and mud as a start off and to experiment on how well the plant can perform. The structure is 5 by 6 ft," says Anthony.
Germ-free environment is the key to good mushroom yields. Sterilisation is a process they work on keenly.
With a drum of boiling water, the bags are immersed in it with the substrate inside to get rid of germs.
He then mixes the sterilised substrate with spawn wearing gloves that have carefully been sterilised with methylated spirit.
The mushroom plantations are usually ready within a month.
He harvests 10kg of mushroom in a week; virtually 40kg of mushroom is harvested by the end of the month. He sells 1kg of mushroom at Sh800. In three months, he harvested his first crop and pocketed Sh96,000.
"I cannot wait to go big. The mushroom farm is a golden path I have chosen. I plan on relocating my mushroom farm into a bigger structure," says Anthony.
Mushrooms have numerous nutritional benefits such as high protein content like that found in fish and chicken and it also contains all vitamins except A and D. It is also great for managing high blood pressure, diabetes and other lifestle illnesses others.
"One of factors that motivated me to embrace this project is the myriad health benefits. I'm a body-builder and what I take in is extremely important to me. Mushrooms have something to do with my muscular arms and chest," he says.
Like all other ventures, mushroom farming also has its fair share of challenges, Anthony confesses.
This include attacks from bacteria, viruses and carbon dioxide accumulation.
Fortunately, through proper sterilisation of the substrate and maintenance of high levels of hygiene, it is easy to stem such.
"I have invented a mushroom drying house that operates with a solar system. The house is solely used to dry mushroom. My next plan is to move into this 300metres by 50metres," says the proud farmer.
Dried mushroom is more costly than the fresh ones. One kilo of dried mushroom goes for Sh4,000. This is because fresh mushroom usually shrinks a lot when dried. He supplies his oyster mushroom in hotels in Kisumu town, Nairobi and Mombasa.
Other than mushroom farming, he is also involved in a group called Me-Farm that runs a dairy farm. In total, they have four in-calves and are already milking two cows, which produce between 36 litres to 40 litres per day.
"Our key concern is to milk every coin from this farm. We are still not collecting the expected milk volumes from these cows. The persistent dry season, which affects the amount of feed produced is to blame. At the moment, we have four in-calves and one is due in three months. We hope to have more in the next few months," says Anthony.
The group sells a litre of milk at Sh60, which translates a total earning of Sh205, 000 in three months. The big challenge with dairy is the fact that animal feeds are quite expensive.
To address the problem, the group grows their own feeds at the farm which include — desmodium, clover, lucerne and nappier grass mixed with maize crops.
They also have their veterinary officer who monitors the health of the animals
"We have dug a borehole 18 feet into the ground. We use a solar system to pump water and sprinkle on our farms. A chaff cutter is also used to cut grass," he says.
What next for the ambitious team?
"Our next project is to build a biogas plant and add more breeds for the farm," adds Anthony.
For the youth, Anthony says hard work and determination are the key ingredients for agribusiness success.
Send feedback to [email protected]