Juliani takes drip irrigation, greenhouse training to Garissa youth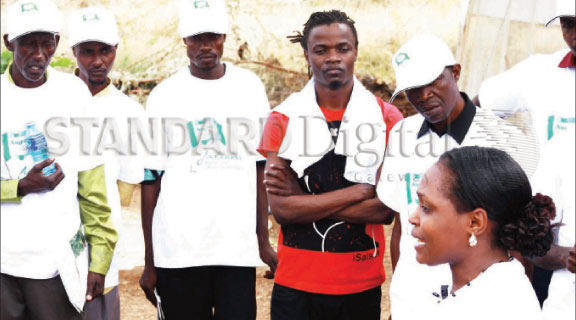 Juliani with a team of expert agronomists a free youth training camp in Garissa County.

By NANJINIA WAMUSWA
Newly appointed Amiran Poverty Eradication Ambassador, musician Julius Owino has embarked on a mission to mobilise and educate the youth on modern agribusiness.
Owino, popularly known in music circles as Juliani, led a team of expert agronomists and other officials from Amiran Kenya Limited to a free youth training camp in Garissa County.
The training held at the Amiran Farmers Kit (AFK) demonstration plot at the Ministry of Agriculture Training Centre in Garissa exposed the youngsters to the financial benefits of modern agribusiness.
The training saw more than 30 youths across from across Garissa County engage in a three-hour theory session at the Government Guest Hall and an additional three hours of practical training at the Agricultural Training Centre. The teaching was assisted by the agronomists.
Dry area
Garissa being a dry area in North Eastern Province where pastoralism has been the main activity, the occasion offered not only the youth but also grown ups an opportunity to see for themselves relative simplicity of drip irrigation and greenhouse farming, implemented using hybrid seeds, soluble fertilisers and environmentally friendly agro-chemicals.
The quality of produce at the demonstration plots which included cabbages, tomatoes, kales, onions, cucumber and spinach surprised older farmers who had tried their hand at farming without success.
Take a quick survey and help us improve our website!
Take a survey
Modern farming
"Such crops have never been harvested in this area, simply because it is dry," observed Adbulahi Abdikarim, one of those who benefited from the training.
Although the training was meant for the youth, older residents also requested to be included in the training saying they too want to learn about the new and modern farming skills. "This technology and practice works well even in dry conditions. If we embrace and follow it well, there would be no hunger and poverty in North Eastern Province," says Fatuma Najma.
Juliani told the trainees and other residents who participated in the workshop that no Kenyan should go hungry especially with the availability of modern agribusiness technology.
Certificates
"I encourage all of you to make wise use of the knowledge you have gained from the training by implementing the practice in your farms. You should also approach the AgriVijana loan offered by the Youth Enterprise Development Fund," Juliani said.
Juliani presented trainees with participation certificates. The youths who attended the training were elated and promised to abandon cattle keeping and instead use the skills they have acquired to invest in modern agribusiness.
Amiran Kenya Limited, Head of Administration, Business Development and Public Relations, Mr Gilad Millo told the locals that modern agribusiness technology working well in Garissa should not come as a big surprise. "The technology comes from Israel a country that is even drier than Kenya. It has worked extremely well," Mr Millo said.
Juliani is now calling and encouraging youth across the county to use all agricultural skills acquired in the villages, schools and other institutions of higher learning to change their communities fortunes in improving food security.
He promised to take lessons and messages he got from the trainees, with him as he continues to lead this important awareness campaign aimed at enticing youth to engage in sustainable and modern agribusiness in the entire country.
Terror crisis uncovers marriage fault lines
What does one write at a time when the country is in a dark place and many lives have been lost while others nurse serious wounds in hospital beds? This past weekend, many widows and widowers were created by a heinous act of terrorism, which we condemn, in the strongest possible terms. Husbands and wives will go through transitions as they adjust to dead or wounded in-laws, friends, parents and children.