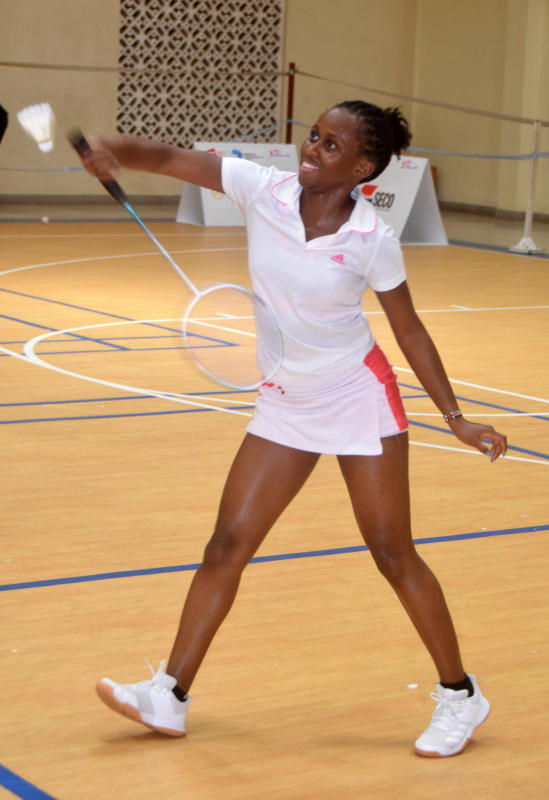 Kenya's chances of being represented in badminton at this year's Tokyo Olympic Games went up in smoke following disastrous results at the Kenya International badminton championship in Mombasa.
The three-day championship at Shree Swaminarayan Academy was used by the World Badminton Association as part of its Olympic Games qualifiers where players amassed points.
Other than the mixed doubles where Kenya lost in the final, the rest of the players fumbled along the way, paving way for Indian players to shine.
In the mixed doubles, Kenya's pair of third seed John Wanyoike and Mercy Joseph lost to Egyptian top seeds Adham Hatem and Doha Hang in straight sets of 21-10, 21-14 in the final.
On their way to the final, the Kenyans upset second seeds Daniel Mihigo and Mable Namakoye from Uganda 2-0 (21-15, 21-11) while the Egyptians stopped Uganda's duo of Expedito Emuddu and Mohammed Rafi 2-0 (22-20, 21-17).
In men's singles, India's Chirac Sen beat Nigeria's Anuoluwapo Opeyori 2-0 (21-18, 21-8) to lift the title and increase his chances of gaining enough points that would see him qualify for the Olympic games.
In the semifinals of the Alpha Group of Companies sponsored tournament, Sen beat Maxime Moreel from Belgium 21-9, 21-15 while Opeyori beat fourth seed Milan Ludik from Czechoslovakia 26-24, 21-12.
In ladies' singles, sixth seed Aakarshi Kashyap beat unseeded Anupama Upadhyaya 2-0 (21-15, 21-6) in an all Indian final.
In the semifinals, Kashyap floored seven seed Wiktoria Dabazynska from Poland 2-0 (21-4, 21-8) while Upadhyaya upset second seed and Brazilian Fabiana Silva 3-1 (21-13, 18-21, 21-17) in the other semi.
In men's doubles, Concheepuran Manivannan and Santhosh Gajendran, both from India, silenced top seeds Godwin Olofua and Anuoluwapo Opeyori 2-0 (21-12, 21-17).
On their way to the final, the Indian beat Kenyan team of Edwin Njeri and John Wanyoike 2-0 (21-17, 21-14).
In the other semifinal, the Nigerians dismissed Uganda's pair of Davies Senono and Israel Wanagalya 2-0 (21-10, 21-18).
Egyptian team of Doha Hany and Nadia Hosny defeated Pakistan team of Palwasha Bashir and Mahoor Shahzad 2-0 (21-13, 21-13) in the ladies' doubles final.
In semifinals, Hany and Hosny beat Diya Chetan and Mable Namokoye from Uganda 2-0 (21-7, 21-4) while Bashir and Shahzad dismissed Gladys Mbabazi and Ogar Siamupangila from Uganda 21-17, 21-14).