Nicholas Abinya: Life in the shadow of cancer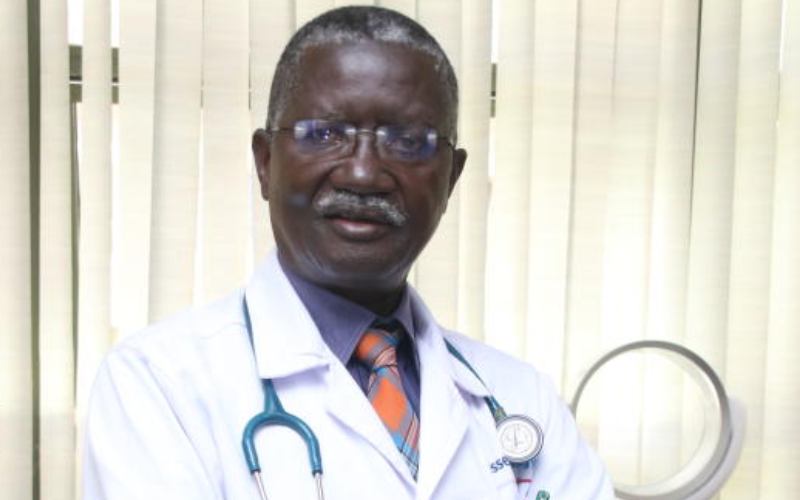 It is 10am on a cloudy Tuesday and the seats at the main lobby of the Nairobi Hospital Cancer Centre are getting full by the minute.
Half an hour later, an attendant comes to remind the patients and their minders to observe Covid-19 protocols. It is obvious that keeping physical distance here will soon be a challenge.
The scene at the lobby illustrates the cancer burden in the country - 40,000 cases diagnosed annually - and the daily sacrifices oncologists make.
For Prof Nicholas Abinya, this is a scene he comes across every morning on his way to his office, a few metres from the lobby. And like any oncologist, his joy is to see his patients recover, but there are times things do not go his way.
"Individual patients will depress you," he tells us during an interview at the unit's meeting room. "And that is on a day-to-day basis. Every day you are depressed by a patient who is not doing well. Even today, I have a young man who is not doing very well, where things are not running the way they should." Abinya has been on this call for 35 years, ever since his university days. His friends and colleagues wondered why he chose to practice in a branch where "people were dying," where recovery was more of an exception than the norm.
Other well-meaning friends lamented the lack of resources in cancer management as an impediment to his fledgling practice. Abinya soldiered on.
"I told them those were actually the reasons I should go into the field of cancer treatment. That I needed to help those who will 'just die'.
If we just left them there because they will die, who will treat them? Those of my generation who went into cancer treatment went with that understanding, they never went to an area where everyone you treat will just get cured," he says.
Unique to Kenya
Abinya went to oncology because he also knew that challenges in curing cancer were not unique to Kenya. While training in the US, Abinya was requested to get some local nurses who were willing to give palliative care to cancer patients.
The doctors told him to choose nurses who would deal with patients with the understanding that a number of those under their care would die.
"This is America, a country with the highest medical care and best facilities in the world. They were telling me to choose nurses who would be willing to deal with patients who had no luxury of many years of survival. Yet you have people who believe in getting medical treatment outside Kenya for complicated cases," he says.
Abinya has been around long enough to know that the promised cures outside Kenya are hollow and perpetuate a never-ending cycle of medical tourism.
Cancer is a shadow, he says, and that a doctor may feel - and rightly so - that he has eradicated it only for the 'monster' to come back in a more vicious manner.
"You will eat someone's goat in celebration but after you have swallowed the goat, the cancer is back. Will you vomit the goat?"
However, Abinya says Kenya has some of the best facilities compared with regional countries, adding that the often-repeated cliché that the country has few oncologists is a fallacy.
"You can say there are few oncologists in Kenya if you are comparing us with Europe, North America and some Asian countries such as India, Japan or China. In the region, Kenya is a cut above the rest. If you say there are few oncologists, you have to remember that I was taught by others who were ahead of me including my main mentors Thomas Oganda and Edward Kasili. I was among the third generation of oncologists and more are still being trained," he says.
He says if Kenyans consulted local experts first before running away, they would not need to go to other countries for treatment, adding that the 'medical exodus' to places like India is fueled by misinformation about the medical care in this country.
"The impression given by experts in those Asian countries is that nothing exists in Kenya, or those who go there say there is nothing in Kenya. When the patients are asked about the cancer centres in Nairobi Hospital, Aga Khan, MP Shah, they will say such are substandard. So, when you tell that to a friend who has been diagnosed with cancer, they will believe you," says Abinya.
However, Abinya says that if one has cancer that cannot be cured in Kenya despite the facilities around, chances that it will be cured elsewhere is less than five to ten per cent. He says doctors in Kenya have no problem referring cases that might be curable but prove difficult to treat in Kenya.
Sadly, he says there are cases where a person has gone for a 'joyride' in some Asian countries and claims to have been cured despite evidence to the contrary. Abinya says there are instances where doctors in America or Europe have refused referrals for advanced cancer cases from Kenya since "there was little else they could do in addition to what doctors in Kenya had done. "
"The doctors in developed countries will ask for a pathology report, the slides and scans. Then they ask, 'what have you done to the patient?' And then they tell us not to send the person abroad as there is little else that can be done. But there are some countries in Asia that will admit a person on the last leg of the disease knowing too well that a single shot of treatment can kill them," says Abinya.
Unfortunately, people, in general, have no confidence in local institutions. For example, Abinya says a colleague from Egypt developed cancer and believed that he could only be treated abroad despite her country having the best facilities.
The cost of treating cancer is another impediment. Some treatments given in two-week intervals may cost up to Sh600,000, a cost beyond the reach of many Kenyans.
In addition, he says, doctors' fees in Kenya are also expensive as up-and-coming practitioners feel there is money to be made in such treatment.
The Alliance High School alumni has had a long career as a specialist in haematology and oncology, lecturing at the University of Nairobi for more than three decades. By the time he retired last year, he was the associate professor in the department, having started a master's degree programme on Radiologist Oncologist among other accomplishments.
Abinya had a stint at the North-Eastern Provincial General Hospital in Garissa after graduating with a Bachelor of Medicine from the University of Nairobi's medical school in 1986.
Between 1991 and 1992, he had some training in Medical Oncology at the Royal London Hospital, London, becoming an honorary senior registrar in the Department of Medical Oncology at the institution.
"The cancer shadow still hangs around. Even for those who are cured, they still remain under the shadow, the fear that it will come back. But we stick with it."