Literary prizes: One more year of drought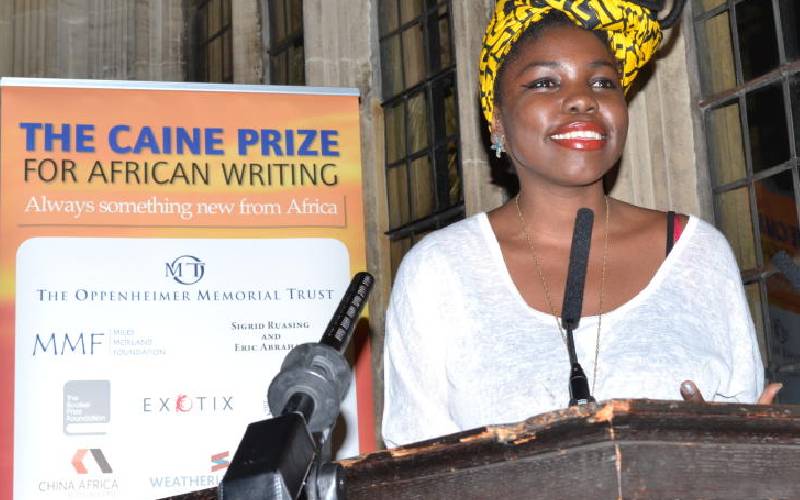 If, as poet Taban Lo Liyong infamously declared a long time ago, that 'East Africa is a literary desert,' then literary prizes, especially in Kenya, were the water that enabled local writers ride out this 'Sahara' over the last 20 years. This ever since Binyavanga's now iconic winning of the Caine Prize for African Writing in 2001.
Indeed, this Sunday ought to have been the glorious climatic moment of the now postponed 'Nairobi International Book Fair' at the Sarit Centre, as the best writers of the year got feted with the Jomo Kenyatta Prize for Literature – with others being awarded with the Wahome Mutahi Prize for satirical writing.
The last time these awards took place was in 2019, when banker-writer Kinyanjui Kombani, now based in Standard Chartered at Singapore won both prizes for his books 'Do or Do' and 'Of Pawns and Players' (both published by Oxford University Press), in what had been an annus mirabilis for him as his book 'Finding Colombo' also won the overall Burt Award for Young Adult Literature in Accra, in its last ever year.
One recalls the camaraderie, and sometimes the comedy, at these prize giving functions with nostalgia.
I remember reading Kinyanjui Kombani's post that year about being congratulated as "Mr Francis Imbuga," (in 2019), then long gone; and remembered one weekend at the Book Fair in 2015.
Whilst on a Kenya Publishers Association book panel with the likes of Dr Tom Odhiambo of the University of Nairobi and the late, great Prof Chris Wanjala, the renowned scholar and columnist, Austin Bukenya, then 70, congratulated me on winning the Caine Prize sometime back (uh?) and told me "you are very brave, you have taken the bull by the horns."
It was only during the lunch-break, when we met sans panel audience and he said "that was a nice article that Tony Mochama wrote last week on your pioneering role in our modern literature," that I realised that, all along, the old man thought I was Binyavanga! (and that by taking the 'bull by the horns,' he thought it was me, and not Binya, who had defended being a public gay intellectual in Kenya), much to the amusement of Dr Odhiambo and the unbridled mirth of Prof Lukorito Chris Wanjala.
In these last two decades, the Caine Prize has been won four times by Kenyans, which is about right considering that it covers East, West, South, North and Central Africa. But it is the Nigerians who reign supreme when it comes to grabbing the lion's share of literary awards on the continent, followed by the South Africans, with Kenya taking the bronze finish on this podium.
Binyavanga, of course, famously used his prize money as part of the seed cash for Kwani?
Yvonne Adhiambo Owuor has, in the near 20 years since she won the short story prize, written two critically acclaimed novels, 'Dust' and 'The Dragonfly Sea.'
The most recent winner was Makena Onjerika in 2018 with a quirky, sheng-y story of street urchins called 'Fanta Black Currant' (poetic rhyme would have been 'Fanta Orange').
Okwiri Oduor, who won it in 2014 for 'My Father's Head' and now lives in Germany, has signed with Scribner for a novel called 'Things They Lost' and was the 2020 winner of the Miles Morland Scholarship Award for a literary project called 'Temerity,' that we hope will see the light of day.
She was the third straight Kenyan winner of the Morland Miles Award, after journalist Parsalelo Kantai (2019) and school teacher and author Gloria Mwaniga Odari (2018), and since the Morland pays about Sh250,000 monthly to its winners for a full calendar year, it is easily one of the most purse-rich prizes on the continent, thanks to the philanthropy of Mr Miles.
It is dwarfed by the Nigerian Prize for Literature sponsored by the Naija oil firm NLNG, which is worth a cool $100,000 (Sh11 million)
Meanwhile in Kenya, the government still can't get a comprehensive National Cultural Bill passed, almost seven decades after 'Heroes Day,' when the Kapenguria Six were picked up.
In the middle of this prize drought, it was refreshing to see the Kendeka Prize for Writing, a brainchild of author Andrew Maina, and chaired by veteran publisher 'Lord' Lucas Wafula, actually hold a prize ceremony – never mind that the three winners of Sh100,000, Sh50,000 and Sh25,000 were a South African and two Nigerian writers.
Wind back the clock 30 years to the initial consistent 1992 Jomo Kenyatta Prize for Literature winners, and you will find both Wahome Mutahi and David Maillu there with '3 Days on the Cross' and 'The Broken Drum.'
In 1995, the JKPL winners Margaret Ogola and Majorie MacOludhe McGoye, now both deceased, had winning books that would become school set books.
Over the last decade, the Jomo Kenyatta Lit Prize has had well known Kenyan writer names like Yusuf Dawood, Nganga Mbugua, David Mulwa, the late Henry ole Kulet, Professor Ken Walibora, Clair Momanyi and even young up-and-comers like Jean Marima.
For the caravan of literature to continue winding words in the oft arid land of creativity, literary prizes are a welcome oasis to stop and drink deep of the sustenance that they provide writers.
Tony Mochama is a three time Burt Award bronze winner and pioneer Morland Miles scholar. [email protected]