The art of the sale: 'Mtumba man' draws fans with clowning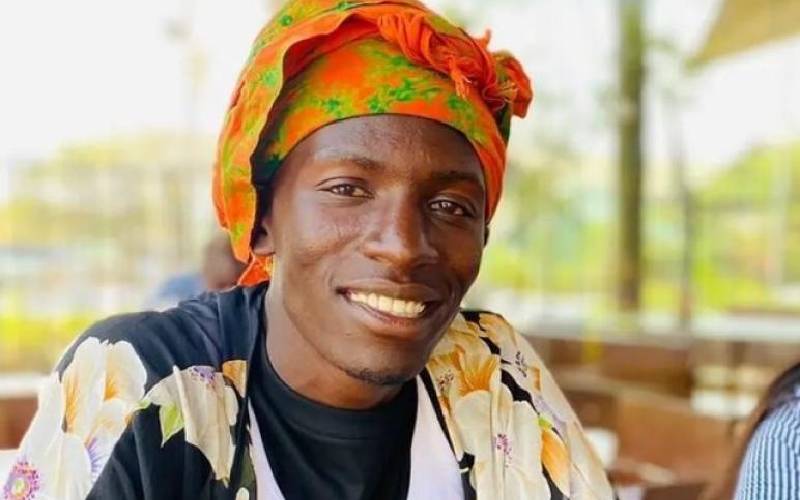 "Ng'ara waseme uko na mubaba!" A tall, slender man dressed in women's clothes shouts in a TikTok clip that has gone viral. He's in a blouse, skirt, and headwrap.
He's speaking in sheng an ever-evolving urban slang. 'Mubaba', a word that has cropped up recently describes 'sponsors' - older men who fund young women's often luxurious lifestyles.
The salesman's name is Sande Mayau. Mayau likes to call himself a dream-chaser. His social media pages, which have garnered tens of thousands of followers over the last few weeks use that word as the handle. However, his fans call him Mtumba Man.
The second-hand clothes seller says he did not expect his newfound fame.
"I started selling mitumba in Nakuru but that did not work out for me. Later, I moved to Kisumu and was employed at someone's second-hand clothing shop. I have sold second-hand clothes for the last seven years," the humorous salesman told The Standard Group's Mwende Macharia on her Radio Maisha afternoon show, Konnect.
Mayau has taken full advantage of his newfound popularity, starting a media tour where he has left TV and radio hosts laughing throughout the interviews.
"My first job was measuring cooking flour at a shop in Nakuru. I had just left home after falling out with my mother in 2011. I was paying Sh300 as rent at the time and earning Sh143 per day. Luckily, a pastor helped me secure another job.
"After I submitted my identification card and certificate of good conduct, I was hired by one of his friends and started selling mitumba clothes," Mayau said in a previous interview.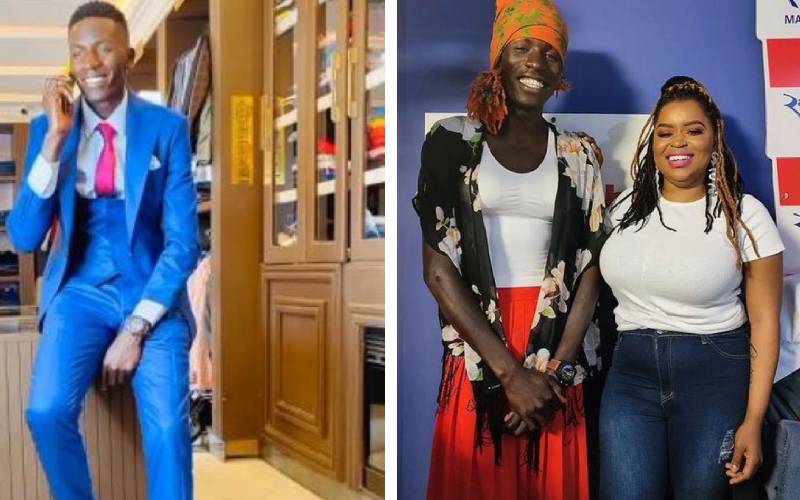 Now, the salesman is looking forward to growth in his career. He says it is time for a change, where he can explore his capabilities as a brand influencer; taking advantage of his charming nature.
"The day I realised that my video had gone viral, I did not have internet bundles. I put Sh10 worth of airtime to quickly see what was happening on the internet. I was surprised to find my WhatsApp blowing up with messages from friends who had seen the video," Mayau told Radio Maisha listeners who called in to encourage the salesman for his hard work.
The mtumba-seller further confirmed reports that he has secured a deal as a brand influencer with a clothing retail store.
"Money is sweet. It was my first time boarding a plane when Devine Collections flew me to Nairobi earlier this week. I have to say, I am happy, sleeping in a soft place, being taken care of. I am ready to focus on this influencer role," he said.
Cross-dressing
Opening up about the public's reactions to his cross-dressing, Mayau said there have been mixed responses by people on the internet, with some castigating him for wearing women's clothes.
"Some people accuse me of being disrespectful towards women, but that is completely false. The women I sell to love what I do, and they know it is all about being entertaining and making sales. I do not take people's accusations to heart," said the seller.
He added, "The first time I wore women's clothes, people stared and talked, but at the market, I noticed that girls found it funny. It drew them closer to see the variety of clothes I was selling, and my chants made them enjoy buying from my stall."
When he sells in the market, Mayau is not short of enticing words for passers-by.
Not only does he urge women to dress until people assume they have mubabas, but he jokes about all manner of life situations that are related to buying perfect outfits for an occasion.
"Bebeni za kuona horror movie na boyfriend, ndio umwambie, "hold me close"! Huwezi fanya hivyo na jacket," Mayau said, leaving the radio hosts and producers during one of his interviews roaring with laughter.