Harold and Sue fights heat up as village elections near
SUNDAY MAGAZINE
By Peter Theuri | Aug 15th 2021 | 3 min read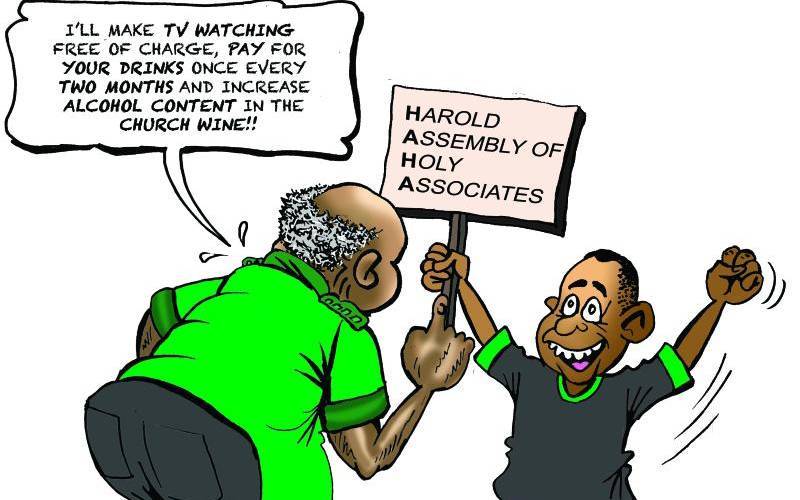 Early last week, Sue planned to sneak out of our village to a neighbouring one. More or less the tactic she used to disappear to Naivasha during the Safari Rally Championships and left Harold heartbroken.
But there was drama when she was blocked by people close to Harold, triggering a debate on what powers Harold holds. It is said by conspiracy theorists that Sue's intentions were to seek political support from a neighbour Harold dislikes.
All this as Gitegi readies for elections next year, which happen in August. The electoral committee, led by Harold and constituted of members picked by yours truly, ruled out a delay in the elections.
So it happened that Sue's team managed to sneak out even as a disgraced Sue sauntered back to the pub, where a bunch of sympathisers sat in wait, hoping to get free beer courtesy.
The rumour mills have been running at full throttle, with Sue's supporters claiming that Harold's ex-girlfriend was set to welcome Kenya's returning athletes from Tokyo at the airport.
"Our party leader is privy to information that there are people who have been calling Kipchoge the GOAT and she was keen to ensure that he does not get slaughtered by Kenyan ingrates," read a party statement that was drafted by a hired speechwriter.
"They might make him the scapegoat!"
These and other excuses were countered by Harold's team, which argued that there was no Kenyan capable of vilifying Kipchoge and other athletes. Had Faith Kipyegon not boosted faith in the products Kenya was exporting to the world?
Two days after Sue's entourage had departed the village, a report came that they had been spotted attempting to sneak back in. They were arrested and detained in Harold's backyard, inside a rusty house that used to shelter Harold's jalopy when it could move.
One of the men was discovered to be a foreigner, a man who could not, from memory, list all the leaders that Gitegi has had since the late 90s, a rather simple task because the leaders have been Harold, Harold and Harold.
After being denied counsel, with the judges at the Hi Court, the Court of Uphill and the Soup Rim preparing their wigs and smock-frocks in readiness for trial, the foreigner was deported, eer, escorted to the edge of the village.
Such is the state of the village ahead of the polls that everyone is getting intimidated by Harold, with yours truly, who is the village's best writer and orator, a gun for hire for every contestant who can afford him. He, however, maintains anonymity, lest Harold zeroes in on him.
And with matatus allowed to carry at maximum capacity again, Harold has a plan to boost numbers.
"They have said that our vehicles can now carry maximum. My political vehicle is about to overload," he said last night as we sat down for supper.
Harold has largely abdicated his pastoral and leadership duties as he tries to tamp out Sue's rising popularity.
He is a funny character. As the man who runs the Intensively-dependent Electoral and Boisterous Commission (IEBC) through which he can brag to have the ability to influence elections and actually do it, he should not be concerned with what Sue does, or attempts to do.
The attacks on Sue, which have been ongoing, including campaigns to urge people to boycott Sue's pub, which Harold himself frequents, might just bolster her chances. Granted, sympathy votes have been seen to work here; Harold was himself first elected when his vehicle, the village's darling, died and could not be resuscitated.
But as people in the village trade blows and kill each other's chickens, Harold and Sue continue to have a remarkably good relationship behind the scenes.
Harold drinks at Sue's and Sue still takes home part of the offertory every Sunday and, who knows, probably this competition is one of their shenanigans meant to distract the village from Harold's underperformance.
Biggest game genres in 2021
As of January this year, global gaming audiences found out that casual single-player games like Candy Crush or Clash of Clans were the most played.