Growing up during a war - South Sudanese Marial Dongrin Ater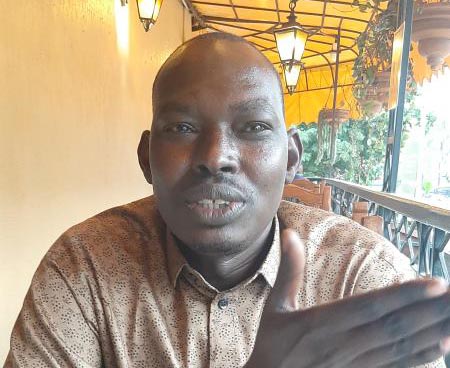 Towering at six feet and three inches, South Sudanese Marial Dongrin Ater could easily pass for a basketball player, and the NBA would not hesitate to sign him.
But Marial is no basketballer. Looking at him, he paints the picture of someone who spent his days around well laid basketball courts and gyms. As a child, running two hours daily to and from school in his village in Rumbek is what kept him fit.
Growing up in the dark shadows of war in South Sudan - between the South and North (Khartoum), offered little opportunities for success for the boy who had hoped to become a doctor because of South Sudanese liberation icon John Garang. Garang was however not a medical doctor but held the title Dr after he earned a PhD in Economics.
"As young people we ran the entire time because if you walked you would not make it in time. Many of the pupils from my village gave up because they had to go the whole day without food and at times water, and had to trek long distances," says Marial.
He remembers how during the weekends after herding cattle, they would go to play cards at the nearby SPLA (Sudan People's Liberation Army) barracks, only for government forces to attack the base with rockets.
They had to take cover behind trees or lie down to stay safe.
While this was a scary experience, Marial says villagers had been trained in defensive cover and had got used to taking cover fast whenever fighting broke out without warning. This happened often with little or no warning as the warring sides battled for supremacy.
Deadly scenes
Even with this training and environmental conditioning, however, Marial says the scenes were sometimes deadly.
How possible was it then to get an education in such an environment? Not easy.
For a man who was born in 1980 and only went to school at 11, schooling was not a walk in the park.
Growing up in a rebel-controlled area, there was no official curriculum and the Sudanese People Liberation Movement/Army (SPLM/A) combatants doubled as teachers whenever they were off duty from reconnaissance and regular drills.
His father who never had a chance to pursue and acquire Western education as a result of war encouraged him to get an education so that "one day he may become somebody".
The Makol-Abil Primary School, where he started had just one class run by untrained SPLA teachers, some of whom had never gone beyond Standard Four.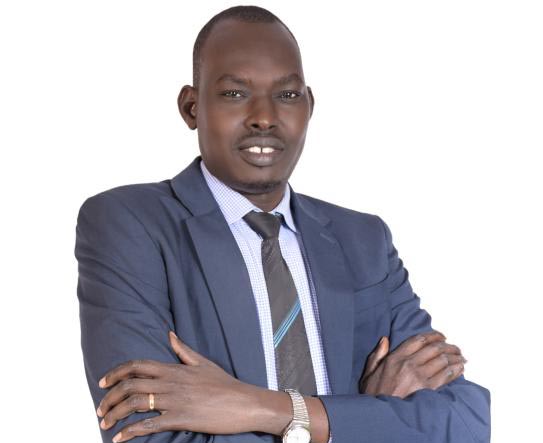 "At some stage we joined another school in order to proceed to the next class," says Marial, who recalls that by this time nearly all able-bodied residents had enlisted for liberation force.
After three years, he and his classmates had to move to yet another primary school, two hours away, after the learners reached the level their own teachers had schooled up to.
Marial is grateful to his former head teacher John Manguak Mut, (an untrained teacher whose education ended at Standard Four) for giving them a solid foundation.
With the dreadfulness of war around him, it was his journey to school daily that Marial remembers most. The school curricula was a borrowed mix from Sudan, Kenya and Uganda.
Biggest hurdle
Marial says he was finally able to complete his high school education at Rumbek Secondary School thanks to USAid, Government of Kenya, SPLM Secretariat of Education and the Catholic Diocese of Rumbek.
But the worst was far from over.
The biggest hurdle came when he completed his secondary education. Where would he go next? The choices were grim.
"The problem was, you had to switch from the side of freedom fighters to the (Sudanese) government side and join the national service for two years - possibly to fight South Sudanese (read SPLA)," says Marial.
But these were his people and he could not bear the thought of fighting them, possibly dying in the process.
And so he chose to remain at home, his dream in limbo.
Luckily in 2004, the County Commissioner of Rumbek Central asked him to go to Nairobi to seek a university education.
"During that time there were too many strikes in public universities in Kenya that had students take ages to complete and graduate, yet I was depending on sponsorship from a well-wisher," says Marial, who applied for a course at the Catholic University of Eastern Africa (CUEA) and Daystar University.
He got an admission into Daystar University, studying economics, and graduated in 2008. He went back to South Sudan.
Marial says coming to Kenya was good as he got to witness the signing of the Comprehensive Peace Agreement at Nyayo National Stadium in 2005 that would herald autonomy and independence of the new South Sudan.
Back in South Sudan in 2009, things were finally looking up and Marial was employed early by the Kenya Commercial Bank in Juba, starting as a graduate clerk and rising through the ranks to a bank manager.
The institution later introduced a talent development programme that would bring him back to Kenya.
"The bank deployed me in Nairobi for an international assignment initially for two years but extended twice," says the banker.
He worked in Kenya until October 2020, along the way earning an MBA degree from CUEA and is now studying for a PhD at the University of Nairobi.
Looking back, Marial has learnt many lessons, including the value of good neighbourliness.
He says the future of his country South Sudan and Kenya, the country that has become a second home to him, can only be brighter.