We're family: Cynthia and the celebrity elephants she loves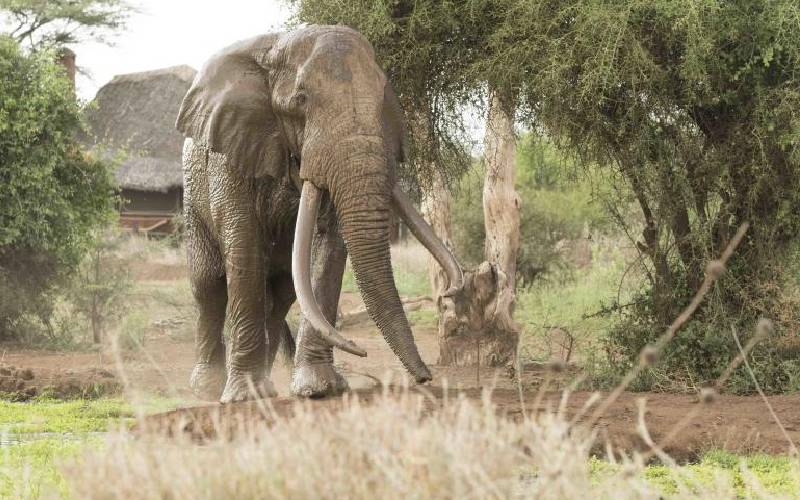 Tanzania's Lake Manyara National Park.
Doughlas-Hamilton suggested that Cynthia become his research assistant, a difficult choice between her work at Newsweek and the call of the African wild. The latter won and in 1968, Moss packed up her bags and headed to Africa.
"It was a leap of faith to leave my secure job and come to Africa," says Moss. "I am glad I did because I have had a wonderful time working with elephants in Africa."
Doughlas-Hamilton's project in Lake Manyara came to an end shortly, but Moss had by then made up her mind to stick around and help in elephant conservation projects.
In 1972, together with Harvey Croze, Moss started the Amboseli Elephant Research Project in Kenya, the forerunner to Amboseli Trust for Elephants (2001) that now conducts research and training other researchers from the continent. She also works closely with the local Maasai community in conservation outreach programs.
But Moss is known globally for her personal relationship with Amboseli elephant families through her research, one of the longest-running in the world.
Through her scientific papers, books and films, Moss has made celebrities out of Amboseli elephants, and close to 50 years later, Moss is still following some individual elephants she first met when her project began.
September 1, 1972 was her first day in the field. It was also the day she met the AA family whose progeny would form one of the most studied family groups in Amboseli. Elephant families were named alphabetically and in this group are Annabelle, Alyce, Alison and even Alpha Blondy. Like a human registry, Moss and her team recorded every birth and death in this family, beginning with the matriarch, Wart Ear whose year of birth is estimated to be 1944. She died in March 1997, perhaps due to old age.
In this family is Angelina, the female who has caused some excitement in wildlife conservation circles due to the birth of twins, a male and a female. Pazia is the other female that has also given birth to twin boys that just turned a year this April.
The EB family has the most documented elephant in the wild. Echo, the matriarch was born in 1945. She was leading a family of seven when Moss met her in 1973. Her family had grown to about 37 elephants by the time she died in 2009, aged 64.
"Watching Echo give birth was one of my most memorable moments in Amboseli. She also gave birth to a crippled calf named Ely who has since recovered. It was lovely watching Echo go through all the paces of responsible motherhood," recalls Moss.
Echo led what some may call a sedentary lifestyle, never veering far off the main park even when other families did. But her meek disposition would be tested a few times in her life.
There was this time her baby, Ebony, was kidnapped by another family in what wildlife researchers term as a rare occurrence among elephants. The rival gang even drove Echo away when she tried to rescue her baby.
Undeterred, Echo summoned other older females within her family who waged a relentless battle that eventually led to Ebony's rescue, earning Echo countless praises from the global audience that watched her triumphant rescue in the series, Echo: An elephant to remember. Her death was equally documented, moving millions around the world to tears.
Apart from the family matriarchs, Moss has documented some outstanding male members, including Tim, the famous bull that died in February 2019 after roaming the Amboseli plains for 50 years.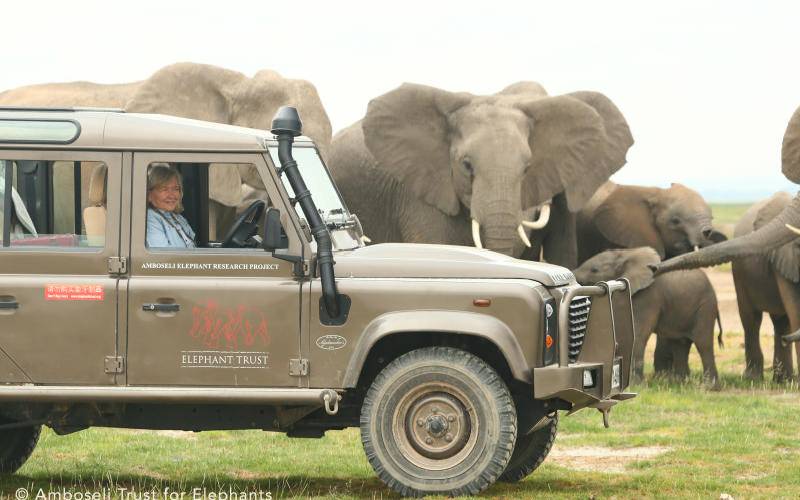 Moss first met four-year-old Tim in September 1973. His T family was close to Moss as most members of this family used to play outside her tent, giving her lasting memories of the group. Tim belonged to the breakaway group named TD that was led by an old female that Moss called Teresia.
"Teresia had a two-year-old calf, and a second female, whom I called Trista. Trista had a four-year-old boy that we eventually named Tim. I was fairly sure Trista was Teresia's daughter which made Tim her grandson. Tolstoy was actually Tim's uncle even though he was younger," explains Moss.
Tim was bulky with legendary tusks that weighed 132 kilos, but Moss describes him as a gentle giant who had a way with females, being gentle with those in oestrus "unlike some other randy bulls." Tim and other members of his family are immortalised in her book, Elephant Memories.
At 80, Moss continues to lead elephant research in Amboseli despite having not studied biology in school. In fact, she studied philosophy at Smith College, Massachusetts, USA. Yet, she has become one of the global authorities in elephant behaviour. So devoted was Moss that she had to forego having a family of her own.
"These (elephants) are my family. I am always at peace when around them and have seen them during their happy moments especially when welcoming a newborn. I have also seen through some of the worst droughts in Kenya, watched as poachers made senseless killings. I have seen them grieve over the loss of family members, especially the matriarchs. I have seen them examine the bones of their dead relatives. It is very emotional," says Moss.
Such moments, she says, affect her personally "just as you would celebrate a person you have known for more than 40 years."
The elephant population in Amboseli ecosystem is thriving with decreased cases of poaching. But Moss fears that shrinking space for the giants is currently the greatest threat to the elephants. Land around Amboseli continues to be subdivided, with big commercial farms coming up and blocking wildlife corridors and dispersal areas.
"Underground water that flows from Kilimanjaro will dry up. Commercial farms will start using pesticides that will seep into the aquifers, affecting the lives of these giants. We lose the space for elephants and we lose our heritage," warns Moss.
If Moss was to begin her life all over again, what would she do differently? "Nothing. Same script."