Solomon Mukubwa: Angela Chibalonza opened the door for me in Kenya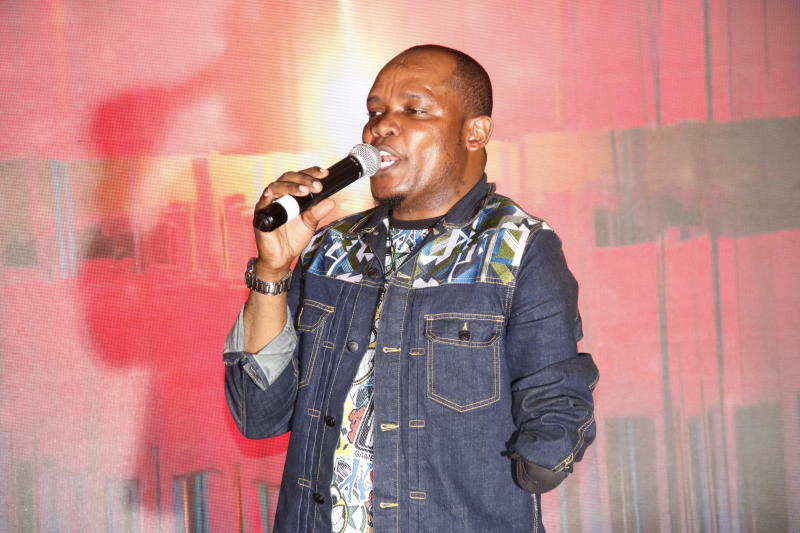 Solomon Mukubwa is not a new name to many fans of gospel music.
Mukubwa came to Kenya in 2005, at the invitation of the late gospel star, Angela Chibalonza, to work on several music projects and never went back.
The Congolese musician came, saw and conquered the local gospel music scene and his popularity has been growing steadily. The 43-year-old artiste affiliated to Miracles Church of Nairobi also recently became a pastor.
The musician describes Kenya as his second home.
"I love Kenya a lot," he says. "I don't like it when people speak ill of this country. I am where I am today because of God and the fact that Kenyans welcomed me here and have been supportive all along," says the musician who is in nearly done working on his latest album. One of its videos, Achana Nayo, is already available on YouTube.
Mukubwa says his songs are inspired by his faithfulness to God.
He claims he lost his left arm at 12 after his stepmother bewitched him. He recalls how the hand swelled before it started rotting.
"We consulted witchdoctors in a desperate bid to reverse the damage but to no avail. A medical doctor settled on amputation to save my life," he says, pain about the loss showing on his face.
He says he bore a grudge against his stepmother for a long time until his relationship with God prevailed on him to embrace forgiveness.
He took his fate into his stride with the song Nimewasamehe Wote ( I have forgiven everyone) as a way of sharing his sad testimony.
He credits the late Angela Chibalonza, who died in a road accident in 2007, as his mentor in the world of music.
He first met her in 2003, during a performance concert in their native Congo at a time his dream was to one day bring his music to Kenya.
"I asked her to take an album I had written, dubbed Sijaona Rafiki, to Kenyan music producers upon which she promised to pray about the prospects of my going to Kenya," he recalls, adding, "the rest, as the saying goes, is history."
Mukubwa, says he saw his world open up like an unfurled umbrella the moment he stepped onto Kenyan soil.
The 42-year-old father of two says he lived with Chibalonza at the artiste's house and was her backup singer for three and a half years.
"Chibalonza showed me the tricks of the game, helped me financially and allowed me to accompany her for various performances.
"My songs started becoming hits when I performed alongside her. I would say she played a great role in my music journey. She paid for my first video titled, Sijaona Rafiki," he recalls.
He still grieves her death.
"I carried three songs, Mfalme wa Amani, Mungu Mwenye Nguvu and Mkono Wa Bwana that I played during her funeral preparations in Kenya," he says.
He released his second album, Mungu Mwenye Nguvu (God of Strength) shortly before Chibalonza died.
Mukubwa has released several other songs since, many of which have been a success, among them Mfalme wa Amani (God of peace).
The song won three awards in Tanzania.
No easy journey to the top
Despite having produced a number of hit songs, Mukubwa says he is yet to accomplish his mission.
He has performed in Kenya, Uganda, Tanzanian, Congo, Burundi, Rwanda, Malawi and Zambia.
"Before I come up with a song, I make sure I seek the hand of God. He provides me with ideas whenever instruments play," he says.
"Sometimes I get ideas from other people's songs and God directs me how best to perform. He provides me with ideas whenever instruments play and the beats come out differently and more powerfully." he brags.
The musician with four albums under his cap, Sijaona Rafiki Kama Yesu (2003), Mungu Mwenye Nguvu (2005) Utukufu wa Mungu (2012), and Sifa za Mungu (2012).
Piracy headache
His tracks are among those highly pirated in Kenya. How does he deal with it?
He says much as it is illegal; piracy has helped popularise many musicians, but has hit him hard.
He says Tanzania consumes the bulk of his music because the government there has cracked the whip on piracy and the market is less competitive. His music also sells widely in Congo.
The firstborn in his family, the musician says he holds a diploma in teaching but never taught as he went full blast into music straight from college.
Mukubwa says he has no regrets in life. He describes his decision to serve God as the best that he ever made.
He encourages fellow musicians to serve God alongside their trade. "We are here for a moment. Nobody knows the time or hour to leave for after life. Hence the reason to live for God," he concludes.