'We beat cancer, no challenge is insurmountable'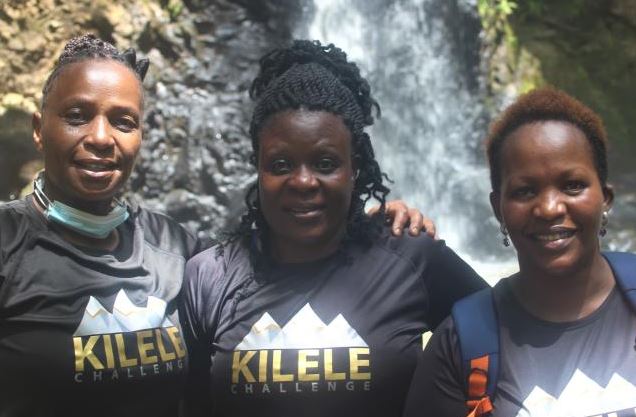 To Sydney Chahonyo, February is more than a month on a calendar. It reminds him of that day in February 2004 when he was diagnosed with post-nasal space cancer. He was just 19, an age where all his dreams and aspirations were just lining up.
As is the case with any cancer patient, the first few moments after the doctor disclosed his condition were blank. But he remembers the look on his father's face.
"I looked at my dad. He is generally a strong-willed man. But he looked so vulnerable. If this is the look on my dad's face, how about my mum and five sisters?" recalls Sydney, the last born and only boy in the family.
I met Sydney last weekend in Gatamaiyu Forest, the southern edge of the Aberdares. He had joined a group of cancer survivors for a 10-kilometre hike, the second edition of what is dubbed the Kilele Challenge, the brainchild of Benda Kithaka who has worked with cancer patients through the Women4Cancer outfit that addresses the stigma associated with some forms of cancer, especially cervical.
I was told I might not get children
Sydney underwent the mandatory but painful cancer treatment regime and was declared cancer free in November 2004. The doctors had also told him that he may never have children. He is a father of two girls.
Though he considers himself fortunate to have beat the scourge in under a year, he has to live with the aftermath of the treatment.
He is gradually losing his hearing in one year, and doctors have said he may lose it completely. The treatment also affected saliva production and he has to carry some water all the time. Without water, the simple act of swallowing can be fatal.
Sydney joined the Kilele Challenge troupe out of solidarity with cancer survivors.
In between the panting and heaving after ascending a steep slope that leads to a small dam frequented by elephants, Sydney recounts the events leading up to his diagnosis.
Many forms of cancer start with what are 'easy to dismiss' symptoms. For Sydney, it was just some flu, mild headaches, nose bleeding episodes so far apart that nobody could connect them with cancer.
"The symptoms got worse with time. There were several misdiagnoses. Some doctors thought it was sinusitis, but it never got better. That was until some blood tests and a biopsy revealed I had cancer," says Sydney.
Up another steep hill, we take some well-deserved rest at a small clearing. Here, I get a chance to meet Jane Mwihaki, a mother of three and an anal cancer survivor. Her friends call her JD — 'Jane Dimples'. Her shy smile exposes a pair of dimples in her equally warm face.
Today though, the trek is testing every fibre in her body, especially the spine that was badly affected by chemotherapy and 35 sessions of radiation.
Doctors thought it was an ulcer
Like Sydney, Jane too has the 'cancer story' — some mild symptoms, wrong diagnosis, then the bombshell. In her case, some haemorrhage led to a wound on her backside. Some doctors told her it was just an ulcer that would disappear in no time.
"The wound would not heal despite sitting endlessly on salty water, which was in itself a painful process," says Jane who works at the catering unit at Kenyatta University.
"Then the doctor said we need to do a biopsy. I told him, 'I thought a biopsy is performed on cancer patients, right?' by the time I started on treatment, I had stage three cancer."
She remembers the date, October 31, 2016. The day the countdown was meant to begin. But then, hers was not the first case of cancer in her family. Her mother had gone through the ravages of uterine cancer and lived to tell the story. She is 80.
"People write you off once they learn you are battling cancer. I remember posting on Facebook that I was in hospital. Some would ask, 'Jane, what are you doing in hospital?' I mean, would I have been on holiday in a hospital?" Then the phone calls died off. Then began a lonely journey whose destination remained hazy.
And that explains why Sydney, Jane and other cancer survivors are putting their already weakened bodies through rocky ravines, marshlands and treacherous hikes that include summiting Mt Kenya.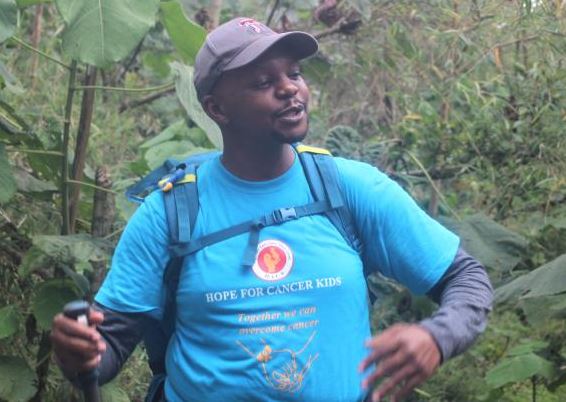 Solo journey
Cancer patients, says Sydney, are isolated from friends and left to walk a solo journey only they understand.
By hiking the dark mountain trails, they want to prove that they are ready for whatever life can throw at them. They are armed with a positive attitude, a key step in the recovery efforts.
Scientific research shows that regular, moderate exercise has health benefits for persons living with chronic conditions, inhibits cancer recurrence and leads to long-term survival.
"At least 20 studies of people with breast, colorectal, prostate, and ovarian cancer have suggested that physically active cancer survivors have a lower risk of cancer recurrence and improved survival compared with those who are inactive," states the American Cancer Society.
Before recruiting cancer survivors for the energy-sapping activities, Kithaka was almost at the breaking point, having lost a dear friend to cancer in May 2019. For close to three months, she was almost in depression, the thoughts that society seemed to be losing the fight against cancer was too much to take.
"Then I watched Ineos 1:59 Challenge. It was such an inspirational moment. One man, surrounded by a team of believers was able to rouse global emotions about the value of personal goals. As I watched the moment, I knew that I needed to awaken the fire in me. It was going to be a personal challenge to re-ignite my flame in advocacy. I needed to scale the summit. Kilele was born," says Kithaka.
Started as a personal journey
Initially, Kithaka intended Kilele Challenge to be a personal journey meant to find herself and reconfirm her role in the cancer awareness activities. Climbing Mount Kenya, she felt, was the one thing that would help her find her depths in cancer advocacy.
But then watching Eliud Kipchoge achieve that feat, she realised how much of a team effort is needed to achieve the unimaginable. Realising that the country was losing many cancer survivors because the system did not cater for quality life after treatment, the thought of climbing the mountain with cancer survivors came naturally.
"In my research, it was clear that a lot has been done in Western countries to highlight and address challenges in cancer survivorship, with very little done in our region. I realised it was not only going to be beneficial to us all in terms of improving our own personal fitness, but it would also highlight the plight of cancer survivors in Africa. Cancer survivors would become advocates for cancer prevention," she says.
Between September 20 and 22 last year, 10 cancer survivors made it to Mt Kenya's Lenana Peak.
This year, Kithaka hopes to double that number.
The survivors hope their story of triumph despite adversity will inspire other survivors and those living with the disease to face any daunting challenges head on.
For some like Sydney, the journey inspired him to help children with cancer through the Hope for Cancer Kids organisation that has in the past two years assisted about 400 children access treatment by enrolling them in the National Hospital Insurance Fund scheme.
As the group rested at the summit of Gatamaiyu Forest, they looked back at the six hours of pushing their bodies to the limit. Their frail bodies beat forces of nature. Cancer too, can be beaten with proper diagnosis, early treatment and a positive mind.