My barely legal but learned friend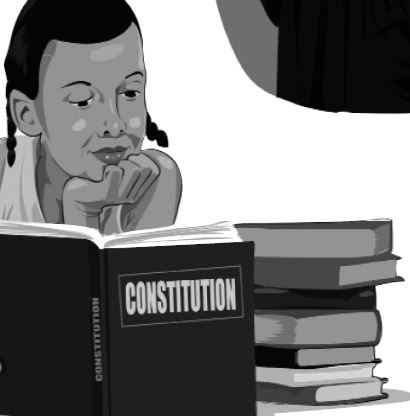 For several weeks now, I have seen my daughter study the Kenyan constitution like her life depends on it. I did not think much of it. Until today in the morning when I was walking her to school, and she proudly told me about her "change" of career.
I am using the word "change" because, for the past four years, Pudd'ng has "changed" careers more times than a Kenyan politician switching political parties during party primaries. I guess all kids go through this phase.
Changing tunes
At one time, Pudd'ng was dead set on becoming a journalist. She even knew the university she wanted to attend. I came to realise that she wanted to be a journalist because of TV ads from a local private university. The ads were being fronted by famous Kenyan media personalities who were alumnus of that unit
Then there was a time she said she wanted to be a doctor. Pudd'ng's got a heart of gold. I'm guessing she saw some human suffering, and she told herself that getting into the medical profession would help hurting souls.
Another time, she swore that she wanted to be a singer. She even started writing songs, and they formed a group with some of her girlfriends.
Pudd'ng's a cartoon freak. Although, of late, she is into Bollywood series. Two years ago, she asked me how cartoons are created. I told her that a script was the foundation of such creative ventures.
That's how she decided that she wanted to be a scriptwriter. Whenever she "worked" on my computer, I would find files saved on the desktop with the titles like, "My script". Or, "Cartoon script".
And then, like always, she moved on to the next career.
Pudd'ng has changed career tunes so many times that I stopped taking count. But I have never stopped taking her serious. If it's serious to her, then that's how I'm going to treat it.
What's a parent supposed to do?
The golden rule for parents is to support the career choice of their offspring, and not to shove their preference down kids' throat. But what's a parent supposed to do when your child keeps "changing" her career choices? And when's the right time to take a child seriously?
I think these are some of the questions that the Competence Based Curriculum (CBC) should try to answer.
If I had massively invested time and resources each time Pudd'ng said she wanted to follow a particular career path, I would be licking my financial wounds. Or my "investment" would have turned her spark of interest into a wildfire.
In such matters, when kids are still this young, it's always a matter of trial and error ... or trial and prayer.
Learned little friend
"I'm now in the Bill of Rights section," Pudd'ng told me last evening.
Then she told me why she wanted to be a lawyer. She wants to be a human rights defender. She wants to stand up for the rights of the weak and poor.
"I don't want to be a criminal lawyer," she went on. Which made me realise that she knew what she wanted.
At Pudd'ng's age, I only knew what I did not want to become. And it was what my father kept drumming in my ears each time I messed up in school. In hindsight, it was a fear tactic. Which was meant to motivate me to up my grades.
"If you continue messing up in school, you will pull a handcart," my father liked saying, because such jobs were associated with school dropouts.
Fear tactics only work to a certain age or stage.
Psst. A little bird tells me that next year, if baby girl loses in the prefects' election, she will drag the school administration and student body through a lengthy arbitration process. I can't wait to hear the little learned friend dropping some legalese on stunned teachers and pupils.
Nagging works wonders
When we let go of our full-time housekeeper at the beginning of the year, we had no real plan in place about how to manage the chores