Living in the dark hasn't dimmed my dreams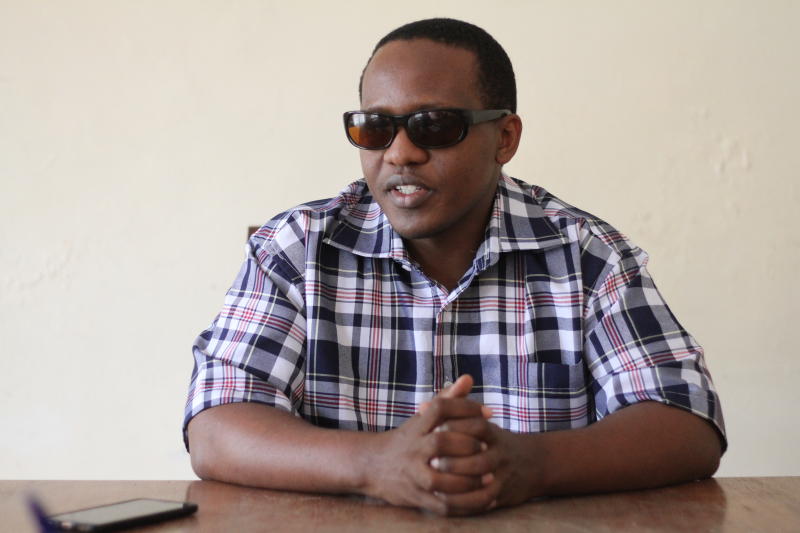 Johnson Riungu, 35, is a teacher at the Kenya Society For The Blind.
Blindness makes you have trouble sleeping. I used to think it was only me but after listening to podcasts and reading articles, I realised a lot of blind people experience it.
There was a time I would sleep for two hours only; it made me feel bad but the situation is better now.
I was born with eyesight but I went blind when I was 10 years old. It started when I got cataracts in one eye when I was five. I had surgery and they were removed but three years later, the eye that had been operated on started aching and one morning, I woke up and it couldn't see.
Two years later, the other eye also developed cataracts, they were removed surgically. Within four months, the cataracts had started bringing retinal detachment to my eye. I got another operation and my sight was restored for three months but then started degenerating again. The doctors said that they could operate on it, but my sight would still degenerate again. They suggested that instead of going in and out of hospital, I should be taken to a special school.
That's how I went to Likoni School for the Blind. One day as we played outside, a friend accidentally hit me with a bucket lid right on the remaining eye and that's how I went completely blind.
I was bitter for the first three months, I hated the school in the first place because it was a boarding school, I thought my parents had dumped me there for losing my sight.
At the school I wondered how the children there could afford to have a smile on their faces. Did they not know they were blind? How could they afford to laugh? I slowly accepted my situation having interacted with so many other blind children and I finally found peace.
It is not all rosy, though. The matatu world, for instance, is a jungle for us. In fact, I would say transport is the hardest part of being blind. You cannot drive yourself.
Technology has changed the game, though, because now with Google Maps I can tell when I am close to, where I am supposed to alight if and when I am on public transport.
I'm married to a woman who is also legally blind. My friends tell me she is beautiful but deep down I know she is despite the fact that I have never seen her face. We have two children, named Nuru and Zuri, aged six years, and the other nine months.
Being blind hasn't stopped me from enjoying life. I love travelling and going out. I have had a rough time fighting stigma as many people think that when you are blind you can't even buy yourself a drink.
My daughter understands my situation pretty well. When she was two and a half, our new househelp put a cup of tea in front of me and just walked away. She got very upset and asked her why she had placed tea in front of me without saying anything and showing me where it was, she then took my hand and guided it to it. At school, her friends don't think it is odd to be blind because of her. In fact, she takes my cane and goes to play with it together with them. They like to take my hand and show me things.
I can usually tell someone's personality from how they react to things. I can tell whether someone is big or small by shaking their hands, although sometime people have smaller hands but big bodies.
My phone 'talks', so it tells me who is calling and all that. It is not a special phone. Most smart phones have the accessibility feature, so it is just a matter of activating it.
I cannot tell between different currencies of notes unless it is by comparing both, or it is really big like Sh1,000 or small like Sh50.
The best thing about being blind is that I am not biased by what I see. I am able to get deeply involved with someone because I am not distracted by what I see.
The most annoying thing sighted people do is assuming you know what I want without asking. Most people think if you can't see, you can't also hear, which a wrong assumption.
I love Bongo music, so if it is on at the club I will go on the dance floor and join everyone. I also love swimming and would enjoy going to the ocean. I have some water sports on my bucket list, like jet-skiing and kayaking. I would also love to have the experience of being in a rally car while someone else is driving, for the thrill that comes with it. I would also love to have the experience of driving myself.
Technology has changed the game for us in a huge way. I can play games on my phone now. My favourite is one called Blind Ranger. It has audio descriptions. I can also read physical documents using an app on my phone. I watch movies too.
People are always surprised when I tell them I would not want to have my sight back. Not because I am comfortable this way, but because of the distractions I see people with sight going through. I wouldn't be able to gain deeper insight about things like I do now. If I could see one thing, though, it would be my children.