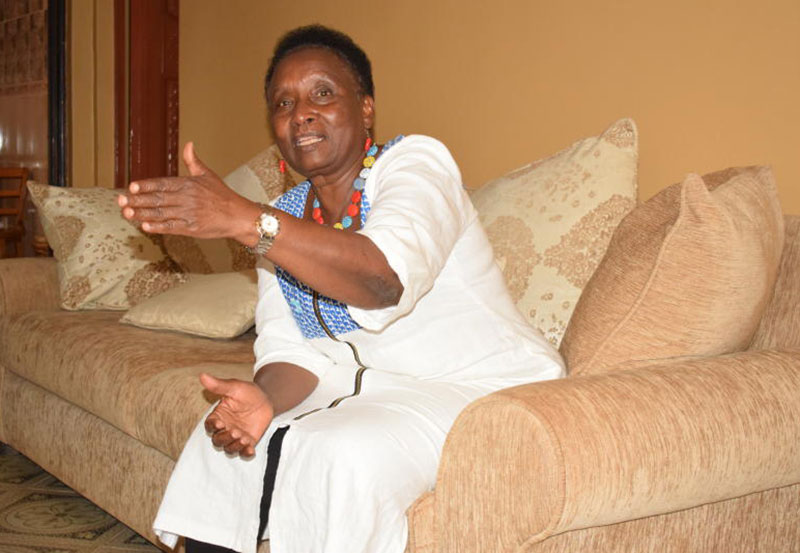 Many years ago, she was a P1 teacher, the lowest job group in the teaching profession. Today, Adelina Mwau makes decisions that impact many in her county.
"We need to talk," she said, hands akimbo mimicking the 'power' pose.
He looks up at her uncertainly. No man wants to hear those words from a woman. "About what?"
"The fact that you didn't recognise my presence at the function," she says, staring right into his eyes.
"Aaahhh..." He puts down the papers he had been studying and steels himself.
That is how I like to think the conversation between Adelina Mwau and her boss, Kivutha Kibwana went. He had ignored her presence at a public function, and she wasn't having it. This was in the early days of their working relationship.
"I have a strong man for a governor. Slotted with him, I get quite invisible with every credit flying his way. Thankfully, this matter was resolved amicably."
This episode was a lesson in asserting authority. And being one of only six deputy governors out of 47 in Kenya, this is something she has to deal with every day.
She's not an avowed feminist, she quickly clarifies. But she strongly feels that women who access power need to give it a fresh definition that appeals to both men and women.
"I don't hate men. My second best friend is a man."
That said, she truly enjoys working with Kivutha mainly for his authenticity.
"There are no illusions about him. What you see is what you get. He is that kind of person who after being served with dinner proceeds to wash the plate. He has done that in this very house," she says.
Lonely at the top? I prod.
"Yes. There aren't many women leaders, and that is pretty isolating. Men and women network differently. For instance, in the world of politics, most decisions are taken in social settings, often in very late hours and yet we cannot walk out and miss out on ownership of the decisions. That creates a conflict of sorts".
"It is mid-afternoon on a sunny Wednesday. We are in Makueni, a two-hour trip away from the city. Open gate, no guards, no electric fence, no cabro-paved driveways favoured by the wealthy, and quite remarkable to me, no curtains in the living room of the modest farm house. Save for the Government Issue car parked outside, we could be in anyone's home in Makueni. Except that she is not anyone. She is the deputy governor of Makueni.
When she sees our interested gaze at her simple home, she smiles softly, a woman comfortable in her power and secure in her skin.
"Know who I would invite over for dinner if I could?"
"No."
"Mahatma Gandhi, Nelson Mandela, Wangari Maathai, Barack Obama, Michelle Obama and my mum Theresia. Mum would be there to size up the five," she adds with a laugh.
She takes pride in her humble home, and if we weren't here, she would probably be pottering around in the homestead, doing one thing or other.
"Sometimes I do not go to church on Sundays. I go to the shamba, listen to the birds and watch the plants as they grow and when I leave, I feel re-energised like I have come from church."
Or maybe she would be with her adopted daughter.
"She has filled my life with so much joy. My beautiful daughter crowns my life."
For a while there, as I listen to her lilting voice, I forget that I am seated with a very powerful woman in her home.
But one would be fooled to think that the warm, amiable woman offering to serve us food is a pushover.
Getting to where she is today was not all rainbows and unicorns. And it is the marked determination and resilience right from her teenage years that has marked her steady climb in a world muddled with patriarchy and smokescreens.
Like mother, like daughter
Adelina's mother Theresia Rhoda, who curiously also dabbled in politics back in the day, was a huge part of her life. And her admiration for her mother is evident in the proud spark in her eyes.
"My mama was a strong woman. She was supposed to be circumcised but ran away from home in Kangundo to the nearest mission in Kabaa for help."
The little girl, probably inspired by the works of mercy at the centre, began training for a life as a Catholic nun.
"She was at the Bura mission in Taveta area for the training. But it was aborted after she turned out asthmatic."
Years later, In the 70s and already widowed with children, she quit her teaching job to run for an elective civic seat.
"Styling herself a Syokimau-reincarnate, she implored on people of Kilungu to elect her. She lost but was later nominated for a civic position."
Even back then when society placed so much value on sons at the expense of daughters, the progressive woman went against the norm.
"Mum made it very clear that all nine of us, five girls and four boys, had an equal stake in her life."
And true to form, when Theresia wrote her will in the 90s, she divided all her wealth equally among all her children.
"I was shocked to inherit so much including shares worth millions."
It thus wasn't a surprise when Adelina followed her mother's footsteps and found her way into politics. Being unmarried might have been a challenge getting into the patriarchal world of politics, but it was one she wasn't scared of facing.
"I was single even when mama died 10 years ago. And not once did she ever put pressure on me to get married. When I joined politics, she would stand by me as I explained myself to the voters. I proudly described myself as her daughter, Mwiitu wa Mama, because she had quite a name in the region."
And so she rose through the ranks; from a Member of Parliament to an assistant minister in Mwai Kibaki's government to now being a Deputy Governor.
Adelina, now 66, is still unmarried. Out of choice or circumstance? I ask.
"At a certain time, yes by choice. But also I couldn't really stand out as a professional unless I gave my whole self to the things I pursued. And with that came sacrifices here and there."
Any regrets?
"No. Not at all. At least not about being unmarried. The matter of my status was never a function of achievement, power or people. If there was pressure all through may be I would have regretted my decision but I was surrounded by very supportive family and friends who appreciated my function as a woman leader had no relation to my choices or being single."
The interview is drawing to a close. Adelina has had a long day. Earlier, in nearby Nunguni, she had officiated a function for her pet project, Nzangule Matangi (a merry-go-round to buy water tanks). She hardly stood out from the hordes of women beneficiaries as they passionately strategised. She had even stood in line with the women to be served a meal.
"My life is not defined by position, money, power and the material things. At every stage of my life, I was very content with myself. I never craved for more," she says.
This adequately answers my question of why she won't just sit back and enjoy the perks that come with the job.
She is however unsure about running for the governor position in 2022.
"It's not easy being a governor or a deputy, especially in a political terrain such as ours. I feel I need to slow down and pass on the baton. I am working on my legacy."
Before Adelina walks us out of her home, I ask her what one piece of advice she would give to a child who wandered her way and sought her wisdom.
She scans my face for a minute before saying.
"Three things. One is to desist from pride. Two; to crawl, walk and then run. When you walk, you got to know when to walk fast and when to walk slowly. Three, that life is much more than money."